Longest Chocolate Sausage, Guinness World Record Attempt in Italian Town
September 16, 2013 7:16 pm Last Updated: September 16, 2013 7:16 pm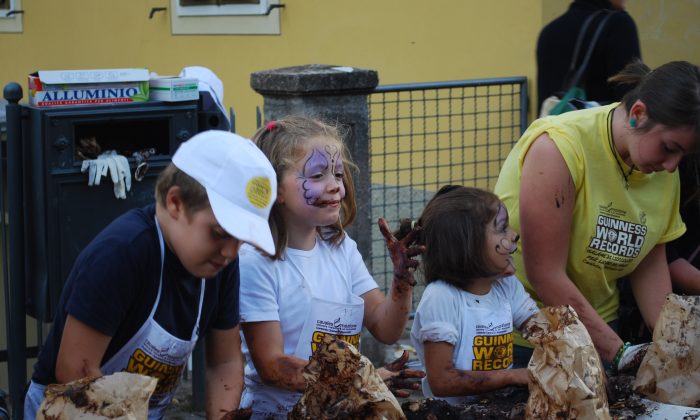 CAVALESE, Italy—A 76.20 meters-long (250 foot) chocolate sausage is likely the new Guinness World Record for the longest chocolate sausage ever, and a dream come true for more than 228 children.
On Friday the northern Italian town of Cavalese saw a long row of tables stretched throughout the town's center. On each table were containers of chocolate, eggs, butter, and a pouch of cookies.
The recipe was simple: blend the butter and chocolate, add eggs and mix thoroughly to hold everything together, and then add the cookies to flavor. The result was yummy, with the children unable to keep themselves from eating a bit once in a while.
After about one hour of sausage making, the Guinness World Record judge was uneasy. "They can't succeed," he said, watching sadly how the pieces of sausage on each table, when attached to one another, made a total length far from the 100-meter goal, and not even long enough to meet the minimum 75 meters.
But children believe in miracles and the adults helped them realize their goal. In epic fashion, a pair of adults began to carry huge pieces of chocolate in their hands, running from an unknown location to the end of the sausage. In the end the sausage met at least the minimum length necessary for the Guinness World Record.
In 73 minutes the sausage was ready, beating the previous world record of 75 meters. A video will be sent to London to confirm within 60 days whether the record is approved.
Happy children and adults enjoyed their deserved 76.20 meters-long meal at the end of the event.