HONG KONG—The HKLBA Triples League Division 1 title race is still wide open after defending champion Craigengower Cricket Club defeated the leader Hong Kong Football Club B team away from home last Saturday, Feb 18 and climbed to the top with an edge of one single point.
The match at the HKFC indoor green was widely considered as a title decider as the points difference between the two teams was small.
The first game finished on the day was between two ex-Hong Kong internationals CT Wong and Lee Ka Ho when CCC's Lee prevailed with a 13-16 victory. Lee's teammate Stanley Lai, the reigning indoor singles champion, also won his game 11-15 against Neil Herrington.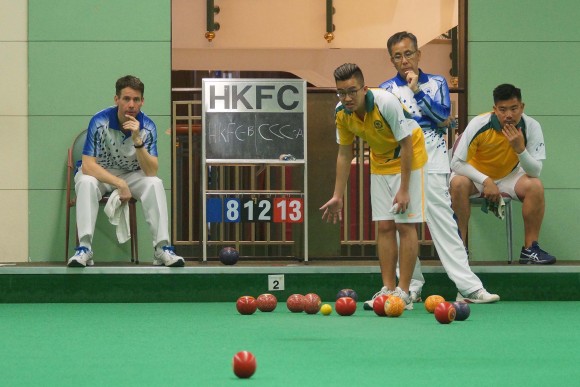 In the last rink, CCC's Kevin Fung was down 20-10 into the last end. He was holding a shot with his last bowl in hand. As he needed four shots to win the aggregate, he drove heavily and took out the two closest HKFC shots to win four shots in the end. He lost the game 20-14 but CCC won the aggregate 44-45 and bought home six precious points.
HKFC-B played a postponed game at Kowloon Bowling Green Club on Sunday and won 2-6.
After these two games CCC now lead the table with 42 points, one point more than HKFC-B.
CCC, who will be in action at home against fourth-placed Tuen Mun Sports Association, will guarantee their title if they win 8-0 this weekend. However, Tuen Mun still has an outside chance if they beat CCC 8-0, reverse the shot deficit of 42 shots and both Hong Kong Football Club teams lose 8-0.
HKFC-B will be at home playing Kowloon Cricket Club who still need 3 points to avoid the drop. Third-placed HKFC-A will be away to play mid-tabled Police team.
In the relegation zone, bottom team Club de Recreio will travel to third-from-bottom KBGC-B and they need to win 6-2 to send their opponent down. Second from bottom KBGC-A will play mid-tabled Filipino Club who are guaranteed safety after an 8-0 win against CdeR last week.
In Division 2, the fight for the title was also tight as the Hong Kong Youth Team, CCC-B and Indian Recreation Club all amassed 42 points and are just separated by shot difference.
Elsewhere in other divisions, only CdeR-C in Division 8 are confirmed as a champion, all other divisions will play down to the wire to decide the winner.
All games will start at 3:00 this week, with the women's fixture suspended for a week to give way for all the men's matches.
Claudius Lam is an officer of the Hong Kong Lawn Bowls Association.