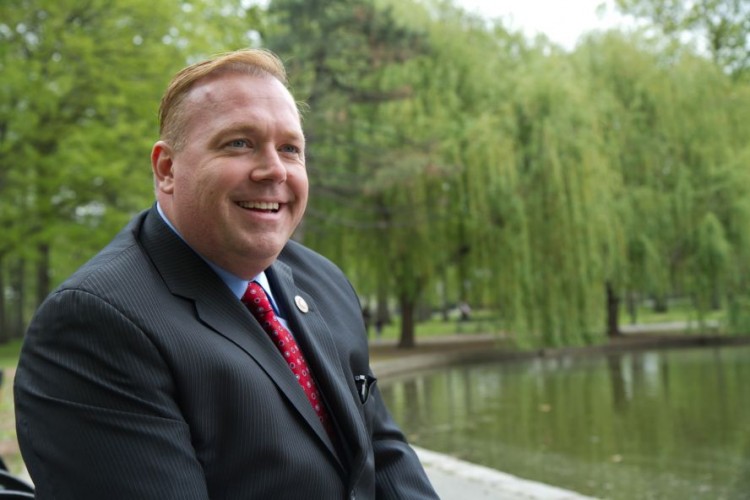 NEW YORK—Five generations of Hallorans have called Queens County home after emigrating from Ireland, and members of all five generations have chosen a life of public service.
Public service is in the blood of New York City Councilman Dan Halloran III, beginning with his great-grandfather who was an NYPD police chief.
His grandfather, Daniel J. Halloran Sr., was an NYPD homicide detective for 42 years and had his shield retired. Halloran's father, Daniel J. Halloran Jr., worked for the city in various agencies. Councilman Halloran's two brothers work in the FDNY.
"Our whole family grew up and we were cops, firemen, a couple of sanitation workers. That is what you did. You came home and went to family reunions and that is what you heard about," Halloran said.
In addition to spending their lives serving the city of New York, the last three generations of Halloran's have all owned two Great Danes, a tradition started by his grandfather. "He got a dog that was brought over from Japan. It was a champion Dane," he said.
Halloran's two Great Danes are named Dasher and Daisy.
Northwest Queens has been Halloran's home all of his life. "It's great that there is still a neighborhood sense in this section of Queens. It is growing up near the city with the benefits of having a yard," Halloran said from a park bench in Bowne Park in late April.
Halloran, who turned 40 on March 16, was raised less than 10 blocks from Bowne Park, the eldest of four boys. The family spent a lot of time playing at the park as youth, a breakout from the front yard.
"It was four Irish boys. If we didn't have a yard, it would have been a real problem," he said laughing.
He enjoyed all things outdoors as a youth, playing organized sports and camping with his father and then the Boy Scouts. "By the time I was four I was able to swim, ride a horse, and pitch a tent. It made for a pretty exciting childhood," he said.
Halloran's father saw him make Eagle Scout, but that ceremony, in January 1989, was one of the final times his father went out.
His father, who battled prostate cancer for six years, passed away on the day Halloran graduated high school. "I got a call when I was in rehearsal that morning. It was pretty devastating," he said.
With the passing of his father, everything changed. Halloran's mother was not only forced to raise four boys alone, but also go back to work—something she had not done in 20 years.
"Everything became a function of me or Patrick [brother] having to figure out what to do and at 17, what the heck do we know?" Halloran said. "I grew up an Irish Catholic and it really twisted my perception of the good and all of those things."
Before his passing, his father warned him not to become a police officer, but he didn't listen. He joined the cadet corps, passed his exam, and became a police officer, although his career was short-lived. When law school applications came in from Saint John's Law, he left the force to pursue a career as a lawyer.
For the years prior to becoming a council member, Halloran was a successful lawyer. Out of 44 felony trials, he lost only four, and one was reversed on appeal.
Time for Community
Seeing a need for change in his own neighborhood, Halloran decided to run for City Council in 2008.
"I said I am always complaining about the government. It was time to put up or shut up. It was an opportune time where there would be an open seat because the incumbent wasn't going to be running," he said.
He ran on the Republican ticket, a rarity for New York City, but not for Halloran. "I have been a Republican my whole life. I am very much into individual rights," he said, adding, "Liberty is important to me and the Constitution is important to me, but so is small government."
Former New York City Mayor Rudy Giuliani was the first politician to endorse him. The campaigning was tough, but Halloran won by 6 percent.
Halloran is one of four Republicans in the 51-member City Council, a task he calls "tough." When asked what made it tough he replied, "To get bills to the floor, you have to convince a bunch of Democrats to let you do it. That is never an easy job."
Despite the uphill battle, Halloran was quick to acknowledge the collegiality in the council. "We all can joke and we all get along fairly well," he said.
In his new arena, Halloran still gets to exercise the skills he learned from his years as a lawyer at hearings. "I get to make a big splash because they will put up a witness and I will be a prosecutor or defense attorney again. There are not a lot of people on the council who are lawyers, so they are not used to that," he said.
This fall, Halloran will be on the ticket for New York's 6th congressional district. "They asked me to do that two years ago and I said 'absolutely not,'" he said. "But they redistricted and brought the seat entirely into Queens."
With one-third of the district now in his council district and another third a Republican-friendly area, Halloran calls it "a winnable seat." He does not have to face anyone in the primary, so he is guaranteed a spot on the ballot in November. "It is a once-in-a-lifetime opportunity. It is exciting."

The Epoch Times publishes in 35 countries and in 19 languages. Subscribe to our e-newsletter.