Times Group isn't like most companies in the crowded Toronto building community: It has substantial international know-how.
Saeid Aghaei, Times Group's Principal, is a civil engineer hailing from Iran, where he constructed universities, dams, bridges, gaslines, and highways. However, as a prolific GTA builder with strong presences in Richmond Hill and Markham, Times Group began as a builder of single-family homes, eventually graduating to high-rises.
The company prides itself on risk mitigation: That is, meticulously ensuring units aren't in any way defective, because bringing trades back in after completion is no easy task. Moreover, Times Group operates Times Property Management to oversee its developments upon completion.
"It's very important that our developments are well managed," said Aghaei. "Property management also serves another purpose. During the design process, we get feedback from management for our future developments.
For example, the usage of amenities in existing buildings is based on functionality and based on material use. Sometimes we have an issue with finishes, but we learn from one development to the next. That's why each building is better than the last, and after nearly 30 years operating in Canada alone, our buildings are among the best."
Times Group's building philosophy extends beyond customer satisfaction; it maintains an indomitable commitment to environmentally sustainable building. To date, the company has won 20 awards, many of which are for its green building practices. Times Group also built the first LEED-Gold certified condominium in the GTA outside Toronto with Majestic Court in Markham.
"It does cost more to build Gold but the customer pays less because of the energy savings," said Shadi Aghaei, Vice President of Times Group.
Times Group is presently developing Valleymede Towers and Luxe Towns, a condominium and townhouse project in Richmond Hill that Shadi Aghaei says will be popular for a few reasons.
"The location is Southern Richmond Hill, where there's no more land," she said. "This is it. It's a very popular location because the Chinese demographic has all the amenities there, but it's also popular because of the scarcity of developable land in the area."
The two towers, 10 and 15 storeys, respectively, will add about 308 units to the area to go along with 45 townhouses—which sold out within hours of being released to market in October. To date, 66 percent of the entire development is sold out.
"The average price per square foot is $540," said Aghaei, "And the condo fees are low because we're green. At $0.50 per square foot, our prices don't go up, so once you move in you don't see the usual huge increases. We have never underestimated our first-year budget, so our track record is such that the $0.50 we sell you at never goes up, and that's important for the consumer."
The surrounding neighbourhood is replete with prestigious schools and amenities that appeal to the Chinese community in particular; and with 25 acres of parkland developed by Times Group, placid respite from the bustling area is nearby.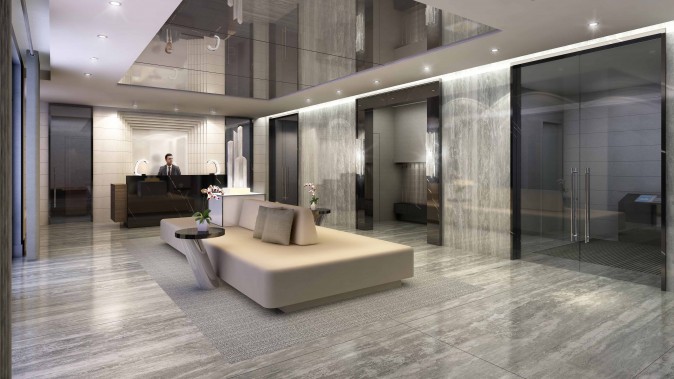 The Valleymede towers draw inspiration from some of the world's most upscale hotels, as reflected in their commodious lobbies that feature polished stone, mirrors and glass. In addition to billiards and party rooms, the development will include a library, which is expected to be popular with students living at Valleymede who study at nearby York University. The other major amenity is a state-of-the-art gym that's designed to fill up with natural light.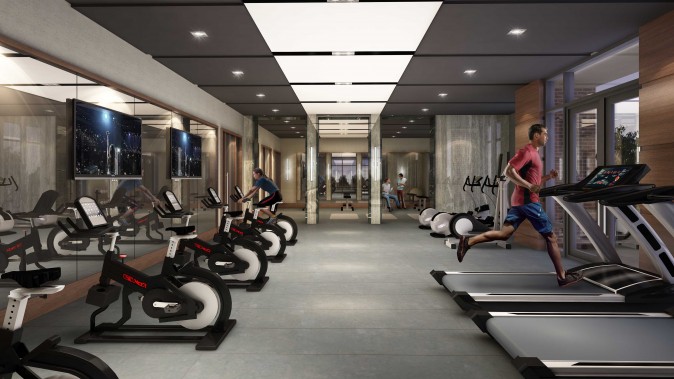 Times Group has been instrumental in high-rise residential development along Highway 7 in Richmond Hill and Markham. It was the first developer to build condos anywhere on the expansive street, and has since concentrated development between Bayview Ave. and Leslie St. A major reason it chose the area is to serve its overwhelmingly Chinese clientele.
"There is better potential in this area because the Chinese feel very comfortable here, they have everything in this area," said Aghaei. "They say Highway 7 is a great area. Most of our purchasers are from the Chinese community."
Times Group's flagship development, Times Square in Richmond Hill, is a well-known commercial development not just among the local and Chinese community, but overseas as well. Upon Hong Kong's sovereignty transfer to China in 1997, a large cohort immigrated to Canada and many chose Times Group's developments along Highway 7 East as their new home, store or office.
As such, Times Group never left the Highway 7 East area. With myriad mixed-use developments in the area, it's responsible for developing a new unofficial Chinatown along Highway 7.
"Even in Hong Kong and China, they know Highway 7. They know they can join this area because they can find community and amenities here," said Aghaei. "It's a very welcoming area."
Neil Sharma is a Toronto-based freelance writer.