House Speaker Nancy Pelosi (D-Calif.) said Republicans in Congress and the White House should act with urgency to negotiate with Democrats over the next pandemic stimulus package.
"Democrats have stood ready to negotiate for more than two months. I call upon GOP congressional leaders [and] the President's team to join Leader [Chuck] Schumer & me within a half an hour of releasing their plan today to negotiate and get the job done," she wrote on Twitter.
Pelosi then alleged that Senate Republicans paused for 10 weeks in their response to the CCP (Chinese Communist Party) virus pandemic.
"It remains unclear whether they will release their plan today – even as working families struggle to make rent, children go hungry and unemployment is expiring," she wrote, referring to the end of the $600-per-week unemployment benefits that were passed under the CARES Act in March.
Pelosi has continued to push the sweeping $3 trillion HEROES Act passed by House Democrats in May, urging Republicans to pass the measure. Republicans have said the bill is too expensive and adds too many unnecessary provisions that aren't related to the pandemic.
"We have stood ready to negotiate for more than two months. Unfortunately, it still remains unclear if Republicans will produce a proposal today. If Republicans care about working families, this won't take long. Time is running out. Congress cannot go home without an agreement," Pelosi added in a longer statement on her website.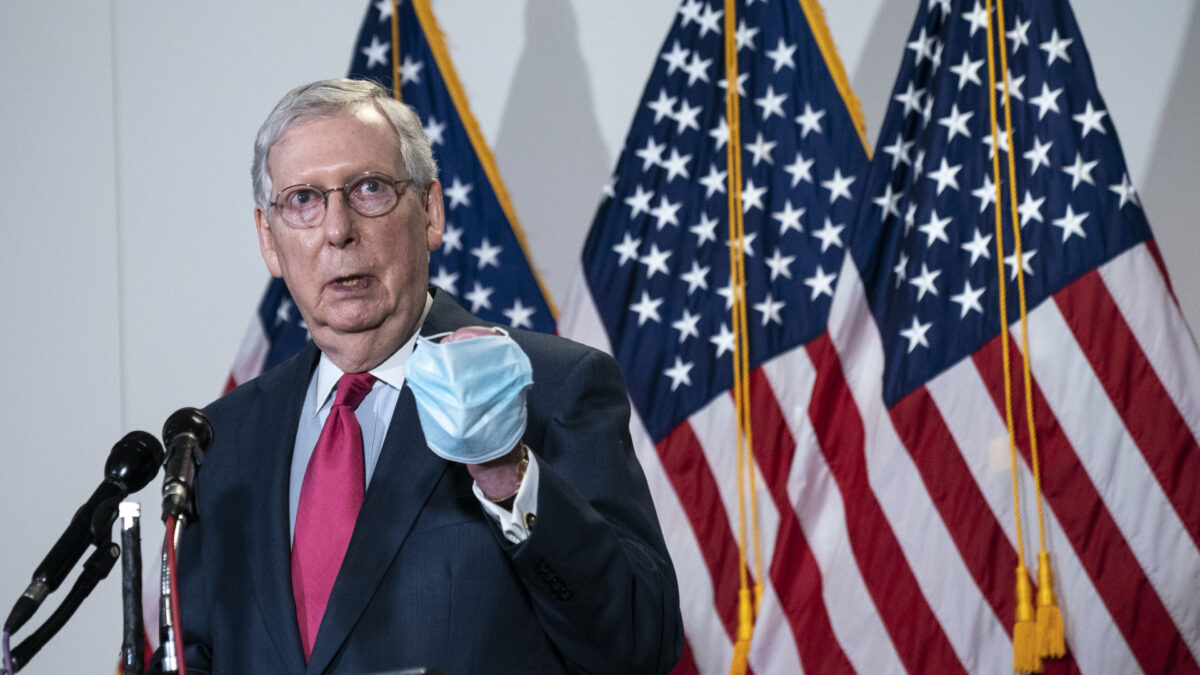 Top Republicans like Senate Majority Leader Mitch McConnell (R-Ky.) and Treasury Secretary Steven Mnuchin said the GOP proposal, which will cost about $1 trillion, will be unveiled Monday. It came after McConnell on July 24 said the White House wanted to first review the proposal.
Over the weekend, White House economic adviser Larry Kudlow and Mnuchin both said that $1,200 stimulus payments will be included in the Republican proposal. Kudlow also said that a federal eviction moratorium, which expired July 25, will be included, among other provisions.
Both Kudlow and Mnuchin, however, said they do not want to extend the expanded unemployment benefits, arguing that they create a disincentive for people to return to work. Democrats included an extension of benefits in their HEROES Act until January 2021.
"The CARES Act provided Kentucky and our nation with the tools to endure the first phase of the coronavirus crisis,"  McConnell wrote. "But America's fight continues, so Congress's support for our people must continue as well. CARES 2 will focus on three things: Kids, jobs, and healthcare."
Sen. Ed Markey (D-Mass.) noted there will be an "epic battle" between Republicans and Democrats over the language of the bill in the coming days, according to MassLive.
"It's the epic battle of my career and it's going to be over whether the federal government is going to provide help for families all across this country," Markey said. "If they don't do it, they're going to politically regret it."