Time for a Moratorium on Executions
May 6, 2014 5:34 am Last Updated: April 24, 2016 6:36 am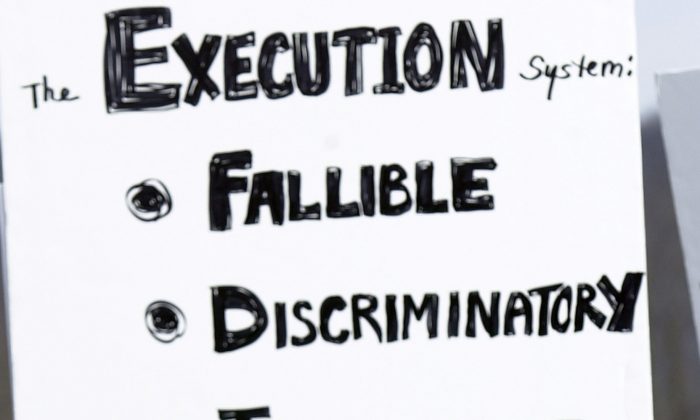 State execution practices have gotten too murky. An outright ban would be too much for our gridlocked Congress to handle, but at least until the methods can be reliable, transparent, and humane, there has to be a pause.
The tangle of secrecy laws, the legal challenges from inmates who ask to know what will be used to kill them, all have to be settled. A report released Monday from the Johns Hopkins Clinic for Public Health Law & Policy said the improvised drugs used for lethal injections violate FDA rules.
U.S. executions have long relied on a three drug cocktail to avoid the constitutional ban on cruel and unusual punishment. One of the drugs—sodium thiopental—is an anesthetic and sedative, so that the condemned will not feel pain or fear. U.S. drug makers stopped producing sodium thiopental in 2011, and the European companies that manufacture it won't sell it to the United States.
Even people guilty of the most heinous crimes are protected by the Eighth Amendment, but the suffering of murderer Clayton Lockett in Oklahoma last Tuesday raises questions about the failure of new lethal injection cocktails to protect constitutional rights. Lockett is not the only one who seemed to suffer at his execution, but his case was especially shocking.
Other Countries Balk
European pharmacies balk at providing drugs to a country where they may be used for capital punishment. No European country allows it, and no European drug manufacturer wants any part of it. With sodium thiopental now hard to come by, states have gotten creative.
Participating compounding pharmacies prepare the drug cocktail for executions. Multiple states have passed secrecy laws shielding these pharmacies from stigma. The idea is that pharmacy staff members might be threatened or harassed by those who oppose the death penalty. These businesses might also face boycotts or damage to their reputations.
However, opponents said that state laws, which protect compounding pharmacies also cover up substandard drug manufacturing practices.
Less Scrutiny
Their original purpose of compounding pharmacies was to customize small batches of medication for individuals, but today they offer a variety of services. Compounding pharmacies are not subject to the same scrutiny as drug manufacturers, and have repeatedly made headlines due to contaminated drugs. From mold to meningitis, there have been serious problems with products created in compounding pharmacies.
New Angle
The Johns Hopkins report said condemned prisoners are in effect being used in unregulated experiments. This is illegal, even for death row inmates.
Federal law said State Departments of Corrections must submit an Investigational New Drug (IND) application when a drug is used outside of a medical practice, on a human being, according to the report.
"The IND process—fortified by the FDA's unmatched expertise with drug protocols would ensure that the Department's of Corrections protocols are effective in reducing the risk that lethal injection will subject a condemned prisoner to pain that would violate the Eighth Amendment," said Stephen Teret, JD, MPH, founding director of the Clinic for Public Health Law & Policy, in a statement. "FDA law states that an IND application must be submitted when any new drug protocol or experiment is undertaken on a human outside of a medical practice or a doctor's office. The laws are in place, the process just isn't being implemented."
The authors of the report concluded that courts should halt all executions until the FDA can establish and approve a humane, effective protocol for lethal injection.
I agree.
And later, we have to stop and think some more about what the Bill of Rights means in the 21st century. And about what company we want to keep. North Korea? China?