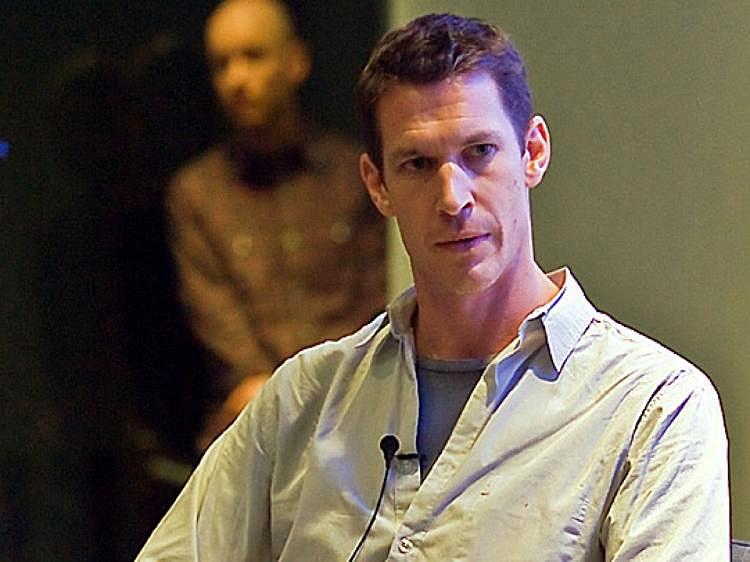 Award-winning war photographer and documentary filmmaker Tim Hetherington was killed Wednesday in a mortar attack on the besieged Libyan city of Misrata at age 41.
Peter Bouckaert, a friend of Hetherington's, of Human Rights Watch in Geneva confirmed Hetherington's death to Vanity Fair on Wednesday afternoon.
"Three other journalists were also hit [in an] R.P.G. [rocket-propelled grenade] attack," Bouckaert told Vanity Fair. "One being Getty photographer Chris Hondros; photographer Guy Martin of the Panos Agency, who is in very serious condition; and a free lancer, Michael Brown, who is slightly wounded."
Hondros died hours after Hetherington was killed, Getty Images has confirmed. He had been in "grave" condition after the attack, according to Vanity Fair, and was in a coma due to a "severe brain injury," Andre Liohn, a fellow photographer present at the medical center where the journalists were taken, told the New York Times.
The U.K.-born, Brooklyn-based Hetherington was best known for work in Afghanistan on assignment for Vanity Fair. His 2010 documentary film Restrepo, which explores the time that Hetherington and his colleague Sebastian Junger spent in Afghanistan, was nominated for an Academy Award for Best Documentary Feature in 2011.
Hetherington posted to his Twitter page on Tuesday, hours before he was killed, while shooting in Libya's third-largest city of Misrata, which has come under intense attack by pro-Gadhafi forces recently.
"In besieged Libyan city of Misrata. Indiscriminate shelling by Qaddafi forces. No sign of NATO," he wrote on April 19, the most recent post since his reported death.
Hetherington is the third reported death of a journalist covering the Libyan conflict this year, according to the Committee to Protect Journalists.
"We're shocked and saddened by word that our colleague Tim Hetherington has died, and we extend our deepest condolences to his family and colleagues," CPJ Deputy Director Robert Mahoney wrote in a statement. "The Libyan conflict is proving to be an extremely dangerous story for journalists to cover."
Hetherington was the featured guest at A Conversation on Liberia and Afghanistan—a forum hosted by The Epoch Times—in 2009 at New York University.