NEW YORK—Ms. Carver needs pencils, markers, and erasers for her seventh-graders.
Ms. Olsen needs some koosh balls and ribbons to help her autistic children stay engaged. And Ms. Myers is trying to find funding for classroom dividers so her students can concentrate.
All three teachers work in high poverty schools in New York City. And none of the three schools they teach at have money for the supplies they're looking for.
"Last year I got $122 for the school year," said Carly Myers. "I'd already used it by the first day of school."
Her case is not unusual and many teachers spend their own money to keep their classrooms functioning. Last year, Myers said she spent more than $1,000 of her own money on classroom supplies.
She, like the other two teachers, are using DonorsChoose.org, a website that has been crowdfunding for teachers since 2000, before crowdfunding was a thing. It was founded by a history teacher in the Bronx.
The website allows teachers from public schools to seek funding for supplies and projects. Right now, there are more than 2,500 live projects from New York City on the site and 51,500 nationwide.
Related Coverage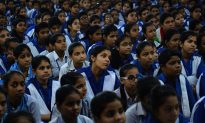 Education Is Critical for Children's Health
Once a teacher submits a request, including the exact shopping cart list, a volunteer will review it and either send it back for more detail or accept it to go live on the site.
"We don't flat out deny a project based on content," said Chris Pearsall, senior director of brand and communications at DonorsChoose.org.
Once the project is funded, DonorsChoose.org will purchase the items and ship them to the school, which keeps the process transparent, says Pearsall.
"[Donors] know the materials that they donated to are the actual materials that are going to the classroom," Pearsall said. "We think of ourselves as the water-free carwash or the flour-free cake sale."
Each project has a maximum of four months to raise the requested amount. If the project fails to reach its goal, any donors will receive a rebate in the form of a DonorsChoose.org gift card so they can redirect their donation to another project.
Potential donors can search the website for a teacher, topic, school, zip code, city, or even the most urgent projects in the highest poverty schools.
Pearsall said the higher poverty schools tend to submit more projects looking for basic supplies, whereas the lower poverty ones are requesting more technology.
The Basics
Laura Carver teaches science at The Mott Hall School in West Harlem.
"We don't have a library, we don't have a gym, and we share a music teacher with another school," she said.
"Students don't have pencils or come prepared with erasers or pencil sharpeners. It wastes a lot of time." Carver's project for basic supplies was the second time she used DonorsChoose.org.
The first time, she raised $824 for books on food and genetics—mostly through the generosity of friends and family.
Her next project? "Definitely more science tools so that my students can see themselves as scientists rather than just being in science class," she said.
Carver said her students are way more engaged when they have an interactive activity or lab to do.
Learning Space
Myers, who teaches autistic children at P.S. 10X in the Bronx, just reached her $1,235 goal for special classroom dividers and tables.
"When you walk into my classroom, you will see students that span across the autism spectrum—some cannot speak, some only use a few words, and some talk in full sentences," said Myers on her project page. "I need a really quiet, divided space."
Myers found out about DonorsChoose.org from another teacher at her school and decided to give it a try. She posted her project on June 23 and it was fully funded by 16 donations by Aug. 28. The furniture was purchased by DonorsCoose.org the following day and the principal was notified of the impending delivery.
"Thank you so much for your generous contributions!" Myers wrote on the project page. "These materials will truly benefit my students and I cannot thank you enough for believing in them and me."
Music, Dance, and Art
Maria Olsen-Hoek (called Ms. Olsen by her students) also works with autistic children, at PS 811M Mickey Mantle on the Upper West Side. Her project asked for $454 to obtain music instruments, ribbons, scarves, and art supplies. The supplies were to replace older materials that had "gotten lost, used up, or became old and damaged over the years," she said.

Olsen-Hoek is part of a Facebook community called Caring Classrooms. It's a pool of teachers who have projects on DonorsChoose.org. They select projects that are close to being funded and help each other bring them to completion by strategically donating.
Next on Olsen-Hoek's wishlist is a package of activities to do when her children are confined to indoor recess during inclement weather. "It's always such a bummer for my kids when they have to stay in the classroom," she said.
She will try to link into funding assistance from retail giant Target through DonorsChoose.org's "Almost Home" program, which has corporate or foundation donors cover all but the last $99 of a project.
More than 100 sponsors have jumped into DonorsChoose.org projects with fundraising dollars, including Target, Staples, and Yamaha. The Bill and Melinda Gates Foundation matched donations dollar for dollar for the whole day on Aug. 25, in a rare sitewide flash funding effort.
DonorsChoose.org aims to have at least one teacher from every high poverty school in the country post a project. They're currently at 72 percent.
Last year, more than 500,000 donors gave to projects; DonorsChoose.org wants to get that to 1 million.
Educators from other countries have contacted the site to ask if DonorsChoose.org can start operating overseas.
Pearsall said they'll do all they can to help, but their focus is on the United States.
"We don't feel like we have completely cracked the nut on solving education inequity in the United States yet."
DonorsChoose.org by the Numbers
774,954
Total projects funded through DonorsChoose.org since launch
51,500
Current projects seeking funding nationwide
$104 million
Total raised last year through DonorsChoose.org
$14.2 million
Pledged by 58 celebrities, artists, company founders for Best School Day (March 10, 2016)
$1.2 million
Record donations received by individual donors in one day (Aug. 25, 2016)
50%
Of all donations come from foundations and corporations
70–75%
Of projects reach full funding
$600–$800
Ideal cost range for a successful project
NYC Schools
$23.1 billion
NYC Department of Education operating budget
1.1 million
School students in New York City
1,800+
Schools in the five boroughs
Source: NYC Department of Education