TIFF: 'Labor Day' Explores 'complexity of desire,' Says Reitman
September 9, 2013 5:14 pm Last Updated: September 23, 2013 5:51 pm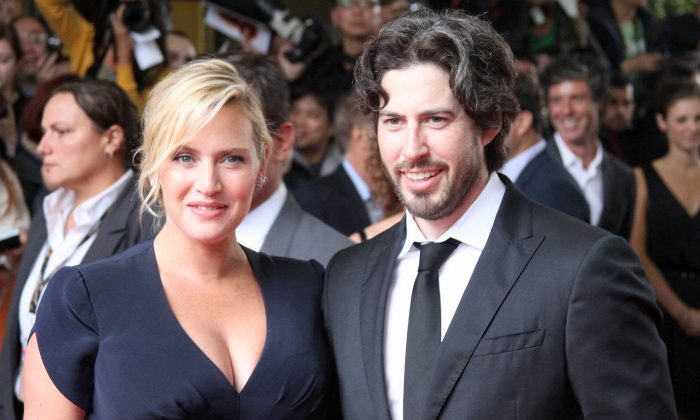 Labor Day is decidedly different fare for director Jason Reitman. The comedy is stifled and dialogue takes a backseat to the more subtle nuances of the characters.
The Canadian director and son of Ivan Reitman has leaned heavily on the spoken word in his past efforts, and his command of that type of filmmaking is evident in his critically acclaimed works Juno, Thank you for Smoking, and Up in the Air.
"It's a very unusual film for me in that I'm used to making films that have so much dialogue that the conversation is about talking, " said Reitman. "This was a movie about looks, this was a movie about glances and about touches."
The film's actors Kate Winslet, Josh Brolin, and Gattlin Griffith joined the director onstage at the film's press conference on Sept. 7 at the Toronto International Film Festival, where it premiered to mixed to positive reviews.
Labor Day is based on the novel of the same name by Joyce Maynard that tells the story of depressed, middle-aged, single mom Adele, played by Winslet, who offers a ride to a bloodied, escaped convict played by Josh Brolin. 
The story revolves around the intense interpersonal drama played out between Brolin, Winslet, and her son, played by Gattlin Griffith. The domesticated but symbolic events unfold while they are holed up in Adele's home as local police hunt for Brolin's character. 
Asked about the change in direction, Reitman said, "I wasn't looking to make a shift. I've never sought to make a particular genre film or a type of film."
"The complexity of desire—that's what I was interested in," he said of his interest in making the book into a movie.
Atypical Heroes
Although he admitted that the Labor Day chartered unfamiliar territory and that the research process alone was exhaustive, Reitman said the film shares an essential similarity with his previous work.
"Strangely, underneath it all I think this film is similar to my other works in that they are about atypical heroes."
Both Winslet and Brolin wanted to make the film precisely because of the complex nature of the characters. To achieve the necessary effect, Reitman said he "relied on the brilliance of my actors to feel out those moments."
"These are the most dramatic situations you can live in," said Brolin of his role. "When someone like Jason (Reitman) finds a story like this it's the most acute drama you can live within and once you get back home you feel like it's a vacation."
Showing some frustration with the questions posed at the press conference, Reitman summed up by saying. "Its hard to talk about any film, it really is, and explain it, but this one in particular is really hard to speak about because it's beauty is in what is very difficult to explain or impossible to explain."
"It speaks to the moments that we don't understand about our own desire," he said.
The Pie
The making of a peach pie plays a central role in the boiling over of unspoken affection between the two lead characters. While some critics have referred to the scene as bordering on ridiculous, with many drawing parallels to the pottery scene in Ghost, the intention was to bring forth the intense emotional trappings of the two characters.
In a lighthearted moment Reitman admitted that in the original screenplay he described the scene as "the greatest pie-making scene in cinema history." 
In an effort to live up to expectations, Brolin took it upon himself to become a master pie maker, and baked almost daily, feeding the cast and crew.
"Josh is a picture of masculinity, but you'd show up at his door and he'd be in an apron, and he'd be so excited to tell you about the crust he achieved that day," Reitman said.
"He'd give pies to everybody and it really was exciting at first, but at a certain point you'd see the pie and you'd go running."
"Labor Day" will be released in North American theatres on January 31, 2014