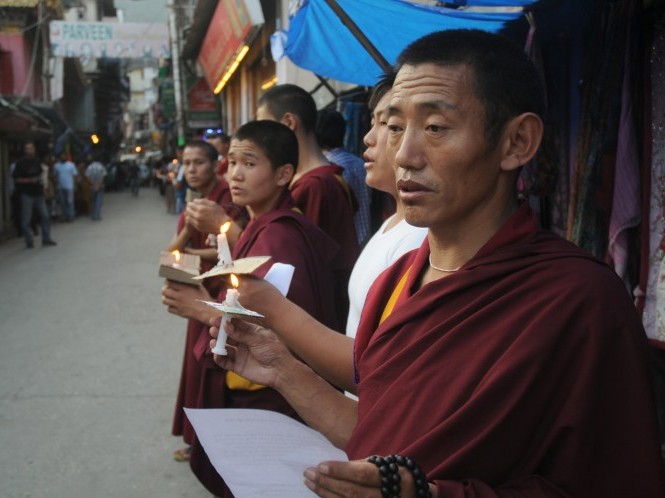 A Tibetan monk who staged a protest in southwestern China was beaten severely by security forces before being taken away, in a sign that the Chinese regime is cracking down harder on dissent in Tibetan areas.
Sources told Radio Free Asia that the monk, a 22-year-old Tibetan named Kunchen, in Serthar, a town in southwestern Sichuan Province, walked up and down the street protesting Chinese rule on Sunday. He also called for the return of the Dalai Lama, the exiled leader of Tibet.
"Not long after, about 30 Chinese police and security personnel swarmed him and beat him severely before taking him away," the source told RFA.
Serthar, or Seda in Chinese, was the site of Tibetan protests last year that resulted in a bloody crackdown by local authorities that left five people dead, according to reports at the time. The incident triggered several self-immolation protests in the area. 
On Monday, security was tightened around Serthar, a common tactic used by Chinese authorities to quash potential unrest.
The beating and detention of the monk comes just days after a Tibetan man set himself on fire to protest against Chinese rule in nearby Gansu Province, which lies just to the north of Sichuan. The total number of Tibetans who have set themselves aflame since February 2009 is at 98, with more than 60 burning themselves in 2012. 
Late last week, Chinese authorities charged two Tibetans, including a 41-year-old monk named Lorang Konchok, in Sichuan with allegedly inciting eight Tibetans to self-immolate in protest last year, the state-run Xinhua news agency reported. 
And earlier this month, state media announced the arrest of seven Tibetans in Gansu for allegedly "organizing" self-immolations, saying they are part of the "'Dalai clique," using terminology consistent with Communist Party campaigns in the past, according to the International Campaign for Tibet, also known as Save Tibet.
Save Tibet said it believes that the crackdown in Gansu is "indicative of an increasingly aggressive strategy of reprisals against friends, family and others who may be connected in some way to Tibetans who self-immolate."
But as the self-immolation incidents have increased in recent months, Tibetans in exile have called on those living inside China to discontinue the practice. 
Last week, the Tibetan Youth Congress rejected allegations by the Chinese regime that the group was linked to the self-immolations. Tsewang Rigzin, the head of the group, said that the claims are a "futile attempt" to defame the organization.  
"Instead of hurling such baseless and fallacious allegation, the Chinese government should heed to the fiery cries of the Tibetan people," he said.
According to RFA the exile government also called on Tibetans inside China to not celebrate the Tibetan New Year, which falls on Feb. 11—five days before the Chinese New Year—in order to commemorate "all who have sacrificed their lives and for all who continue to suffer in occupied Tibet."
The Epoch Times publishes in 35 countries and in 21 languages. Subscribe to our e-newsletter.