Tibet Protest Spreads to Beijing
March 20, 2008 12:00 am Last Updated: March 20, 2008 12:00 am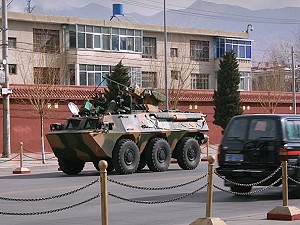 On March 17, Tibetans staged a small protest in Beijing. This is the first time a rally has been held in Beijing since protesting against the Chinese Communist Party (CCP) broke out in Tibet last week.
Meanwhile, the CCP continues to blockade the Tibetan capital, Lhasa. Military police and armored vehicles are littered throughout Lhasa's streets. Authorities are searching every house thereby creating a cold and oppressive atmosphere. The Tibetans protest has already spread from Tibet to remote areas in Tibet as well as neighboring Sichuan, Qinghai and Gansu provinces.
More than 50 Tibetan students from the Central University for Nationalities, the highest educational institution for ethnic minorities in China, staged a sit-in on campus on March 17. The protest to support Tibetans spread to China's capital, Beijing. Witnesses say that the student protesters lit candles and police were on the scene. Although no clashes have broken out, the police have already begun a search for the organizers of the protest.
Students in many universities in Western China also staged peaceful sit-ins to support Tibetans fight against the CCP's violent regime. On March 16, in Lanzhou City, the capital of Gansu Province, about 500 Tibetan students in Northwest University for Nationalities held a sit-in at the campus sports ground. They also posted pamphlets around the campus describing the situation in Lhasa.
Tibetan students in Hezuo Teachers' College in Southern Gansu also held a demonstration and fiercely collided with the school's CCP committee. As of now, a large number of military police are patrolling and monitoring Southwestern University for Nationalities in Chengdu in fear of Tibetan students taking action.
Spokesperson Whitticase of London based "Free Tibet Campaign" stated that the CCP authorities have deployed a massive number of troops across the entire western region and have even sent paratroops into Tibet.
Sources have also said that the Military Region in Chengdu City has been on high alert and is sending troops to Tibet. Analysts suspect that based on the weaponry that is appearing on Lhasa streets, the CCP has already dispatched crack troops to suppress the protests.