| Video Courtesy of NTDTV |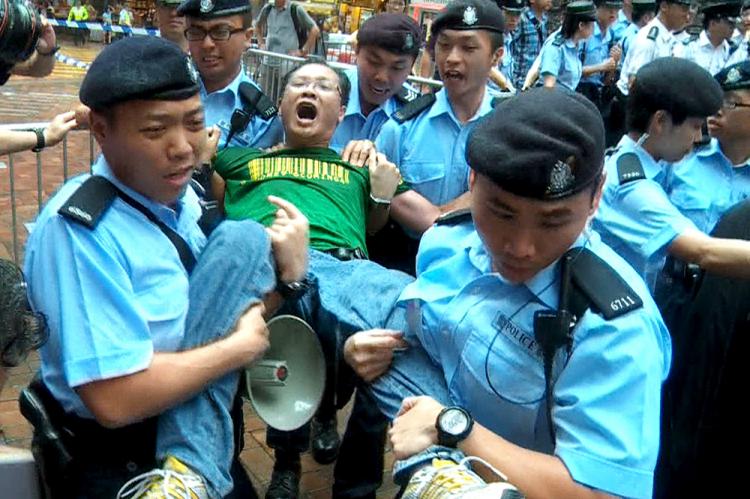 The Hong Kong police arrested 13 democracy activists for staging a demonstration to mark the 21st anniversary of the June 4, 1989, Tiananmen Square incident. Hong Kong lawmaker Mr. Lee Cheuk Yan was among those detained.
The exhibition and an Associated Press conference were organized by the Hong Kong Alliance in Support of Patriotic Democratic Movements in China (known as the Alliance), on May 29 in a busy commercial area outside the Times Square shopping mall in Causeway Bay.
At noon on May 29, 20 minutes before the scheduled press conference, the police confiscated two pieces of artwork displayed, including a statue of the "Goddess of Democracy," said a Voice of America report. The "Goddess of Democracy" is a symbolic replica of a similar statue erected during the 1989 Beijing protests.
The police said the exhibition was halted because it did not have a permit from the Food and Environmental Hygiene Department.
The organizers said similar activities were held during previous years without any problem and that the police had been informed about the activity beforehand.
Alliance Chairman Szeto Wah said that an incident of the sort has never happened since the former British colony's return to China in 1997. He believes this indicates that freedom of expression is being stifled in Hong Kong.
The exhibition included a large relief sculpture, "Tiananmen Massacre," made by renowned overseas Chinese artist Weiming Chen. The sculpture was previously exhibited in the National Arts Club of New York. The Alliance planned to exhibit the two sculptures on May 29 and June 4, at Times Square and Victoria Park respectively.
An estimated 150,000 Hong Kong residents participated in the June 4 candlelight vigil in Victoria Park in 2009. Hong Kong remains the only place on Chinese soil where an anniversary of the Tiananmen Square Massacre has been commemorated.
[etssp 49]