Tiananmen Protestors Increase; Police Turn Violent
October 24, 2005 12:00 am Last Updated: August 21, 2015 6:53 pm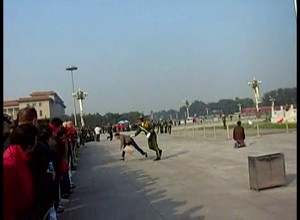 Beijing – Recently, the number of protests at Tiananmen Square has visibly increased. On October 22nd, an Epoch Times reporter observed over 300 protesters seized from Tiananmen between 9 and 11 am. According to appealers, the cells, and even the yard, in the Tiananmen branch of the police department was full of arrested protesters.
In the past week, the number of people from outside areas who have gone to the capital to appeal has increased sharply; the protesters from the week of October 1st are returning. These appealers, after going through all levels of officials in the appealing process, have already lost hope in the Chinese government and are seeking more effective ways of protest in Beijing.
The protesters have done everything from intercepting officials to present their cases, to kowtowing in front of the national flag at Tiananmen. Appealers said, "It's useless to go to Zhongnanhai; going to Tiananmen and kowtowing in front of the national flag is more effective. There will be foreigners taking pictures and foreign media reporting it." Although the appealers know that kowtowing in front of the flag may result in being sent to a detention center or a labor camp, public appealers in Tiananmen Square have still increased dramatically. Around the flagpole at Tiananmen, there are over 10 armed military and police keeping watch.
On October 19th at 9:30 am, a civilian appealer was captured on video kowtowing in front of the flagpole. (http://pkg.dajiyuan.com/pkg/2005-10-23/20021019b.rm). There are appealers from all over the country. Over ten of the protesters charged across the security line around the flagpole. There were people shouting, "China has no human rights!" Many people surrounded the scene. In the video, one can hear the discussions of foreigners.
From the video, we can clearly see several policemen dragging the protesters away like luggage. A middle-aged female who had just kowtowed in front of the national flag was thrown by police and landed several meters away. Later, two policemen took another protester away. At the scene, there was only a protester's shoe left. These appealers were immediately put on police vehicles and taken to the Tiananmen local police station. Among them was a veteran who had fought against the Americans in Korea. Another Southern protester wearing glasses was courageously shouting on Tiananmen Square.
Along with the increase in protesters at Tiananmen, the number of policemen and plain-clothed police are also increasing. Aside from arresting protesters, there are also police watching for people with video cameras. Hence, even though the protests at Tiananmen have increased all this time, there have been very few photographs and videotapes taken.