Eight Thousand March in Hong Kong
June 2, 2009 7:59 am Last Updated: June 4, 2009 4:49 am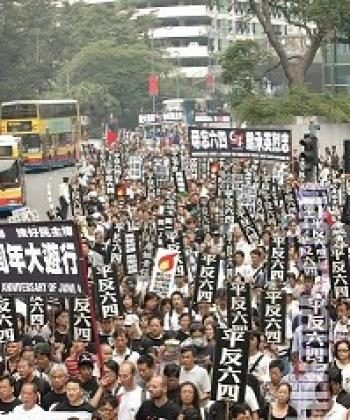 The Hong Kong Alliance in Support of Patriotic Democratic Movements of China held a grand march to commemorate the 20th anniversary of the June 4 Democratic Movement. Over 8,000 people joined the march on May 31, 2009.
Szeto Wah, Chair of the Alliance, said that the number of participants reached an all time high. He believed it had something to do with HK's Chief Executive Donald Tsang Yam-Kuen public misrepresentation of the Movement in a speech.
Early in the morning on June 4, 1989, the Chinese Communist Party mobilized tanks and armed soldiers to suppress students and residents of Beijing on Tiananmen Square. The suppression killed many who protested against corruption and demanded democracy.
Over a million residents in Hong Kong went to the streets to protest against the brutal suppression afterward. In the past 20 years, Chinese people around the world continue to demand the redressing of those who died in the massacre and an investigation into who was responsible for slaughtering unarmed civilians. Days before the 20th anniversary of the Movement, people in Hong Kong went to the streets and continued to voice their demands.

The subject of the march on May 31 was "To inherit the will of the heroes and never forget June 4; to continue democracy that will be passed down for generations." At 3:30 p.m. the march started from Victoria Park in Causeway Bay. The march was led by dozens of 20-year-old young men who were born in 1989. It symbolized passing down the tradition of democracy.
Those who joined the march included Szeto, founding chairman of the Democratic Party Martin Lee Chu-Ming, and former student democratic movement activist Xiong Yan. Xiong was sentenced to two years for joining the student movement in 1989 and exiled to the United States. Xiong became a lawyer and came back to HK with an U.S. passport.
Xiong said he was very moved when seeing so many people support redressing the June 4 Movement. It reminded him of the student movement on Tiananmen in 1989. "When the Liberation Army fired at civilians early in the morning on June 4, 1989, I was there. I helped move the dead bodies. It was something I can not forget. It was horrific." Xiong believes the political system in China has not improved in the past 20 years.


Li Lanju came from the United States to support this activity. He said, "Twenty years ago, I was a representative from the HK Federation of Students who went to Beijing to support the democratic movement. I was a student in Shue Yan College at that time. I was at Tiananmen on June 3 and 4. I witnessed the bloody suppression on Chang'an Boulevard. Many people I know also witnessed how tanks rolled over unarmed civilians and how soldiers shot students from behind."
A HK civilian at the march said that if one-party rule continued, "democracy in China will never develop." Another person agreed, "I hope after today's appeal, the dictatorship will end in HK and China."
Read original article in Chinese