Throne Speech Focuses on Jobs, Economy
March 4, 2010 1:51 am Last Updated: March 4, 2010 10:45 am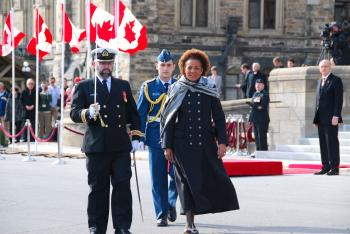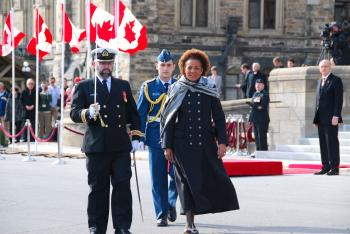 OTTAWA—The Conservative government outlined its 2010 priorities in its throne speech on Wednesday focusing mainly on the economy and jobs, with plans to wind down stimulus spending by March 2011 when it will begin to cut the rising deficit.
Governor General Michaëlle Jean delivered the afternoon speech in the Senate Chamber marking the resumption of Parliament following a two-month suspension.
"Jobs and growth remain the top priority," said the 6,000-word speech titled "A Stronger Canada. A Stronger Economy. Now and for the Future."
"Our government will complete the second year of Canada's Economic Action Plan—guided by extensive consultations with leaders in business, industry, and everyday working people and their families—and make refinements where necessary."
With an estimated $56 billion federal deficit this fiscal year ending March 31—Canada's largest-ever deficit—the government plans to restrain overall federal program spending in order to return to fiscal balance.
Freezes are planned for salaries of the prime minister, cabinet ministers, MPs, and senators along with their office budgets. Federal departments will also have their operating budgets frozen.
In addition, the government will "aggressively review all departmental spending to ensure value for money and tangible results."
Meanwhile, the speech came with a promise to protect growth in federal transfer payments that directly benefit Canadians, including pensions, healthcare, and education. And the government will "keep tax rates competitive and low, while taking aggressive steps to close unfair tax loopholes."
James Brander, a professor at the Sauder School of Business at UBC in Vancouver, said the throne speech carried no surprises.
The top priorities of job growth, economic growth, and re-establishing fiscal balance as soon as possible are what the government has said it would emphasize, but "the deficit is more of a question mark," he said.
"Canada's economic growth is actually more than expected, at a 5 percent annual rate, which is really pretty darn good. If Canada continues to grow at that rate, a year from now we'll be in a full-fledged recovery."
And although the country is still struggle with unemployment, job growth is taking place and likely to continue, said Prof. Brander.
"But there is a question whether economic growth will be enough in itself to bring us back to budget balance, and to what extent will the government have to cut."
Prof. Brander said it may require cuts to some major expenditure programs rather than "symbolic cuts" such as civil service salary freezes.
Another question is whether economic growth will be fast enough to achieve a balanced budget in two or three years.
"Quite a few economists are questioning whether we can get back to fiscal balance with our current structure," he said.
Parliamentary Budget Officer Kevin Page shares this concern. Mr. Page released a report on Feb. 18 warning that Canada's current fiscal structure is not sustainable over the long term due to the country's aging population.
Ian Lee, MBA Director at Sprott School of Business at Carleton University in Ottawa, agrees.
"When our baby boomers start to retire, our deficit is going to skyrocket," he said.
Retired boomers will no longer be earning salaries and paying the taxes needed to pay for the federal transfers. At the same time, they will be requiring much greater pension payouts and healthcare, while Canada faces a slower labour force growth.
"The demand on government to fund healthcare and pensions will go through the roof," Prof. Lee said.
Canada will either have to raise taxes or cut programs, or both, to close the gap between its debt and its GDP in order to return to fiscal balance, he explained.
But at this point, "what we're doing is not sustainable. We're growing our debt and our expenditure much faster than our economy."
"There must be greater focus and urgency on cutting the deficit and the government must start a conversation with Canadians about healthcare and pensions," said Prof. Lee.
Harold Chorney, a professor of political economy and public policy at Concordia University in Montreal, said that what he considers good policy would be to complete the stimulus plan and "watch the growth statistics, but also watch the unemployment numbers."
"An 8 percent, unemployment is too high," he said. "As the rate drops to 5 or 6 percent, that's the time to address the deficit, not before."
While he agrees with maintaining the federal transfers that go toward healthcare, education, and pensions, he said he would go further.
He said he would not cut program expenditures except where there is obvious waste of money.
"Because until it's clear that the unemployment rate is coming down, if you withdraw purchasing capacity from the federal government's budget, you're subtracting it from the total demand for goods and services in the economy, and that contributes to higher unemployment."
Other highlights from the throne speech include the launch of a "digital economy strategy" to drive new technology adoption; investment in education, skills training, and research and development; opening Canada further to venture capital and foreign investment; and creating a federal securities regulator.