Three Years Labor Camp for Spreading the Nine Commentaries
January 1, 2008 12:00 am Last Updated: January 1, 2008 12:00 am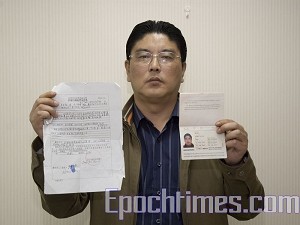 On December 27, mainland human rights advocator Wu Yalin arrived in Taipei, Taiwan via Thai Airways PG636. It is reported that Taiwan's Mainland Affairs Council is contemplating whether to grant Wu political asylum. The prospect is not optimistic.
Wu, who was sentenced to nine years imprisonment before, said that he was recently sentenced to three years in labor camp for spreading the book, Nine Commentaries on the Communist Party and making human rights appeals. He was forced to flee.
Wu revealed that through the Chinese human rights Web site, 64 Tianwang, people from his home town told him that the Chinese Communist Public Relations Department had issued arrest warrants on the charges that he "colluded with overseas anti-China forces to subvert the government."
Wu called upon the outside world to pay attention to his predicament and hoped the Taiwan government would grant him political asylum.
Three Years in Labor Camp For Passing Three Copies of the Nine Commentaries
When Wu was interviewed by The Epoch Times, he talked about the reason for his escape. He said that there were Falun Gong practitioners distributing the Nine Commentaries on the Communist Party in a local area in Sichuan province. After reading it, he felt it was good and factual, so he passed three books to his friends. Little did he expect the information to be given away.
In November, Wu's friend in the police department told him that the Bazhong City Commission had unofficially determined to send him to labor camp for three years. One of the charges was so-called spreading Falun Gong's anti-revolutionary materials (the Chinese Communist Party claims itself to be revolutionary). Other charges included being in contact with the 64 Tianwang Web site and for several appeals that "disturbed the law and order of Beijing."
As for being sent to labor camp for three years for dispatching the Nine Commentaries, Wu said that the persecution of Falun Gong was very serious in Sichuan province. To his knowledge, a female practitioner, the wife of a middle-rank member of the communist cadre, often went to local district public areas, such as Joyful Harvest, to distribute Falun Gong truth-clarifying materials and called on people to withdraw from the communist party. She was sent to the labor camp twice. In November 2007, the Chinese Communist Party (CCP) arrested her and sentenced her to five years in prison.
Wu said, "I am not a Falun Gong practitioner, but I don't agree with the suppression of Falun Gong. Falun Gong improves one's physical health. What is bad about it? But the CCP just can't tolerate it."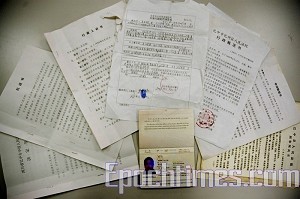 Cruel Torture in Prison
Wu also mentioned that because he exposed the head of the local county as practicing favoritism in elections, retaliation was severe. He was sent to the third prison in Sichuan province for nine years. During that time, he was cruelly tortured many times, including being hand and foot cuffed, placed in solitary jail, forced to sit in a water-filled jail cell, frequent beatings, and starvation.
Escaped to Expose Tyranny
After learning he was unofficially sentenced to three years in labor camp, Wu's friend advised him to escape quickly. After careful consideration, believing that people in mainland China would continue to suffer from the CCP's persecution, Wu made the decision to seek democracy and freedom, and therefore sought political asylum in Taiwan.
Wu emphasized, "This time, I want to expose their tyranny and the persecution I suffered over the years. Now they want to further persecute me for three more years. I can't stay in mainland China anymore. I request political asylum."
He also said that although the CCP claims there are 70 million party members, actually many party members want to withdraw from the CCP. He said they have seen through its tyranny, but have to keep their anger to themselves.
Wu emphasized that if the Taiwanese government repatriated him back to the mainland, he would be recalcitrant, "I am renouncing evil for good, seeking democracy and freedom. But if I can't gain freedom in a democratic and free country, there is no way they can explain this … repatriating me back to the mainland is a crime."