Around 50 parents dissatisfied with the Tustin Unified School District (TUSD) served three board members recall notices during an Aug. 23 board meeting.
Trustees Allyson Damikolas, Lynn Davis, and Jonathan Stone were served with notices of intent to circulate recall petitions by TUSD parent Syndie Ly.
"Over the last year, the board has been unresponsive to the multiple requests for information, meetings, and clarification around curriculum and programs being introduced into Tustin Unified Schools, while avoiding concerns over declining academic performance," Ly said during the meeting.
"A growing number of Tustin parents are [so] frustrated with this board's lack of transparency and responsiveness that we have no other recourse but to unseat you from the office."
A spokesperson from the Orange County Registrar of Voters' office confirmed that the recall notices were filed on Aug. 24. The petitions are currently undergoing approval.
Esther Yoon recently pulled her daughter out of Beckman High School in TUSD and enrolled her in a local private school because she didn't feel confident that her daughter would get the best education in the district.
"My main concern was the CRT—critical race theory—coming in, and the possibility of making that into a mandated class to graduate, and that they are repackaging it as something else, which is ethnic studies," Yoon told The Epoch Times.
"They're using the words diversity, equity, inclusion; all those words that are very inviting. When you look at all the curriculum, the words are actually coming out of CRT books. … They are pulling materials from CRT and calling it something else."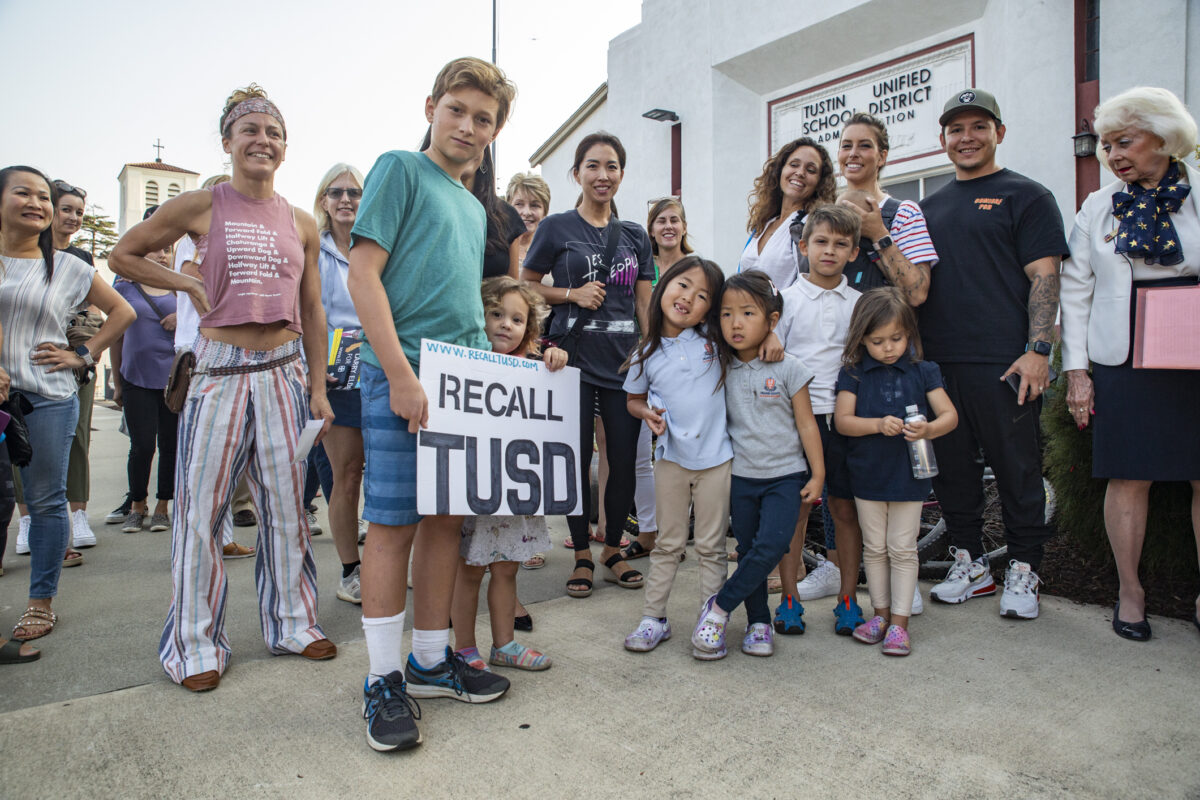 Critical race theory (CRT) is an ideology that divides society into oppressors and the oppressed based on racial characteristics. Other types of critical theories focus on sex, class, or sexual proclivities.
TUSD spokesperson Matthew Jennings said the district's ethnic studies course doesn't contain CRT.
"[TUSD's ethnic studies elective] is an inclusive interdisciplinary course that cultivates critical thinking skills to nurture an understanding of social and cultural perspectives in the United States. It celebrates the cultural wealth and contributions of people in our country. It is not a divisive course and does not focus on any race as oppressed or the oppressor," Jennings told The Epoch Times via email.
Last school year, an English substitute teacher offered students a "white savior assignment" that left parents worried about their children's education, claiming the assignment contained elements of CRT.
"We were told at that time that was an unauthorized assignment given by a substitute teacher, and the substitute teacher had been let go. This however was untrue. We discovered that TUSD has hired this substitute teacher to teach full time at Foothill High School," Ly said.
Jennings confirmed on Aug. 24 that the substitute teacher that offered the white savior assignment was "no longer serving" at Foothill High School in June 2021, but was later hired for a full-time position.
Another concern raised by the parents was the low standardized testing scores. In TUSD's English language arts (ELA), less than 62 percent of students met or exceeded the standard, while less than 53 percent of students met or exceeded the math standards.
"TUSD schools are no longer the Blue Ribbon schools they once were," Ly said.
However, TUSD is performing better on average than both the state and county in ELA and math.
The state's metrics show only 51 percent of students met or exceeded ELA standards and less than 40 percent for math.
Meanwhile, in Orange County as a whole, nearly 60 percent of students met or exceeded the ELA standards and only 50 percent for math.
Denise Ramirez, a mother in TUSD, said she's frustrated with the school board's lack of responsiveness and communication with the parents.
"We are tired of the board really not listening to us, not taking into account what we have to say, what we want for our children," Ramirez told The Epoch Times.
"I can't trust my kids to the school district. …  We're pretty much one foot out and looking at [different] schooling options, especially if they're going to make vaccines a mandate for school."
Although no schools in Orange County require students to receive the COVID-19 vaccine, Culver City Unified School District in Los Angeles County recently mandated vaccines for all eligible staff and students.
"The TUSD Board of Education actively protects the right to free speech and the public's ability to interact and connect with elected board members. The TUSD Board of Education takes public input very seriously and with great consideration," Jennings said.