Retirees who depend on fixed income are among those who will be affected most by the soaring inflationary costs. Experts say there are various ways for retirees to consider surviving the ongoing 40-year high inflation.
The consumer price index (CPI) surged 1.2 percent in March, the biggest monthly increase since September 2005, the Labor Department said on April 12.
In the 12 months through March, the CPI accelerated by 8.5 percent, the largest year-on-year gain since December 1981, followed a 7.9 percent jump in February.
Experts say the retirees should cut their spending and invest more cautiously with coming rate hikes in mind.
Cutting Spending to Match Inflation
"The first step is to review your budget and try to cut your spending by at least 10 percent to compensate for inflation," Andrew Latham, a certified personal finance counselor and director of content at Super Money, told The Epoch Times.
Potential ways to attain that goal include using coupons, cooking at home more, comparison shopping, and cutting down on more expensive foods such as meat, seafood, and alcohol.
"It may also be wise to put off expensive vacations and do more activities close to home to cut down on gas expenses," he added.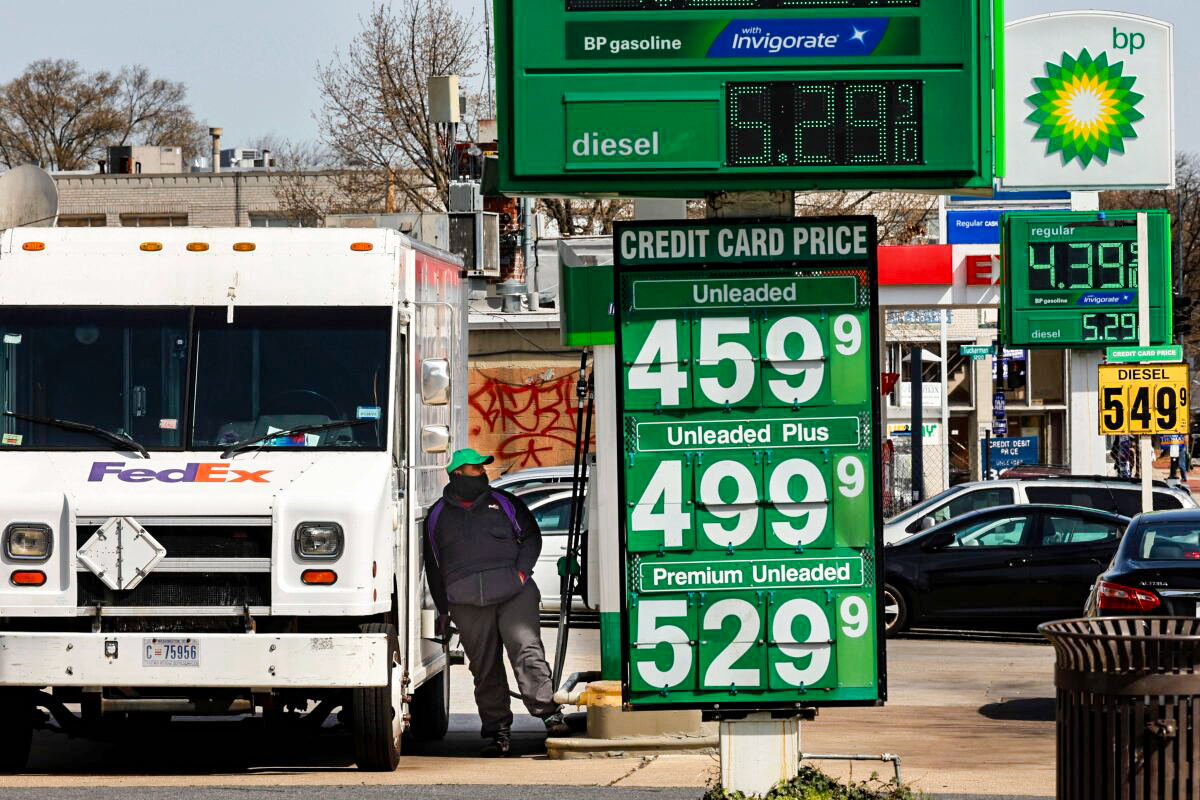 Lyle Solomon, a consumer finance expert and principal attorney at Oak View Law Group, also suggested that "cutting costs is one of the simplest methods to deal with this scenario."
"It's a good idea to review your cable TV package, cell phone package, and home and vehicle insurance providers right now. Regardless of inflation or other world events, these services consistently increase yearly. If you negotiate with your existing cable and cell phone providers, you may be able to get cheaper rates. If not, get a quote from one of their competitors. Remember, you're on a tight budget, so save as much as you can," he said.
Pensioners can also raise the deductibles in their existing homeowners' and auto insurance plans if the current amount is modest.
Delay Collecting Social Security Benefits
Postponing retirement, delaying social security benefits, or returning to the job market are also options, experts say.
"Delaying Social Security benefits can help protect against inflation if you have enough funds to retire and are in pretty good health. Even though Social Security benefits are inflation-protected, postponing will later result in a larger, inflation-protected payout. All of this is subject to revision, so make sure you stay up to date on any future changes to Social Security payments," Solomon suggested.
"Waiting longer before you start collecting social security pays back considerably," Latham said.
"You can earn an 8 percent increase for every year you wait, which amounts to a 32 percent increase if you wait 4 years. Social Security benefits are also indexed for inflation, making it particularly valuable to get a raise," he advised.
Inflation-proof Investments
Retirees can also counter the inflation with active strategies like investment, along with the passive spending cuts.
However, they should keep in mind that the Federal Reserve is tightening its monetary policy and a 50-basis-point rate hike is likely to happen in May.
The Fed officials already voiced that the interest rates will continue to rise in the coming months or years.
Considering the rate hikes, Solomon said seniors should invest in real estate to beat inflation.
"While it is ideal for retired people to have their own homes paid off, real estate investing can help diversify revenue sources and combat inflation in retirement. Real Estate Investment Trusts (REITs) are yet another alternative if individuals want to avoid owning real rental properties and negotiating with tenants or an agency," he said.
Kunal Sawhney, CEO of Kalkine Group, said pensioners can park money in "fundamentally robust stocks that also come with emerging market benefits."
"For example, clean mobility," he said.
Solomon listed other investment options too:
Utilities, health care, and consumer essentials are among the most defensive equities in sectors that will benefit most if the economy enters the stagflationary zone.
Another area to check is the oil industry, where businesses like Shell and BP are profiting from rising energy costs.
Companies connected with commodity markets that depend on natural resources profit the most from inflation. These companies are reaping record profits while consumers adjust to paying greater prices. Consider resources such as oil, natural gas, lumber, steel, and mining firms as potential investments. Aside from the potential for consistent gains, most of these businesses pay annual dividends to shareholders.
The Epoch Times does not provide investment advice.