The bodies of two teenagers were found buried in the backyard of a Georgia home, prompting law enforcement officers to arrest three individuals believed to be involved in the murders.
Investigators were called to a house in Effingham County on Dec. 19 for a welfare check on a juvenile. Officers couldn't find the girl but eventually shifted to a death investigation and found Mary Crocker, 14, buried in the backyard.
Her brother Elwyn Crocker Jr., who was also 14 when he went missing in November 2016, was also found buried.
The three adults living in the home lied to investigators and said Mary Crocker had gone to live with her mother, according to the Effingham County Sheriff's Office.
"Deputies realized this information was false and not accurate," said Effingham County Sheriff Jimmy McDuffie, reported WTOC. "Information from Elwyn Crocker led investigators to search the grounds, and two bodies were discovered."
He said that the girl's death could have been prevented if neighbors had called the police.
"People hear things. People see things. Of course, all day today, people have been coming up to us, 'Well, I saw this and I saw that,' But for whatever reason, they didn't feel comfortable enough to call and let us know that," Sheriff McDuffie said. "I've been doing this for 41 years and a while ago, I almost broke down in tears."
"This day in time with social media, people are always staying in touch, and when people disappear off the grid, something is wrong," added Effingham County Coroner David Exley.
A third child, who was found alive in the house, was taken to a local hospital for treatment. He was identified as the biological son of Candice Crocker and as having special needs.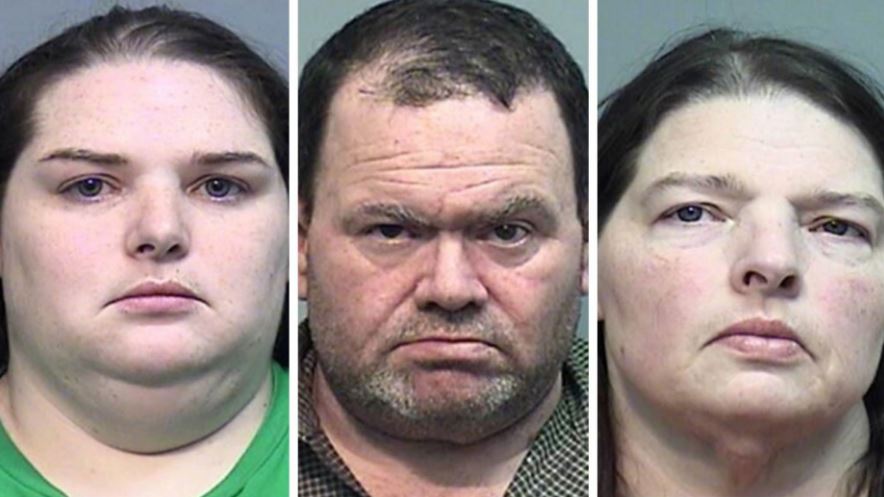 "I think he has, and I'm not sure exactly, but I think it's cerebral palsy and, you know, we just needed to make sure he had his health issues taken care of," said Sheriff McDuffie, reported Fox 28.
Crocker, 33, the stepmother of the two deceased children, was arrested along with Elwyn Crocker, the biological father of the children.
Kim Wright, 50, the children's step-grandmother, was also arrested.
All three were charged with concealing the death of another and cruelty to children in the first degree.
Autopsies are planned for the children to determine the cause of death in each case.
Neighbors Speak
Neighbors said that the two children who appeared to live in the house didn't play with the other kids on the street, while the small girl who lived there was always outside doing yard work.
"Other kids said at school, they could tell stuff was wrong with her hands. They were red. That was from being out in the yard out there most of the time working, doing stuff from the time she got off that bus until they would go in at night," Gary Bennett, the family's next-door neighbor, told WTOC.
"Then she would go to school and kids would see her and ask what was wrong and she wouldn't ever say anything. She wouldn't open up to anybody," Bennett said.
"It's devastating to know someone would do this to a child. I love my children. I have five kids and 10 grandkids, almost six great-grandson [sic] the way, and I can't imagine someone doing this to one of them and it terrifies me to know that someone would do this to a child," added neighbor Ruth Sikes.
From NTD News