Three Gorges Dam Project Displaces 1.4 Million People
October 13, 2006 12:00 am Last Updated: October 13, 2006 12:00 am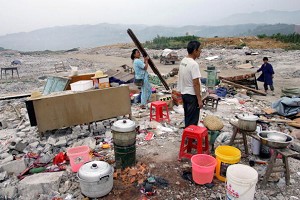 CHINA—The Three Gorges Project, the biggest water hydraulic project in the world, has already generated the highest number of displaced environmental refugees. In October, Chinese officials revealed the number of displaced people will increase by 270,000 people, bringing the total up to 1.4 million.
On Oct. 1, the director of the Three Gorges Project under China's State Council, said the number of displaced people will reach 1.4 million, a 270,000 increase compared to the regime's earlier plan. At present, a total of 1.2 million people have been relocated elsewhere, including 140,000 to other provinces and cities, and 1.06 million to higher ground near their original place of residence.
According to the official plan, those displaced will gradually move away from the Three Gorges reservoir area. Now that the Three Gorges Dam is close to being finished, and with the rise in water level, the relocation project is also to enter its final stage.
At the beginning, the project planned to move about 800,000 residents. The number then gradually increased. Dr. Wu Yegang, an American water resources expert, gave three reasons for the increase of environmental refugees in the Three Gorges Project:
"First, this number did not include the population's natural growth.
"Second, regarding the relocation plan, for example, the survey in Chishui County did not conduct a thorough investigation. The actual number was more than the number they surveyed.
"Third, in order to pass the plan for the project, the communist regime intentionally concealed some information, including lowering the actual number of displaced people. Therefore, the actual situation is different from the initial plan."
Zheng Yi, a writer living in the U.S. who has closely followed environmental issues in China, thinks the number of the displaced population keeps increasing because the department in charge of the project intentionally lowered the population number at the beginning in order to get the project started.
Zheng said, "In order to start the project, they did their best to conceal the disadvantages and exaggerate the advantages. The theory behind the Three Gorges Project is a false one. It is contradictory in itself. The fewer the displaced population estimated, the more easily the project will be passed."
According to official Chinese data, 67 percent of the relocated residents are from non-agricultural occupations and come from towns and factories, while 33 percent of the population are from agricultural areas. Zheng Yi said the non-agricultural population is able to move with enterprises, and people from the towns only have to change houses, so moving does not affect their lives too much. As for the farmers, losing the land on which their lives depend seriously impacts their lives.