Constitutional law professor Jonathan Turley wrote Thursday that alleged threats and harassment against two Wayne County Board of Canvassers members in Michigan are part of a pattern targeting Republicans in the wake of the Nov. 3 election.
Turley noted that there was a similar harassment effort against a law firm that represented President Donald Trump's suits in Pennsylvania, namely brought about by the anti-Trump group The Lincoln Project.
The threats against Monica Palmer and William Hartmann, two Republicans on the Board of Canvassers, "are all-too-familiar in an election where Democratic members are calling for blacklists and others" are working to "denounce any questioning of the Biden victory," he wrote.
"The Lincoln Project has led a national effort to harass any lawyers who represent Republicans or the Trump campaign. While it will be difficult to rescind such a vote, the silence in the media and from Democratic leaders on this harassment is chilling. Indeed, Democratic leaders have joined in the personal attacks," Turley, a professor at George Washington University, opined.
While it will be difficult to rescind such a vote, the silence in the media and from Democratic leaders on this harassment is chilling. Indeed, Democratic leaders have joined in the personal attacks. https://t.co/rB3TLNnJbE

— Jonathan Turley (@JonathanTurley) November 19, 2020
On Wednesday night, Palmer said that she was threatened, accused of being racist, and berated in a bid to force both her and Hartmann to vote to certify Wayne County's election results. Individuals at the meeting went so far as to have "threatened me and members of my family," Palmer said before both signed affidavits to rescind their votes, also alleging that officials told them an audit would be conducted but later noted that it would not occur after all.
"The two canvassers signed affidavits that they were hit with a torrent of threats against them and their families after they demanded that the board address irregularities in what they said were 71 percent of Detroit's 134 absent voter counting boards," Turley noted. "They were hit with personal attacks calling them racists and cult members. In a familiar campaign of post-election intimidation, they were doxxed and attacked. The Lincoln Project (which is supported by thousands of lawyers and law firms) was blocked on Twitter in using such abusive tactics against individual Republican lawyers."
Turley also cited Rep.-elect Abraham Aiyash, a Democrat, who accused Palmer of being racist.
"You are certainly showing that you are a racist. You may say that you are not, you may claim that you are not, but let's be very clear. Your words today and your actions today made it clear that you are OK with silencing the votes of an 80% African American city," Aiyash said to Palmer. He added, "And I want you to think about what that means for your kids, who probably go to Grosse Pointe North, and when they see all their Black classmates and they know that … their mother, or their grandmother, their aunt, decided to say, in this democracy in this American project, that is not perfect but we have to work toward perfecting it, I'm going to be comfortable sleeping at night knowing that I silenced the votes of so many people." Aiyash later wrote on Twitter that he was not threatening Palmer.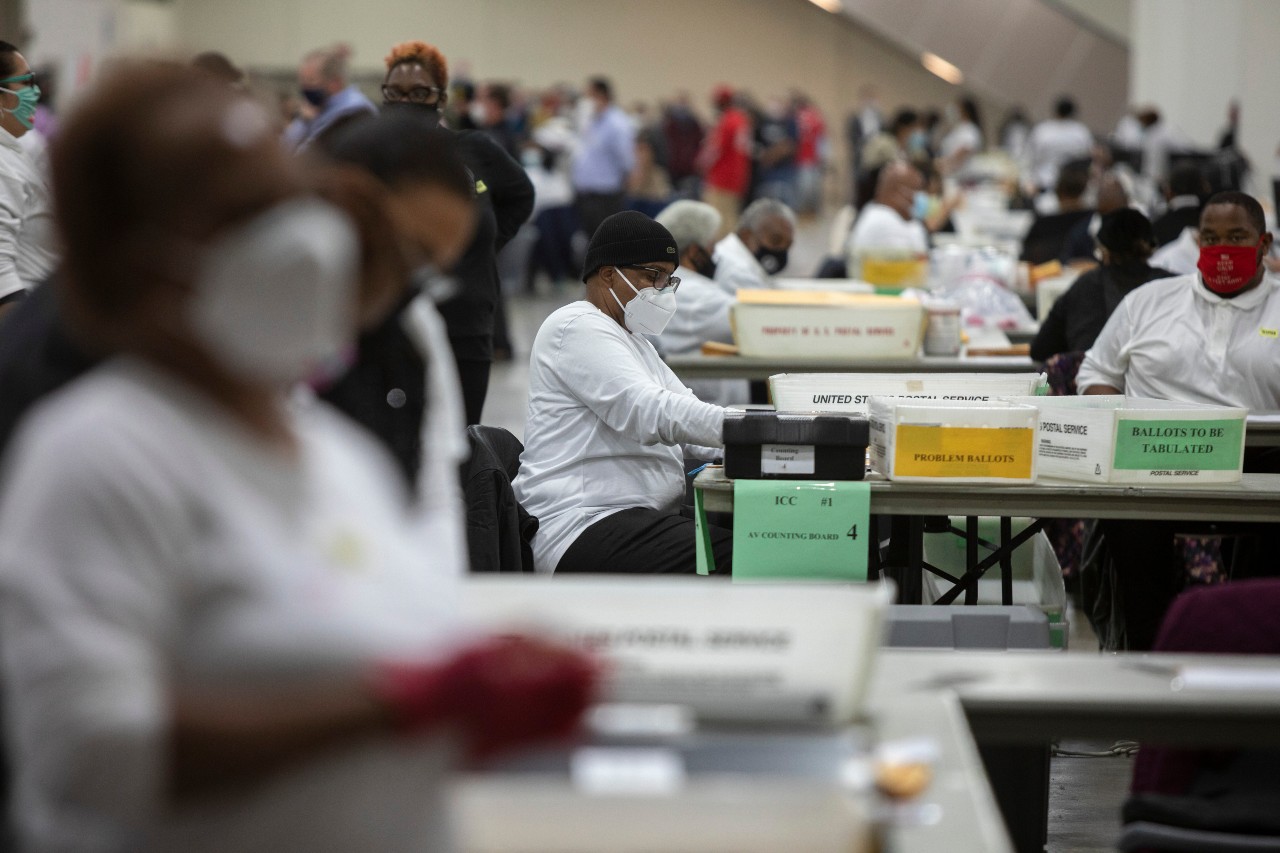 Turley noted that there were also alleged threats against Democratic officials in Arizona, which were brought up by Secretary of State Katie Hobbs.
"What is missing however are calls in the media or from Democratic leaders to end such campaign of intimidation and abuse by groups like The Lincoln Project," Turley said. "While President-elect Joe Biden has called for unity and healing, he has said nothing about the campaign against Trump campaign lawyers and their clients. He has said nothing about reports of violent threats against officials or lawyers tied to election challenges." What's more, he said that groups such as the Lincoln Project have not been denounced and support for it is still high on social media.
Earlier this week, a lawyer working with Trump's campaign in Pennsylvania alleged that she was harassed and threatened by another attorney working at a law firm representing Pennsylvania Secretary of State Kathy Boockvar, according to a court filing.
According to campaign spokesman Tim Murtaugh on Monday, the lawyer, Linda Kerns, received "abusive emails" and calls, as well as "physical [and] economic threats."
Kerns said in a filing harassment (pdf) it was because she is "representing the President of the United States' campaign in this litigation," adding that it's unacceptable "for a lawyer in the Washington, D.C., office of Kirkland & Ellis, Secretary Boockvar's outside counsel, to" engage in the alleged harassment. Kirkland & Ellis lawyer Daniel Donovan wrote that he said the call was unprofessional but disagreed with how Kerns characterized it.