Gaocheng district of Shijiazhuang city, Hebei Province, is one of the hotspots of the latest COVID-19 resurgence in China. The district of roughly 800,000 people has been under total lockdown since early January, despite authorities recently downgrading the disease risk level to low.
Thousands of residents at the Hengda Oasis residential community in the district protested against the lockdowns this week and clashed with local government workers. Meanwhile, people in nearby Nangong city, another hotspot, are becoming mentally distraught after being stuck indoors for an extended period. One reportedly committed suicide. The Hebei government announced that the mass lockdown will continue for the foreseeable future.
On Feb. 7, conflicts broke out between residents and government officials. The owners accused the government of inaction. Tensions escalated and eventually, a clash broke out, according to local residents.
Mr. Li, who owns and lives in one of the apartments in the complex, told The Epoch Times that some people from the government visited the community that day, and let residents express their views. Thousands of people from the entire community went downstairs and asked for the rigid lockdown policies to be lifted.
According to Mr. Li, there are about 15 buildings in their community, with a total of about 10,000 residents.
He said the government staff, who were not wearing uniforms, entered the residential community without presenting work permits. Residents were displeased and asked why they were entering. "Maybe there were some heated words. And then a clash broke out," he said.
Mr. Li said he did not know of anyone being injured in the clash, but the scene was chaotic. The conflict started at around 3 p.m. and ended around 6 p.m.
The Epoch Times has obtained a video of the clash.
Mr. Li said that on Jan. 5, after he returned home from work, he discovered that authorities enacted a lockdown and he could no longer leave his home. He hopes the lockdown can be lifted soon so that he can go to work and make a living. He added that vegetables were becoming more expensive.
"The key issue is that you have to live and you can't make money. Some people have family to support and mortgages and car loans to pay. People are going crazy. I just heard that some people in our community have already lost their jobs [due to the lockdown], crying at home."
On Feb. 14, authorities announced that a COVID-19 case was confirmed in Xiaoguozhuang village, Gaocheng district. People in Gaocheng district were required to take another round of nucleic acid tests, as a measure to detect all infections. All communities and villages were also placed under total lockdown.
The Epoch Times obtained a video showing staff in protective clothing at the scene of the lockdown in Gaocheng district.
Mr. Li said that all residents in his community had already taken nucleic acid tests 13 times as required by authorities. "After doing nucleic acid testing so many times, my throat has been stabbed to the point of having inflammation," he said. In China, throat swabs are usually taken for COVID-19 testing.
Meanwhile, on Feb. 15, in nearby Nangong city, the 11th round of nucleic acid testing for all residents was completed. Although authorities designated the city as an area with low-risk for disease spread on Feb. 8, residents were still locked in at home. After spending the Chinese New Year holiday in isolation, many residents felt heavy mental pressure and were on the verge of collapse, according to a local resident.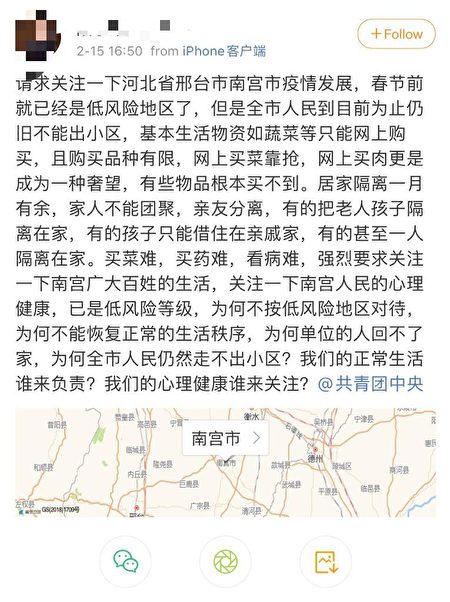 Mr. Wang in Nangong told The Epoch Times that on Feb. 10, two days before the Chinese New Year, a 60-year-old man in Nangong's Nanguan community hanged himself. The specific circumstances were not disclosed by authorities, but locals speculated that he could not bear life in isolation any longer and chose to end his life.
The total lockdown in Nangong began in early January.
Wang said people were becoming distressed from the long-term isolation. "I think I am about to get depressed. People are suffocating and going crazy. No one will tell us when we can be released from lockdown!"
Gu Xiaohua, Ling Yun, and Hu Yuanzhen contributed to this report.