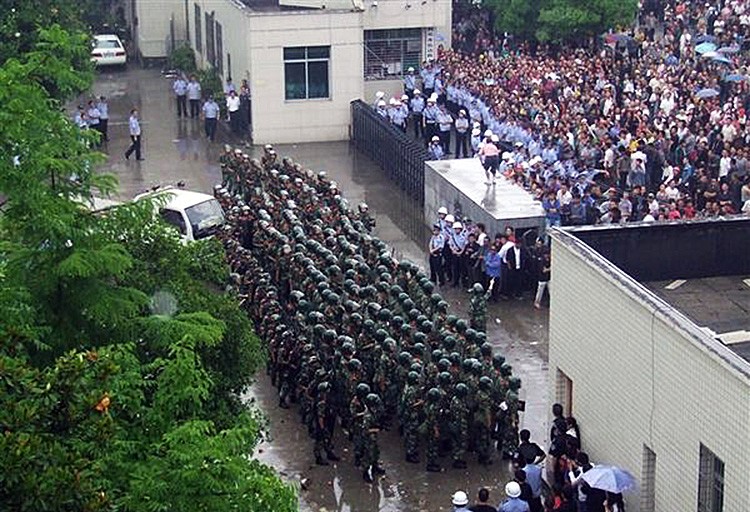 The death of an official during his detention in police custody has triggered a mass protest in central China's Hubei Province. Two officials have been detained following the protest.
49-year-old Ran Jianxin was a Communist Party member who lived in Hubei Province's Lichuan City. He was detained on bribery charges in a detention center in Badong County on June 5 and died a sudden and mysterious death there. His family believes that he was beaten to death.
Ran's body had multiple wounds and bruises. Suspicions about the cause of his death triggered public outrage in Lichuan City, according to a report by Southern Metropolis Daily on June 8.
According to Hong Kong-based Apple Daily, several thousand Lichuan City residents gathered in front of the government offices on June 9, holding banners that read "Secretly Killed for Offending the Leaders."
When traffic was completely cut off, the local authorities sent out armed riot-police to disperse the protesters, but the protesters resisted. After breaking through the police line, the crowd tore down the electric iron gate of the government compound. Hundreds of people were wounded as the police beat the crowd with electric batons. The protesters threw bottles, eggs, and objects at the police.
Ms. Yuan of Lichuan City told Radio Free Asia (RFA) that the authorities sent out dozens of military and armored vehicles to the scene. "The crowd demanded justice and demanded the murderers be captured," she said.
Ms. He who works for a drug store told RFA that many protesters who were wounded and covered with blood came to her store to seek medical help.
A Ms. Zhang told RFA that Ran worked hard for the well-being of civilians, and that people wished to seek justice for him. "A good official did many good things for his people, but was killed by officials from another area," she said.
Ran was a Lichuan City official whose former jobs include director of the Anti-corruption Bureau, deputy director of municipal procuratorate (a judicial agency responsible for investigating and prosecuting crime), and director of the municipal Judicial Bureau. He was a Party secretary of a Neighborhood Community Office before he was suspended from his job.
Last November Ran was placed under "Shuangui," a form of detention used on Party members.
Protest Over Chinese Official, Ran Jianxin's Suspicious Death (
NTD Television
)
Ran Jianxin's family members revealed a document written by Ran and hidden in his jacket, according to Southern Metropolis Daily. It was written on nine pieces of napkins and described the numerous conflicts he had with Li Wei, Party Secretary of the Lichuan City Disciplinary Committee, which then led Li to take revenge, according to the document. The document also described how Ran was treated during his detention.
A June 12 editorial by Southern Metropolis Daily asked whether Ran was treated inhumanly during his eight-month detention. It also pointed out that Ran's family was not officially informed of any developments in his case and was only notified via occasional "strange phone calls."
Li Jingsong, a lawyer from Beijing, told RFA that detention centers in China are overseen by the Public Security Bureau, and hence there is a lack of effective monitoring and supervision. According to Li, Ran's death again demonstrated that the legal rights of detainees in China's detention centers are not protected.
"The main problem is that they have no regulations on management," he said. "The detention centers and the public security system are too closely tied together."
To solve abuse in detention centers, further reform in the judicial system is required, according to Li. Daily management in detention centers should be the responsibility of a third party, and the police should be solely in charge of arresting criminals.
To appease the public outrage, the authorities suspended Li Wei from his job. State media also reported that at least one other official has resigned and another two officials have been detained and are under investigation.
Southern Metropolis Daily's report stated that local officials had attended a meeting that instructed them not to talk about the case. A Lichuan resident also told RFA that they have been told not to spread any rumors.