Thousands of Wukan Villagers Again in Standoff with Police
December 12, 2011 4:11 pm Last Updated: December 23, 2011 3:14 am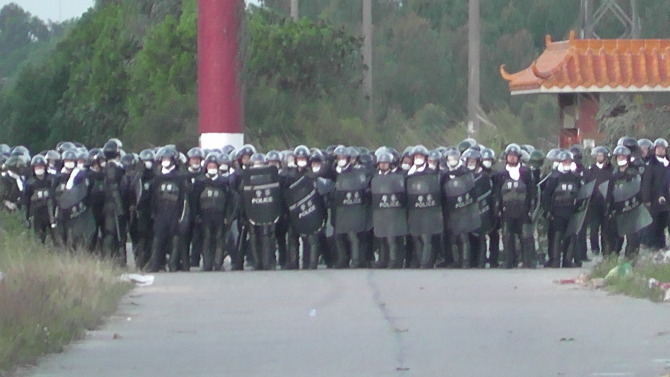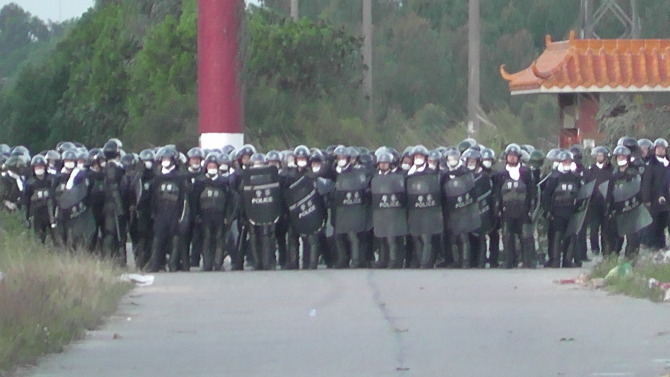 Over 5,000 villagers, armed with farm tools, had yet another standoff with more than a thousand heavily armed police in Lufeng county, Guangdong province on Dec. 11. Police fired more than 50 rounds of tear gas and other ammunitions. The area has erupted in several large-scale, well-organized, protests during the last months.
Illegal land expropriation by local officials, embezzlement of compensation funds, and the arrest of four village representatives are reasons given by villagers and local media for the latest protests in Wukan village of Lufeng county.
According to a Weibo Internet post, on Dec. 8, twelve village representatives announced a list of illegally seized land sales by local authorities and the embezzlement of approximately 4.8 billion yuan (US$750 million) in compensation money. Authorities arrested four village representatives. All this inflamed villagers' anger.
On Sat., Dec. 10, over 8,000 villagers took to the streets. They armed themselves with iron pipes and rocks, and carried many banners, which said: "Overthrow Corrupt Officials," and "Return my Farm Land." They also barricaded roads and demanded the release of their arrested representatives, saying they would otherwise defy authorities indefinitely, the Oriental Daily News reported.
Wukan villagers told The Epoch Times on the evening of Dec. 11 that one of the villagers, 42-year-old Xue Jinpo, had died from beatings while in police custody three days after he was arrested. Authorities said Xue died of sudden cardiac arrest.
According to Mr. Liu of Wukan village, before dawn on Dec. 11, police "sneaked into the village like ghosts" with police car lights off. After villagers became aware of them, the police used a loudspeaker, saying: "It is illegal to interfere with our public service. Put down your arms and welcome us to enter the village."
The villagers responded with sneers and saying things like, "Who would believe your lies," Mr. Liu said.
Several weeks previously, on Sept. 21, thousands of Wukan villagers protested the authorities' illegal land expropriation in front of the city's administration building. On the morning of Sept. 22, special police forces cracked down on them. Dozens of villagers were injured and taken to hospitals. But the villagers kept on defending their rights, staging several more rallies with thousands of residents participating, to demand the return of their land and the punishment of corrupt officials.
The sale and development of illegal land grabs provide Chinese authorities with large amounts of revenue while leaving farmers without a means to make a living.
During a previous Wukan protest, reported on by The Epoch Times, villagers have also voiced their frustration over manipulation of village elections. The village party secretary has held the post for more than 40 years without any change. Every time village elections are held, fake votes are used to falsify the outcome, and villagers have never seen genuine ballots, they say.
Read the original Chinese article.