Thousands of Workers Protest in Southern China
April 10, 2008 12:00 am Last Updated: April 10, 2008 12:00 am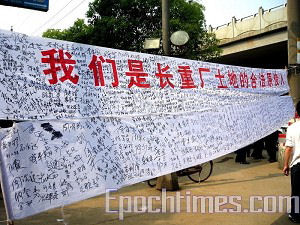 On April 7 and 8, thousands of workers employed at the Huayun Machinery Factory and the Changsha Heavy Machinery Factory, both in Hunan Province, had a sit-in protest inside the facilities. Workers demanded that their employers follow state policies and resolve their welfare issues such as wage compensation and placement fees. The protest went peacefully.
At 7:30 a.m. on April 7, workers of the Changsha Heavy Machinery Factory started a sit-in protest in the factory. At 9:30 a.m., workers of the Huayun Machinery Factory did the same. A banner hanging at the front door of the Huayun Factory said "We strongly demand that provincial or municipal commissioners send a team to investigate corruption in the factory," "Workers protecting their legal rights."
A worker from the Huayun factory, who wishes to remain anonymous said, "Everyone out there did it out of his/her own will. About 1,000 people from our factory and 2,000 people from the Changsha factory participated. This protest involves everyone's rights. We all went. The workers sat there from 8 a.m. until the time they usually get off work."

The workers want their compensation, placement fee, redundancy pay, and medical care, which they are entitle to by law, but the companies failed to provide. The workers want the local government to solve these problems.
One worker said, "This is a problem caused by the state owned enterprise reform. There are very few factories in Changsha now. Factories here used to make a lot of profit but [during the economic reform] corrupted officials came in and left workers with little money. Most people get several hundred yuan retirement pension and some have even less. The cost of living is so high now. We can't take it anymore."
A Changsha factory sales department worker told the reporter, "We were a state owned enterprise, but during the reform, the compensation given the workers was too little. Some retired employees and those who had to leave after a certain age blocked the factory's entrance [to protest]."

On April 7, the local police and the joint defense team came to the protest scene. No police came on April 8. The local government did not send a representative to talk to the protesters.
The Huayun Machinery Factory in Hunan Province was a middle-size military enterprise. It was established in 1974 and there used to be over 1,000 employees. The company declared bankruptcy July 2007.
The Changsha Heavy Machinery Factory was a state owned large enterprise established in 1958. Its main products were bucket wheel excavators including dozens of kinds of bucket wheel stacker-reclaimers and blending stacker-reclaimers. The factory employed over 10,000 in the past. After the reform, about 2,000 employees now work in the factory.