Thousands of UK businesses are cutting their economic ties with China as they anticipate faster decoupling between China and the West, according to a major UK business group.
Confederation of British Industry (CBI) Director-General Tony Danker said thousands of companies in the UK are currently rethinking their supply chains in anticipation of hardening anti-China political sentiment.
"Every company that I speak to at the moment is engaged in rethinking their supply chains," he told FT Weekend. "Because they anticipate that our politicians will inevitably accelerate toward a decoupled world from China."
Danker said the UK needs "new strategic alliances in the world" as tensions rise with China. In Washington, the need for companies to build "resilience" in preparation of a divorce from China was "all they are talking about," he noted.
As the UK's relations with China turn sour, the country will need to find new trade partners and rekindle old ones, such as the European Union, according to Danker.
"If the political experts and security experts are right, we are all going to need to be good friends again," he told the newspaper.
Toughening Stance
China has emerged as a key foreign policy battleground between the two final contenders in the race to become Conservative Party leader and UK prime minister.
Both Foreign Secretary Liz Truss and former Chancellor Rishi Sunak have pledged to curb the threat posed by the Chinese Communist Party (CCP) regime to the UK's national security and economic security.
Truss's campaign stated that she'll continue to toughen the UK's position on China and help lead "the international response to increased Chinese aggression."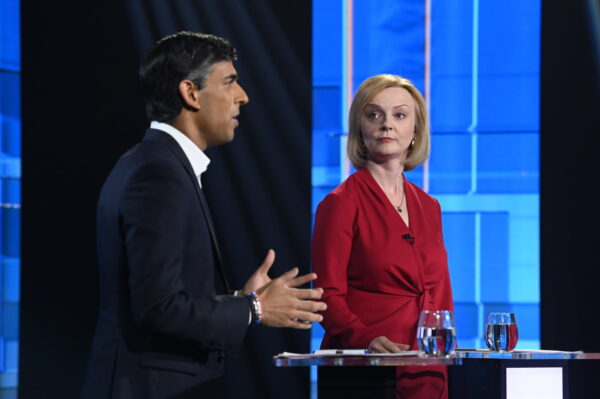 Sunak, who previously received praise from CCP mouthpiece Global Times for his "pragmatic" view on China, has sought to boost his national security credentials by calling China "the largest threat to Britain and the world's security and prosperity" and promising to close all 30 Confucius Institutes—Beijing-backed language and culture centres—in the UK.
UK officials and politicians are becoming increasingly wary of China's growing economic influence in the UK.
On July 20, Business Secretary Kwasi Kwarteng announced that he had blocked a Chinese company from acquiring smart camera technology from the University of Manchester, in the first use of the government's new powers under the National Security and Investment Act, which came into force on Jan. 4.
Under the law, Kwarteng is also presiding over an investigation into the takeover of Newport Wafer Fab by Nexperia, a Netherlands-based subsidiary of the Chinese smartphone manufacturer Wingtech Technology.
PA Media contributed to this report.