Large-scale wargames were held in Tajikistan, a Central Asian country located next to Afghanistan, as the United States continues to withdraw from the beleaguered country.
Russian, Uzbek, and Tajik military forces took part in the joint exercises, located near the country's border with Afghanistan, according to officials from the ex-Soviet countries.
Tajik Defence Minister Sherali Mirzo told reporters at the training grounds the drills were being held with Afghanistan in mind. In recent days, the Taliban terrorist group has taken over swaths of the country, capturing as many as eight provincial capitals in under a week as Afghan government forces have, in some cases, fled their positions without even fighting.
"The situation in Afghanistan is unpredictable," Mirzo said, according to the Reuters news agency.
Shukhrat Khalmukhamedov, chief of the general staff of the Uzbek armed forces, added that "this situation requires us to remain vigilant and to maintain our combat readiness."
"We are completing joint exercises of the armed forces of Tajikistan, Uzbekistan and the Russian Federation," Russian Central military district commander Alexander Lapin said, adding that "for the first time, the use of multiple service branches with massive aviation, reconnaissance and artillery support is being conducted, based on the experience we have gained from the conflict in Syria," reported Russian state-run media.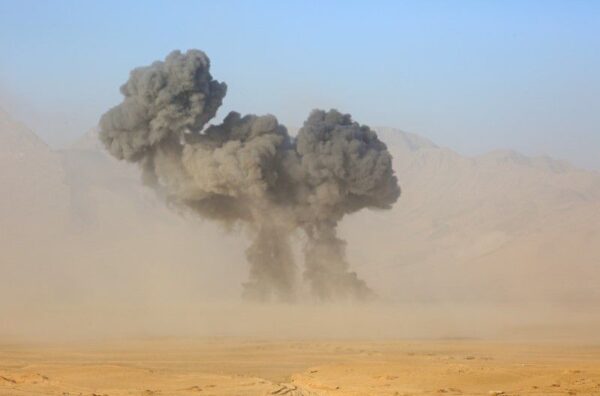 The military equipment used in the drills, he said, will stay at the Tajik base.
Officials said that Russian military engineers and fire teams, in one exercise, rehearsed halting an enemy advance by blowing up high-explosive shells, anti-tank mines, and other munitions to drive back any possible invasion.
"The artificial fires prevent the effective use of technology, communications and control, and demoralize adversaries' personnel," officials said in a statement, state-run media reported, adding that over 1,800 Russian soldiers took part in the exercises.
Video footage posted by the Russian Ministry of Defense showed tanks, helicopters, and other heavy equipment training in a barren, desert-like landscape.
Several weeks ago, President Joe Biden announced the United States would pull out of Afghanistan after remaining in the country for nearly 20 years, setting a deadline for the end of August. At the same time, American forces have pulled back, the Taliban has gone on the offensive, sparking fears of civil war or even a wider conflict in the region.
On Tuesday, reports said the Taliban took Pul-e-Khumri, capital of Baghlan province, located about 125 miles north of the capital, Kabul.
"After about two hours of fighting the security forces were overpowered and retreated," said Mamoor Ahmadzai, a local lawmaker.
Earlier, the group captured Farah, the capital of Farah province, and "captured the governor's office," according to Shahla Abubar, a member of Farah's provincial council, reported AFP.
Reuters contributed to this report.