A crowd of demonstrators gathered near New Zealand's Parliament in Wellington on Nov. 9 to demonstrate against compulsory COVID-19 vaccine mandates and other government-imposed restrictions.
An estimated 3,000 protesters marched through central Wellington in a "largely peaceful" protest that resulted in no arrests, local authorities said, according to Stuff, one of New Zealand's largest news agencies.
Some among the large crowd of demonstrators were riding motorcycles, leading the march through the city's streets and blocking some roads. At the parliament building, known as the Beehive, all but two entrances were closed as a security measure as demonstrators congregated outside the facility.
Many people were seen holding signs and placards with messages such as "Freedom" and "Kiwis are not lab rats" and shouting slogans as they demanded the government roll back compulsory vaccination and lift ongoing restrictions.
"I will not be coerced and I will not be forced into taking something I don't want in my body," said a protester who wasn't identified.
"Treat us like people!" another protester said when asked about his opinion on the government's stance on requiring COVID-19 vaccines. "I'm here for freedom. The government, what they're doing, is anti-freedom."


Many of the people who joined the Nov. 9 demonstration said they aren't against vaccines in general, but reject mandates imposed by the government. Other people said they fear losing their jobs if they won't get vaccinated.
In October, authorities announced a sweeping "no jab, no job" policy that requires teachers and people working in the country's health departments to get a COVID-19 vaccine in order to keep working in the sectors.
Protests against CCP (Chinese Communist Party) virus-related restrictions have ramped up recently across New Zealand. The island nation has implemented one of the world's most strict COVID-19 policies.
Prime Minister Jacinda Ardern has previously said the government is seeking a 90 percent vaccination target of the eligible population before "freedoms" can be reallocated and lockdowns lifted, although the renewed freedoms will mostly only be available to those fully vaccinated.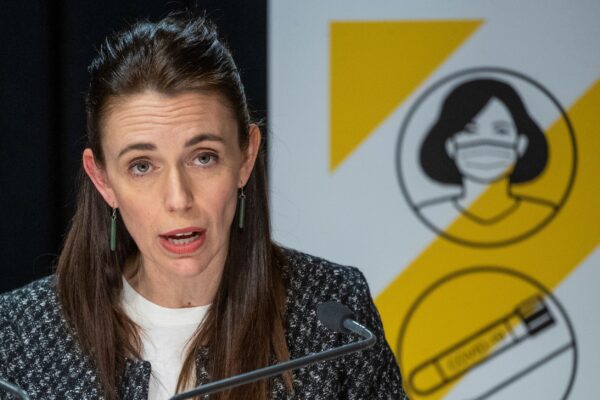 Ardern has been faced with increased criticism of her pandemic response and for enforcing nationwide snap lockdowns in mid-August in response to the nation's first case of the Delta variant of the CCP virus in Auckland, the country's largest city that has been in lockdown for nearly three months.
Ardern said on Nov. 9 the lockdown in Auckland is likely to end later this month. She also plans to travel to the city on Nov. 10, when she is expected to face more protests.
"What we saw today was not representative of the vast bulk of New Zealanders," Ardern told reporters inside Parliament, referring to the demonstrations outside the building.
New Zealand has among the lowest CCP virus cases in the world with under 8,000 cases reported so far and 32 deaths. It reported 125 new cases on Nov. 9 and its total double-dose vaccination rate had reached nearly 80 percent of its eligible population.
Reuters contributed to this report.
From NTD News