Airlines canceled more than 2,100 flights worldwide on Dec. 26 after U.S. air carriers scrapped about 1,000 on Christmas Day, citing staffing issues related to COVID-19.
At least 2,162 cancellations were reported around the world on Dec. 26, with 669 in the United States, according to flight-tracking website FlightAware.com. Some 5,900 flights were also delayed.
It comes after a total of 957 Christmas Day flights were called off, including domestic flights and those into or out of the country, while nearly 2,000 flights were delayed, according to the tracking website. That's up from 690 that were canceled on Christmas Eve.
While the Christmas holidays are typically a peak time for air travel, the rapid spread of the highly transmissible Omicron variant of the CCP (Chinese Communist Party) virus has led to a sharp increase in COVID-19 infections, prompting airlines to cancel flights and quarantine pilots and crew. Meanwhile, in recent weeks, some major carriers terminated the employment of hundreds of employees over COVID-19 vaccine mandates.
United Airlines, one of the first carriers to impose a vaccine mandate, canceled more than 200 flights over the weekend.
"The nationwide spike in Omicron cases this week has had a direct impact on our flight crews and the people who run our operation," United spokesperson Maddie King said. She said the cancellations made up a small portion of United's 4,000 average daily flights during the holiday season.
"We are working hard to rebook as many people as possible and get them on their way for the holidays," she said.
In a similar move, Delta scrapped 300 flights on Dec. 25 and had already canceled a few dozen more flights on Dec. 26. The airline explained that it "exhausted all options and resources–including rerouting and substitutions of aircraft and crews to cover scheduled flying."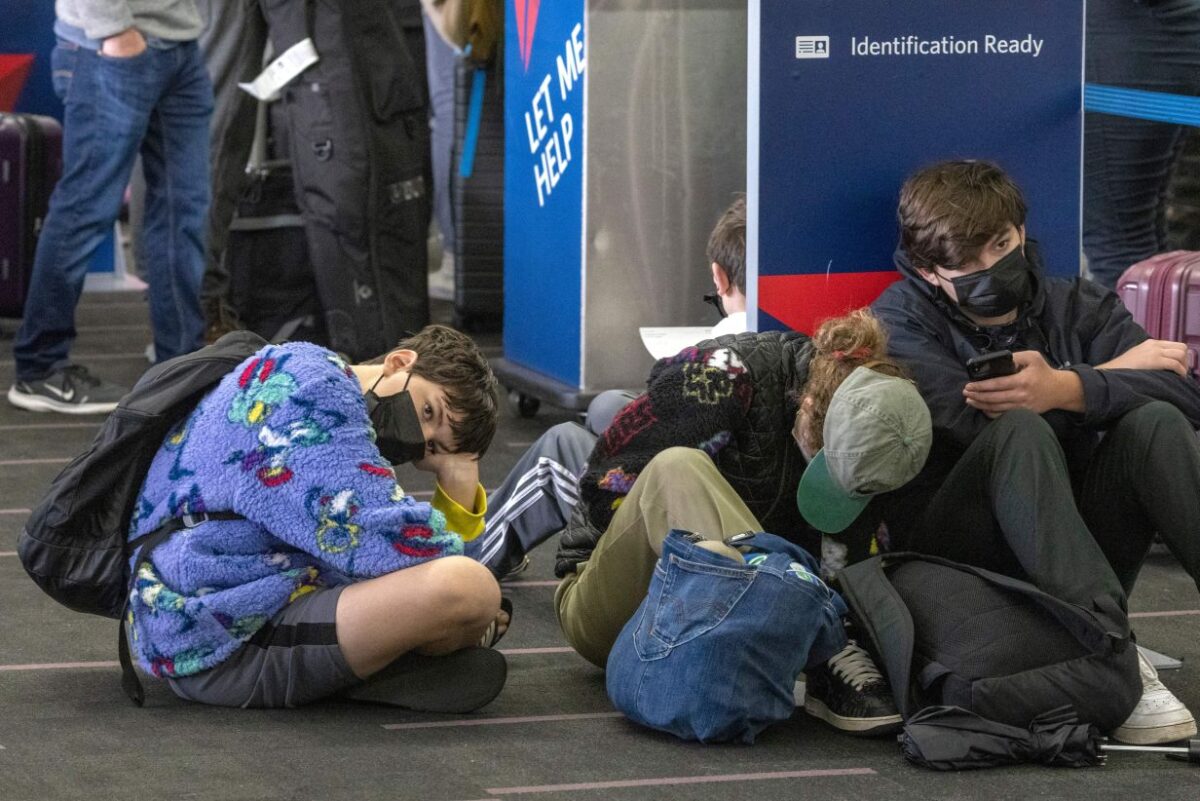 Among the most affected U.S. airports were Atlanta's Hartsfield-Jackson International, New Jersey's Newark Liberty International, Los Angeles International, and New York's John F. Kennedy International. Six of the 10 global airports most hit by the cancellations were Chinese.
According to FlightAware data, Chinese carriers accounted for the largest number of cancellations. China Easter scrapped about 1,000 flights, while Air China grounded about 20 percent of its scheduled departures on Dec. 25.
American Airlines, which also saw a number of cancellations, said that its Dec. 25 cancellations stemmed from "COVID-related sick calls," according to a statement.
Meanwhile, a spokesperson for Southwest Airlines told Reuters there were no issues to report with the carrier's flights on Dec. 25.
Passengers and travelers expressed frustration with airlines as they spoke to the media.
"Nobody was organizing, trying to sort things out," Peter Bockman, a retired actor, told the New York Post after his flight from New York to Dakar, Senegal, was canceled. "Nobody explained anything. Not even, 'Oh we're so sorry, this is what we can do to help you.'"
The cancelations come as the Omicron variant has spread rapidly across the United States, prompting the head of the Centers for Disease Control and Prevention, Dr. Rochelle Walensky, to announce last week that it accounts for 90 percent of COVID-19 cases in some regions.
However, preliminary data so far suggests Omicron leads to milder symptoms and far fewer hospitalizations than previous variants. Nonetheless, a number of countries and cities have used the spread of the variant to rationalize new lockdowns, more vaccine mandates, or have mandated mask-wearing.
Reuters contributed to this report.