Spanish authorities are expanding a ban on harmful fertilizers around a saltwater lagoon on the country's Mediterranean coast, where several tons of dead fish have washed up in recent weeks.
Once a magnet for tourism and a sanctuary for marine life, the Mar Menor in Murcia, on Spain's Southeastern Mediterranean coast, has seen fish stocks plummet in recent years, with similar mass die-offs occurring in 2016 and 2019.
Residents began seeing dead fish and crustaceans on Aug. 16.
"We calculate that some 20 tonnes have died to date," said Jose Luis Garcia, director of the World Wildlife Fund's marine programs in Spain, two weeks ago.
The beaches were closed for two weeks while a clean-up operation got underway to remove the fish carcasses.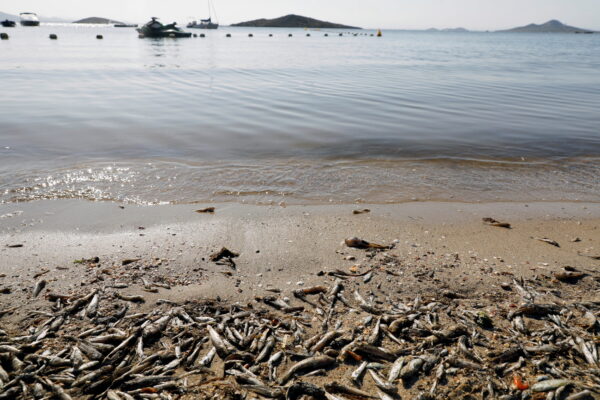 Murcia is one of Spain's main producers of fruit and vegetables, with much of the produce exported to northern Europe.
The Murcia government estimates that every day around 5 metric tons (5.5 tons) of fertilizer runoffs from nearby farms are washed into the lagoon.
Jorge Sánchez, a biologist with the ecological association Asociación de Naturalistas del Sureste, explained that some of those fertilizers can cause algae blooms, which deplete oxygen in surface water, killing fish.
"It has been demonstrated in different scientific reports, and the region's own reports, that there was an episode of anoxia, lack of oxygen, and this lack of oxygen was produced by the massive arrival of nutrients to the lagoon that promoted the excessive development of algae, which during the night—when they stop photosynthesis and begin to consume oxygen—they consumed the oxygen from the water column in the deep areas and this caused the fish to die," Sánchez said.
A group of concerned locals have set up a campaign group "SOS Mar Menor" to pressure the local government to do more to protect the lagoon.
Isabel Rubio, SOS Mar Menor Spokesperson said that they want farms to be held responsible for the nitrate pollution.
"What we want is that the focus is placed on all the farms, mainly intensive irrigation, that surrounds this Mar Menor, and that are contributing to this contamination by nitrates," Rubio said. "What we want is that the measures are not here but that they are put there, where the farms are, that is to say that irrigation and cultivation should be prohibited on the farms that are using water illegally."
Local farmers believe that the problem does not lie in their irrigation but in the underground aquifers.
Orange farmer Manuel Martínez, who is President of the Farmers Community of Cartagena, said that local agriculture uses a precise irrigation method called "drop by drop system" to avoid water wastage.
"Ninety-nine percent of our area is localized irrigation, it is a precision risk, what is developed here is precision agriculture, where everything is controlled, this measures how much water is applied to each crop, when it is applied, to what time is applied, absolutely everything is analyzed before planting a horticultural plantation to know what to supplement it with, absolutely everything is controlled," Martínez said.
Scientists at the Oceanographic Center of Murcia are analyzing the causes of the mass fish mortality.
They confirmed that the cause was "hypoxia" (reduced oxygen levels) due to spills of agricultural fertilizers.
Researchers believe the system has collapsed after decades of irrigated agriculture.
Victor Manuel Leon, a marine pollution expert with the Spanish Oceanographic Institute in Murcia, said that badly treated wastewater is also at fault, as well as intensive agriculture.
"It is a consequence of an accumulated activity over recent decades, both due to wastewater discharges that were not well treated, the development of intensive agriculture in the last 30 or 40 years, and a lack of control of these discharges from these activities. This has led to a massive arrival of nutrients, particularly nitrogen and phosphorus, to the system that has been assimilating it for many years, but there has come a time when the system has not been able," Leon said.
The regional government of Murcia announced on Aug. 25  that the use of inorganic nitrogen fertilizers at farms within 1,500 meters (1,640 yards) of the Mar Menor lagoon is to be prohibited.
The lagoon is a well-known beauty spot and is popular for tourists.
Reuters contributed to this report.