Thousands of Appellants Arrested on Legal System Promotion Day
December 7, 2006 12:00 am Last Updated: December 7, 2006 12:00 am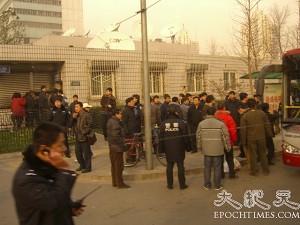 In the early morning of December 4, the Legal System Promotion Day as denominated by the Chinese communist regime, thousands of appellants gathered in front of the CCTV station to protest social injustices. Hundreds of appellants also gathered at Tiananmen Square and Xinhuamen to protest. Among those appellants, 300 people from the Daxing district of Beijing city went to protest around Zhongnanhai. Consequently, appellants at different sites were soon arrested in batches and sent to different places. Most appellants went to the CCTV station. The appellants held appeals written on banners, some wore clothes with written appeals, and shouted slogans in protest against the deceiving nature of propaganda on Legal System Promotion Day.
According to one appellant, he and several hundreds of appellants spontaneously went to Tiananmen Square to protest at 9 a.m. But soon they were sent to a building for dispersion by the Tiananmen police force.
The appellant group from Daxing district arrived at the west door of Zhongnanhai, Xihuamen to protest. But soon this group were scattered to Fuyou Street Police Station.
Mr. Cai, who was sent to this police station with appellants from Daxing county, said that he hadn't arrived until noon. Upon arrival, he was instantly arrested by the police and sent to Fuyou Street Police Station. There, he was registered, photographed, and detained in the backyard of the police station. According to this appellant, approximately 800 people were detained at the police station.

At 3 p.m., the police started a conflict with the appellants from Daxing district. The police immediately called for an additional 300 policemen and security guards to help. They started physically abusing both the male and female appellants. After the additional forces from Daxing district arrived, all appellants were arrested and sent back to their homes.
Around 4:30 p.m., Mr. Cai and approximately 300 other appellants were transported to a building in two buses. Mr. Cai found out that over 4,000 appellants had been arrested and sent to the same building on 20 buses. Cai said, "When I was initially sent to the building, the place was full of police cars and buses. Once I entered it, I saw one big bus drive off, full of people, and another big truck had just arrived. Those who were sent away were sent to different places. Some were sent to the Beijing office, others, I don't know [where they were sent to]. A scene like this is reminiscent of last year's October 1. Today I saw perhaps over 5,000 appellants."
Cai and thousands of others were still waiting for disposition outside the building well into the evening.