TAPACHULA, Mexico—As the roosters interrupt the calm morning air in Tecun Uman, Guatemala, a group of 18 Africans bring their worldly possessions down to the bank of the Suchiate River.
On the other side is Mexico, a step closer to their goal: The United States.
They split into two groups and pack tightly onto tube rafts—fashioned from two large inner tubes with planks of wood strapped on top.
The river's flow is high and swift from the rain and the tube rafters must work hard against the current.
But, it's only 500 feet across and the groups easily reach Mexico. The international bridge is just downstream, but crossing illegally is more direct and circumvents authorities that might turn them away. Most Africans and Haitians head to the immigration center in Tapachula, Mexico, anyway.
They pay the tube rafter the requisite 10 quetzales ($1.35) and unload their few backpacks and buckets jammed with clothing, food, and baby supplies. The group is a mix of Angolans and Congolese: eight men, four women, and six children.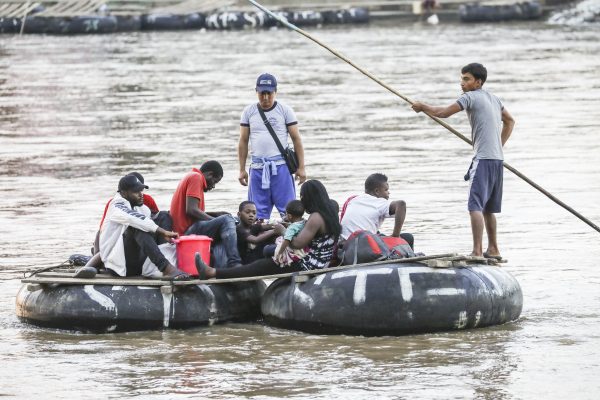 They don't linger, even though it's a glorious sunrise over the distant Guatemalan volcanoes. The group is directed toward the combi taxi vans in Hidalgo City, Mexico, that will take them the 25 miles to the Tapachula immigration center. There, they'll likely spend a month or more trying to get a transit card, issued by Mexico's National Institute of Migration. that allows legal passage through the country. No one wants to be caught without legal documents and risk deportation at this stage.
During the brisk walk to the taxi stand, I find someone who speaks a little English. He says he's from Angola and has spent two months getting this far. He took a boat for 10 days from Angola to Colombia, then trekked another 10 days in the Colombian jungle.
From there, the well-worn route runs through Panama, Costa Rica, Nicaragua, Honduras, Guatemala, and Mexico.
He said he left Angola because his family wants to kill him.
A woman in the group, also from Angola, had a 2-year-old child with her. She said they flew to Panama before heading north on the same path.
The next morning, June 28, was the same, only this time, it was a group of 10 Haitians—eight men, one woman, and one child. One man said he traveled via Chile, Peru, Ecuador, Colombia, Panama, Costa Rica, Nicaragua, Honduras, and Guatemala. Others came through Brazil.
"I can't think about being tired; I don't even know where I am," the man said as he strode onward.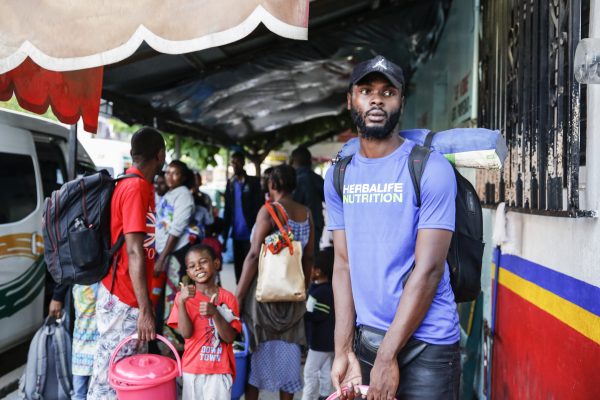 Crossing Into Texas
In a month or so, once they have a transit card and continue north, it's likely these migrants will end up being apprehended by Border Patrol agents in Texas's Del Rio sector—suddenly a favored crossing spot for Africans and Haitians.
About 1,000 Africans have been apprehended by Del Rio Border Patrol in the past two to three months, according to Sector Chief Raul Ortiz. They herald from 11 African nations, but most are from the Congo and Angola.
It's an astronomical increase, considering that only eight Angolans and 11 Congolese crossed the entire southern border throughout the 12 years from 2007 through 2018, according to Customs and Border Protection (CBP) apprehension data.
"It has really been a bit of an anomaly for us," Ortiz said. He said they're crossing into both Del Rio and Eagle Pass, Texas. His facilities can hold 900 people at capacity and the numbers tend to fluctuate between 900 and 1,000 on any given day. "We're building additional temporary capacity in our Eagle Pass station right now that's going to add space for a couple of hundred more," Ortiz said.
On May 30, Border Patrol agents in Del Rio apprehended a group of 116 Africans—including nationals from Angola, Cameroon, and the Congo.
On June 1, agents arrested a group of 37 from the Republic of the Congo and the Democratic Republic of the Congo.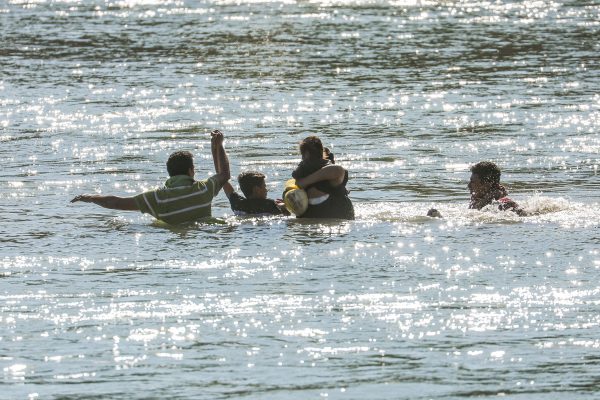 And it's not just Africans. Haitians are also coming through the southern border in droves.
Traditionally, Haitians first make it to Puerto Rico, rather than take the overland route. In the past 12 years, more than 3,000 Haitians have been apprehended by Border Patrol after entering Puerto Rico.
The second-busiest crossing point for Haitians has been the northern U.S. border (604 arrests in 12 years) and the southern border is third, with 473 arrests.
But, since June 11, Border Patrol agents in Del Rio have apprehended more than 1,000 Haitians. Prior to that, only 17 had been apprehended since Oct. 1,  2018.
"Over the last four or five hours, we've had upwards of 100 Haitians who just crossed in Del Rio," Ortiz said on July 2. "They crossed just down river from the port of entry."
Del Rio and Eagle Pass sit a 55-mile drive apart. Both have small populations, with Del Rio at 36,000 and Eagle Pass at 29,000, according to census numbers from 2017.
"I think there's some perhaps NGO, social media messaging, that's happening south of here that is steering some of this traffic our way," Ortiz said.
He said some of the groups initially tried to cross the border further south near Laredo, but were likely pushed up by the cartels.
"And then, of course, once people enter here, it doesn't take long for them to pick up the phone and call folks that they know—that are either staged in Brazil, Ecuador, and some of those other countries—to say, 'Hey, we just crossed through Del Rio sector; it was a relatively smooth process,'" Ortiz said.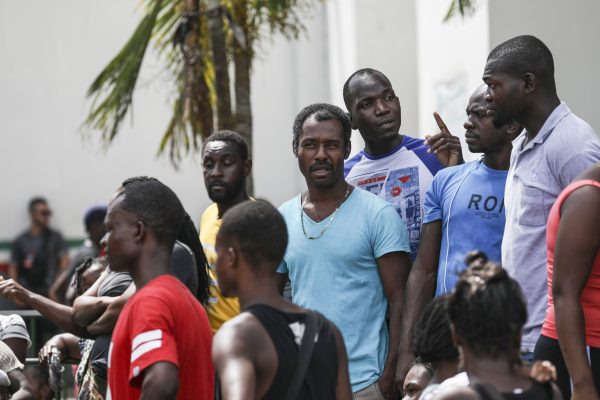 Driving the Crisis
He said loopholes in U.S. laws are the driving force behind the influx. A reinterpretation of the Flores Settlement Agreement, made by a California judge in 2015, has precipitated the massive surge in family units crossing the border, mostly from Central America. The Flores agreement now states that any child, including those with parents, can't be held longer than 20 days. Previously, that law had only applied to unaccompanied minors.
In both fiscal 2016 and 2017, the total number of family units that were apprehended by Border Patrol was about 77,000. Family unit numbers count the total number of individuals who arrived as a family unit (at least one parent and one child).
However, in fiscal 2018, the numbers jumped to 107,000. And in the first eight months of fiscal 2019, the number of family units has shot to more than 332,000, according to CBP. Most are from Central America.
"We don't have the capacity to hold them. And so, once they're encountered, we process them and give them a Notice to Appear, and they're on their way," Ortiz said. "So I think that really is a driver or pull factor that is impacting their decision to cross now."
A Notice to Appear is a document that indicates the beginning process of removal and usually includes a date to appear in immigration court.
Mark Morgan, then-acting director for Immigration and Customs Enforcement (ICE), said on June 19 that almost 90 percent of illegal border crossers aren't turning up at their initial court hearing.
And due to a shortage in detention capacity, ICE has released more than 200,000 migrants into the U.S. interior since Dec. 1, Morgan said.
Ortiz said some of the rhetoric by U.S. politicians is encouraging illegal immigration. At a recent debate, all 2020 Democrat candidates for president promised free health care to illegal aliens in the United States. Many sanctuary states provide driver's licenses for illegal immigrants and help shield them from federal immigration authorities.
"We've seen very little relief when it comes to the TVPRA and some of the other decisions that have, over the last couple of years, plagued us," Ortiz said.
The TVPRA (Trafficking Victims Protection Reauthorization Act) currently only allows for the return of a minor— if they aren't a victim of trafficking—to their home country if that country is Canada or Mexico (a contiguous country). Minors from any other (noncontiguous) country can't be returned.
"All of these things I think are driving people from Central America and, now, from a slew of other countries," Ortiz said. He said in Del Rio, agents have apprehended illegal aliens from 45 different countries so far this fiscal year.
"That's an anomaly," he said.
Terror Concerns
Ortiz said most of the illegal immigrants that Border Patrol encounters have some type of paperwork by the time they reach the United States. Border Patrol conducts background checks on every database they have access to, including the national targeting center and Interpol.
"Those are the ones that are typically turning themselves into Border Patrol agents out there as they cross the river. We're not specifically talking about the folks trying to evade apprehension or potentially make it through without us ever encountering them," he said.
"We've seen just recently a little bit of an uptick in Indian nationals. It's not huge, it's not anything that I would compare to the Haitians or the African nationals. But I will tell you that all those states concern me."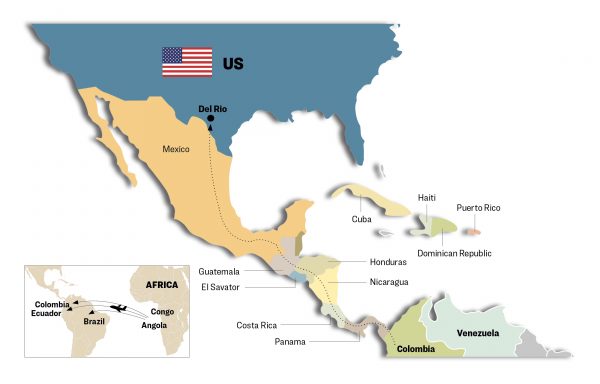 35,000 in the Pipeline
The route northward from Latin America funnels migrants from the Colombian jungle into Panama through the Darien Gap, where they're picked up by police and taken to camps before being shuttled onward.
Panama-based author and freelance journalist Chuck Holton said government sources on both sides of the gap estimate that 35,000 migrants are in the pipeline, according to a report by Todd Bensman, fellow for the Center for Immigration Studies. Holton said every migrant he interviewed told him they'd flown into visa-free Ecuador.
"The majority appear to be Cameroonians, Congolese, and Ghanaians, the largest numbers of those migrants he has ever seen, and who now appear to outnumber the traditional fare of Haitians and Cubans," Bensman wrote.
Nurse practitioner Diane Edrington just returned home to Mississippi from Panama. She is director of the medical side of Panama Missions, a church-based group that provides medical and humanitarian care to local villagers, as well as migrants passing through.
Edrington has traveled to Panama for 20 years and often spends part of her time treating migrants in a camp in Yazidra, which is where the police bring migrants who enter Panama after trekking through the Colombian jungle on their way to the United States.
"I was there in December and there was maybe a little over 300 people there," she said. "This time [in June], there were 1,300. It was just overwhelming."
Costa Rica only allows several hundred migrants to enter each day, which means the numbers in Panama are backing up fast. Edrington said the influx of Africans is beyond anything she has seen before.
"They'd been coming for years, but it would be like 20 at a time," she said. "Now, you're seeing hundreds and I understand thousands are making their way across Columbia, from what I was told. It's a real issue."
She said the majority of Africans she spoke to flew into Ecuador or Brazil, with some flying into Columbia.
"And that's another question—the money. How does all this happen? And especially if you're fleeing a country, where does that money come from?" she said.
Edrington said aside from Africans, she saw migrants from India, Bangladesh, Nepal, and "of course Haiti, and a lot of Cubans." In December, she saw a lot of Iranians.
"A lot are coming because they want to get here before … we have a wall or they're stopped from getting across," she said. "Of course, I have to look at it from a humanitarian standpoint, but on the other hand, I love my country and I'll do anything to protect it. You can't let swarms of people come across because they want a better life. We might as well open the world up."
Tapachula Detention Center
Back in Tapachula, Mexico, the National Immigration Institute is detaining about 5,000 people—mostly Africans and Haitians who have just crossed from Guatemala. Another 500 are at a nearby facility, and a new camp has just opened in a city park to take 500 more of the overflow.
Other groups of migrants are scattered around the city in cheap rental places. But they converge on the detention center each morning with the hope of getting an appointment for a transit card, giving them legal passage through Mexico.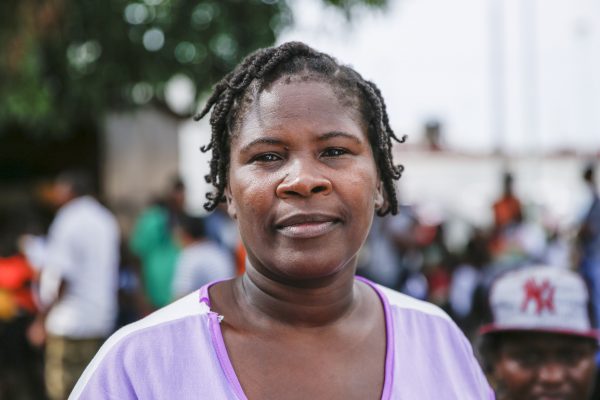 Cherelise Pluviose, 43, is originally from Haiti, but lived in Venezuela for the last few years. She said she arrived in Tapachula on June 1 after a three-month journey and has an appointment for a transit card on July 3. She traveled with her three children—aged 21, 11, and 8—and a group of Cubans.
The journey was difficult, she said. "I got robbed in Panama, I almost drowned in the river, I lost everything."
But, Pluviose said she feels lucky because her husband has been living and working in Tijuana for the past three years, which means he can help her rent a small house nearby while she waits.
She estimates she has spent $3,000 to $4,000 to get this far.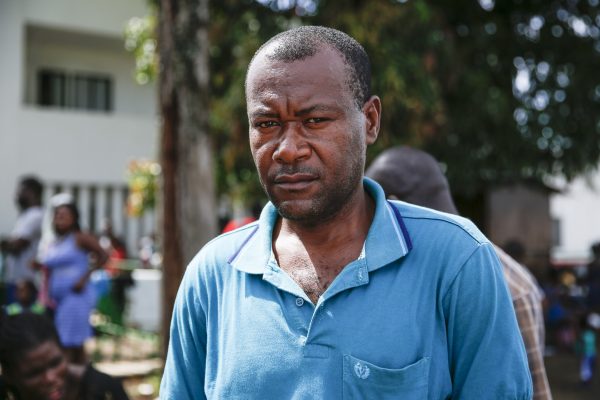 Emilet Berquim, 47, also from Haiti, lived in Venezuela for 20 years before deciding to try his luck in the United States. He brought his wife and two children, aged 9 and 6, and is also renting a place near the detention center.
Berquim said the family traveled to Colombia from Venezuela by bus; to Panama by boat; walked 10 days to get to Panama City; found shelter for 12 days; traveled to Costa Rica by bus; then Nicaragua by bus; then Mexico by bus, via Honduras and Guatemala.
Berquim has been in Tapachula for nine days and hasn't scored an appointment yet. He plans to move to Tijuana and then cross into the United States.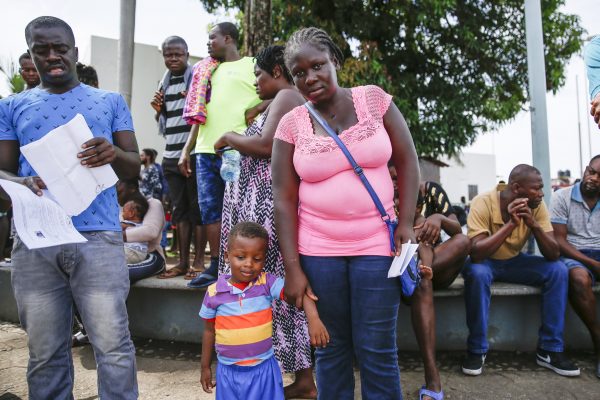 Atil RoseGuerlime and her family have been living at a migrant center with 500 others for the past 26 days. "They have food for the kids, but not the adults," she said.
She left Haiti three years ago and moved to Chile with her husband and stepdaughter. There, she had her son, now 2, and all four are on their way north.
Haitian Josue Thelusma, 35, moved to Chile three years ago, but decided two months ago to migrate after being out of a job. He brought his wife and three children: an 11-year-old and 18-month-old twins.
Thelusma said he is going to West Palm Beach in Florida, where his brother and father already reside. He reckons that he's spent about $3,000 to get this far and is staying in a house nearby with another family and paying $18 per night. He said he had some money saved and hasn't received financial help from family or other sources.
"I don't feel good because I don't have an appointment yet. I just have to wait for my papers," Thelusma said of the waiting in Tapachula. "I'm a little worried about getting into the United States because I don't know what the borderline will be like."
Mexico said it has deployed 15,000 National Guard troops to its northern border; but with a transit pass issued by immigration authorities, none of these migrants are likely to be stopped from entering the United States.
Just prior to print on July 3, The Epoch Times learned that Mexico's National Guard is now at its southern border and isn't allowing passage to anyone without legal authorization.
Health Issues
Ortiz said, as illegal immigrants flow in, they all undergo a medical screening, but capacity is limited.
"It takes a huge amount of our bandwidth to be able to address all these medical issues," he said.
If anyone shows signs of needing more urgent medical care, Ortiz said EMTs are on hand, or the individual is transported to local medical facilities.
His sector is set to receive more medical assistance over the next couple of weeks.
Edrington said the main medical issues she encounters in the Panama camps are jungle-related as the migrants  cross into the Darien gap from Colombia.
"The majority of these migrants crossing into the Darien gap are robbed, beaten, and in some cases, raped by gangs and all their belongings are taken. So many are left without shoes and walk barefoot in a harsh environment," Edrington said.
"A lot of infectious-type rashes, upper respiratory infections, a lot of ulcerations from insect bites … a lot of hookworm. Leprosy is a very big issue in a tropical environment and a lot of times, it's misdiagnosed because it starts off as a rash," she said. "Children with a lot of upper respiratory issues, tonsillitis, fever, diarrhea, vomiting; because you're dealing with contaminated water or no water. I saw several children that were very malnourished."
"Some of it, you just have to go by symptoms, you can't diagnose without actually having a lab sample or biopsy or bloodwork. You just treat the symptoms and, hopefully, you're doing good and helping them," she said.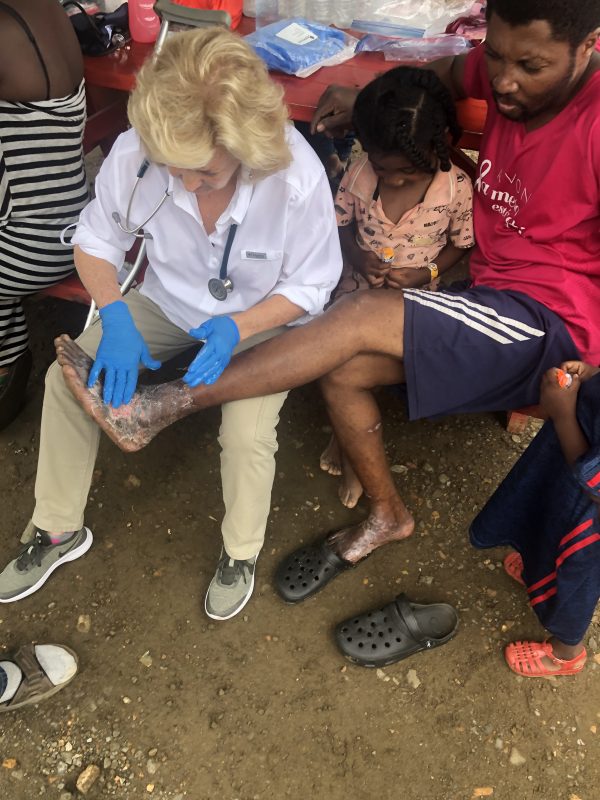 Edrington said more than 35 of the women in the camp were pregnant, some through being raped on the way, "which is a very sad situation. And some, during the journey, lost their baby."
About the risk of Ebola, Edrington said with a two-week period before symptoms show, the migrants she sees in Panama would likely already have symptoms.
"But, of course, that's a real thought-provoking issue and it's something that you think about when you're in those areas," she said. "I haven't seen anything that was symptomatic of [Ebola], but I'm not saying that it hasn't happened or it will happen, because you know, there are people coming from areas where there is Ebola and you don't know what they're carrying."
Edrington said she doesn't think Americans understand how critical the situation is or how critical it could become.
"Most citizens in the United States, are they aware of what's going on? I don't know how you wake people up, because unless you've been there and you've seen it, you don't realize—this is not going to stop," she said. "It was hundreds in December and there's thousands now. This is a problem. And I can only see it getting worse."