Thousands of people gathered in the capital of the Czech Republic on Jan. 30 to take part in a protest against mandatory COVID-19 vaccinations and other restrictions targeting unvaccinated individuals.
More than 6,000 activists reportedly massed in Prague's Wenceslas Square for the protest, according to rally organizers. The protesters demanded that authorities listen to citizens' calls.
"The state should listen to the people's demands. The arrangements and restrictions lead us on the road to hell," said Zuzana Vozabova, who banged a drum through the protest.
In footage from the rally, a large crowd of protesters can be seen marching while waving flags and chanting slogans as they move toward the popular square, which has the busiest pedestrian traffic in the whole country.
The protesters mainly objected to harsher restrictions for unvaccinated individuals—including a ban on eating in restaurants—calling the government's COVID-19 policy discrimination against those who choose to not get vaccinated against the CCP (Chinese Communist Party) virus, which causes the disease COVID-19.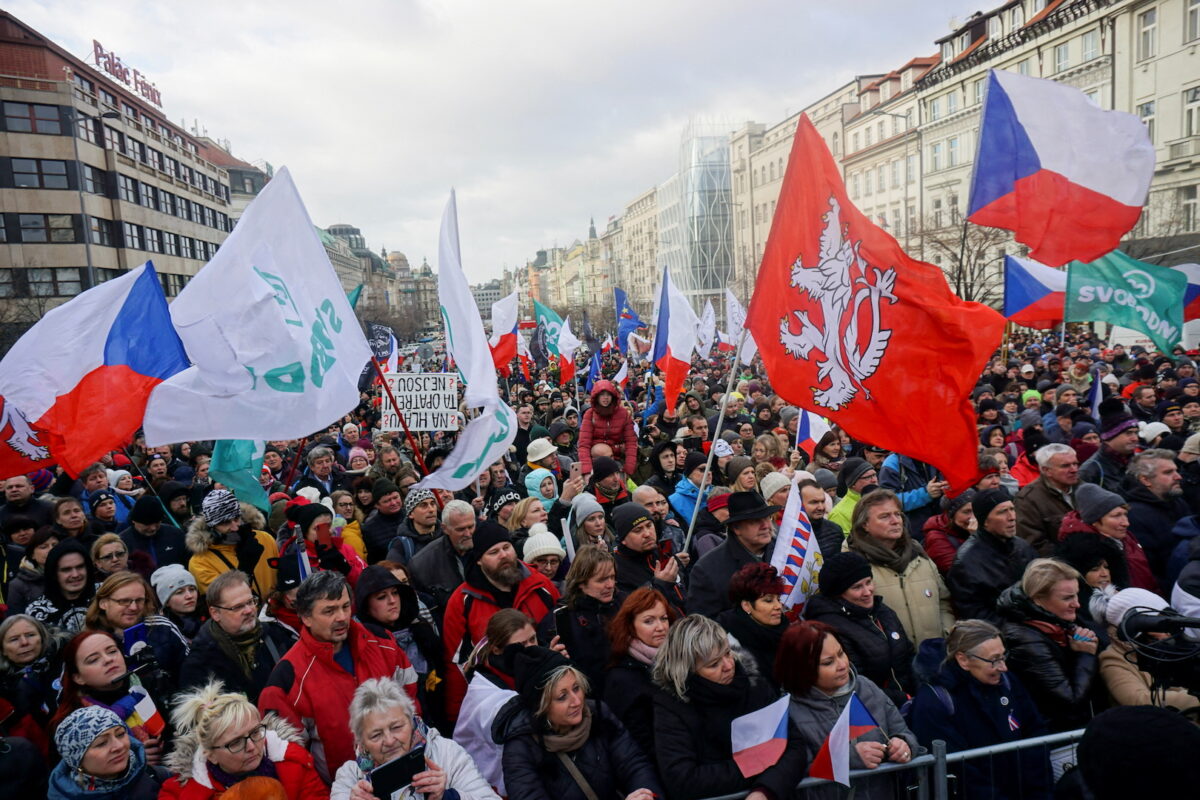 People wanting to dine in Czech restaurants are currently required to present a vaccination passport or a recent negative COVID-19 test. The same rules apply to many other indoor venues in the country, such as museums and nightclubs.
According to health authorities, the country of 10.7 million people reported its highest daily tally of COVID-19 cases—54,689—on Jan. 26, while the numbers on other recent days have ranked among the highest since the start of the COVID-19 pandemic about two years ago.
Despite an increase in cases, the government scrapped a decree last week making COVID-19 vaccinations mandatory for key professionals and those people older than 60 to avoid "deepening fissures" in society.
The coalition of Prime Minister Petr Fiala has also shortened quarantine and isolation times as it braced for the Omicron coronavirus variant while launching a policy of mandatory testing for employees at companies.
Hospitalizations stood at 1,989 as of Jan. 29, far below the roughly 7,000 reported during the previous peak at the turn of November 2021 and December 2021.
In December 2021, similar protests prompted by a government decree making COVID-19 shots mandatory for elderly people and employees in certain sectors erupted in Prague. That day, about 4,000 people took to the streets after gathering in Wenceslas Square.
Reuters contributed to this report.
From NTD News