Thousands of people gathered in Vaughan, northwest of Toronto, on Jan. 27 to support the "Freedom Convoy" as it rolled through the city en route to Ottawa.
The protest, initially started to oppose the federal government's COVID-19 vaccine mandate for cross-border truck drivers, has gathered a large following as those who are upset with other pandemic restrictions and mandates have also joined the movement.
At least two groups of trucks travelled through the Greater Toronto Area. One passed through Vaughan Mills and continued toward Kingston later in the afternoon, while drivers from the Hamilton and Niagara area departed from Marshall's Truck Stop on Kenora Ave., proceeding east toward Canada's capital, the organizer Canada Unity, said in a statement.
Supporters for the #TruckerConvoy2022 gather in #Vaughan pic.twitter.com/RjQ19sX3f9

— Andrew Chen (@AndrewChen55) January 27, 2022
Over 10,000 truckers from across the country are expected to rendezvous on Parliament Hill on Jan. 29 in a massive demonstration against the federal government's COVID-19 vaccine mandate that took effect on Jan. 15. Under the mandate, truck drivers who have not been fully vaccinated will be required to quarantine for 14 days when they re-enter Canada from the United States.
Doug Wagg, a truck driver from Mount Forest, Ont., said he will join other truck drivers in Ottawa for "as long as it takes" to protest the vaccine mandate, which he said will have a huge impact on the livelihoods of the truck drivers.
"If you do one load out and then you come back and you've got to sit home for 14 days, that's a lot of revenue lost, a lot of revenue," Wagg said, adding that the policy will also hit the supply chain "pretty hard."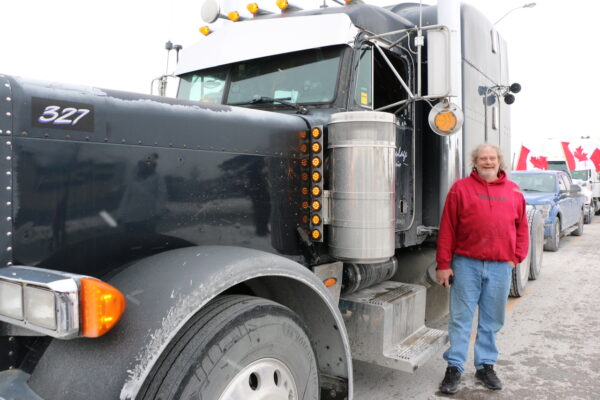 David Riddell, a Hamilton-area truck driver with 35 years' experience, said the mandate is unfair for essential workers.
"Two years ago, the essential workers were heroes. And now two years later, we've all become zeros, and that's not fair," Riddell told The Epoch Times.
"The government overreach … has gone too far. They have gone too far. They don't live in the real world like the rest of us, and we got to do something."
Some supporters said the truckers' protest has given them hope that vaccine mandates and other restrictions will finally come to an end.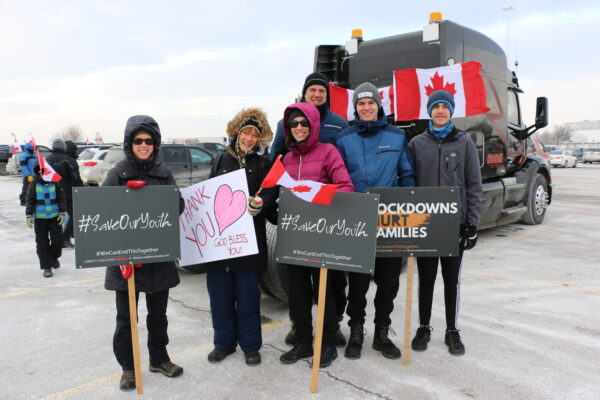 Stacey Dittman, a resident of Orangeville, Ont., who came to Vaughan Mills to show support for the truckers, said she felt "a sense of patriotism, a sense of hope" that their efforts can turn the tide and end pandemic restrictions.
"Canadians, this is your moment. If you haven't stood up, if you have any kind of hesitation or any kind of confusion on what's going on … it's time to stand up, it's time to push back, and massive non-compliance is the only way to end this peacefully," Dittman said.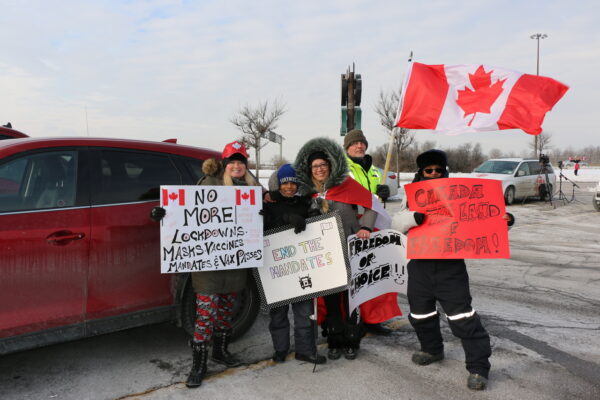 Stephanie Brown, a resident of Etobicoke, said the restrictions have gone on too long and it's time for life to get back to normal.
"I think the spirit of Canadians has been broken for too long and it's time we take our country back, get back to living like we used to, let our kids get back in sports and live life again," Brown said.