Thousands Cheer at Washington's Independence Day Parade
July 5, 2013 12:54 pm Last Updated: July 5, 2013 11:29 pm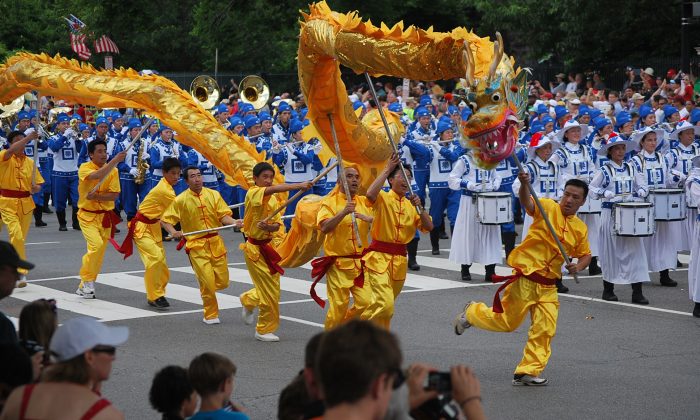 WASHINGTON—The National Independence Day Parade in Washington, D.C. drew thousands of onlookers who partook in the Fourth of July fanfare at the National Mall. Children perched on their fathers' shoulders as marching bands in polished uniforms from across the country paraded down Constitution Avenue.
The parade, like other Fourth of July parades held in the District, was festive yet calm. A cool breeze swept though the hot, humid afternoon, well lit by the sun.
"Every year the Fourth of July represents [for me] the people that have fought to make this country better," said Tyrell Andersen, a 20-year-old Army National Guardsman from North Dakota.
Patricia Duvra of Silver Springs, Maryland said that she enjoys the freedom of speech in America. Duvra said that she often works in the morning on the Fourth of July and later watches the fireworks.
This year, Duvra took the opportunity to see parade participants, including White Oak High School Regiment of Roughness marching band from Texas and the Lincoln Highway Centennial show presenting classic cars.
Although the Fourth of July holiday has been observed in the U.S. since 1941, Independence Day started in the 18th century. In the midst of the Revolutionary War, representatives of the 13 original colonies in the U.S. voted on July 2, 1776 to declare their independence from Great Britain. Two days later the Declaration of Independence drafted by Thomas Jefferson was adopted.
The war did not end until 1779 when the Continental Army, with the aid of France forced the British to surrender at Yorktown, Virginia. Historians consider the battle at Yorktown to be when the colonists won their independence.