Thousand-Year-Old Town to Be Submerged in Water
April 25, 2006 12:00 am Last Updated: April 25, 2006 12:00 am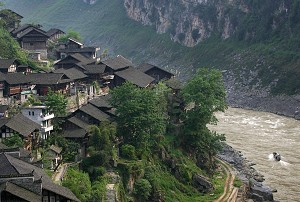 The ancient town of Gongtan, located in the west of Youyang Tujia-Miao autonomous county in Chongqing city, will forever submerge into water with the construction of the Pengshui hydropower plant on the Wujiang River.
With more than 1,700 years of history and culture, Gongtan is well-known for its stilt houses built along the slopes of the mountain, the raging waters of the Wujiang River, and the ancient streets paved with stone slabs.
Because of its convenient location, bordering Sichuan, Hunan, and Guizhou provinces, the town has been a center for distribution of goods and a major town along the Wujiang River since ancient times.
In the days of the Republic of China, merchants, porters, and boat trackers from Sichuan, Hunan, and Guizhou provinces would gather there to export local products and import manufactured goods. On any day, many boats could be seen along the river and the markets were quite prosperous.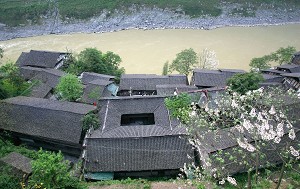 With the development of sea, land, and air transportation, the prosperity of the town has gradually vanished. However, the ancient town's unique natural and man-made landscapes have been preserved. When the hydropower station begins to operate, the ancient town of Gongtan, overlooking the Wujiang River for a 1,000 years, will silently sink into the bottom of the river forever.