A fatal traffic accident on June 10 in the city of Shantou, southern China, turned into a bloody riot involving thousands of people.
When an official driving a Mercedes-Benz hit a family of three in the night, he tried to escape the scene, but was surrounded by a crowd of locals. He then dialed some associates and summoned a gang of machete-wielding thugs to ward off the onlookers, causing multiple knife injuries in addition to the victims of his driving.
According to a local witness, the incident happened about 9:30 p.m. at a crosswalk on an intersection. The victims were a man, and wife, and their infant child. The Mercedes hit all three; the baby died instantly. The man is in emergency care and the woman may have succumbed to her injuries, the local told Epoch Times.
Immediately after the incident, the driver, reported to be a village-level Communist Party secretary surnamed Ji, was confronted by onlookers and relatives of the victims. Ji made a phone call, and soon about a dozen men armed with machetes and with red armbands arrived and began hacking at the seven or eight people surrounding Ji. A fight ensued.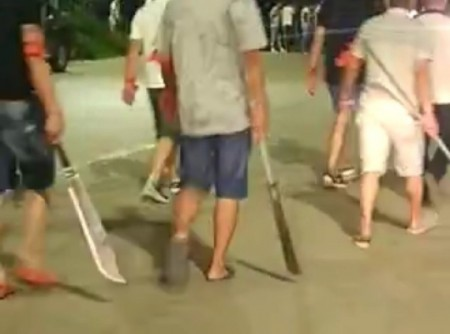 Police officers soon arrived at the scene in force, and began with removing the license plate from the Party secretary's car. At the same time, they ordered bystanders not to take photos of the scene and confiscated cell phones while securing the suspect.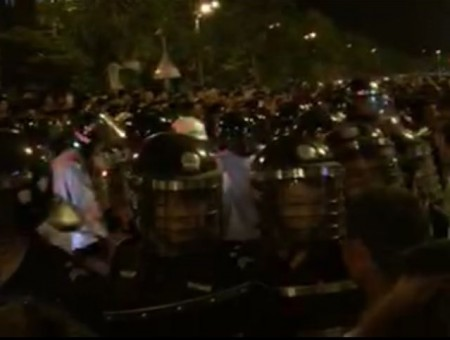 At this point, larger numbers of locals were arriving at the scene; a witness surnamed Lin says that that the intersection of the accident is a densely-populated residential area for out-of-province migrant workers. Mr. Lin reported that over a thousand people gathered at the site of the incident.
The family hit by the Mercedes was from Jiangxi Province and the parents were temporary workers, Lin said.
The crowd surrounded the police cars and demanded that the police conduct an alcohol test on Secretary Ji. The police cars were nearly overturned. Lin said that violence broke out between the locals and nearly a hundred riot police, both at the site of the accident and and the local police station about a ten minute walk away. The civilians, who fought with stone blocks against the tear gas grenades and batons of the police, dispersed and regrouped multiple times until about 5 in the morning. The police station was damaged in the fighting.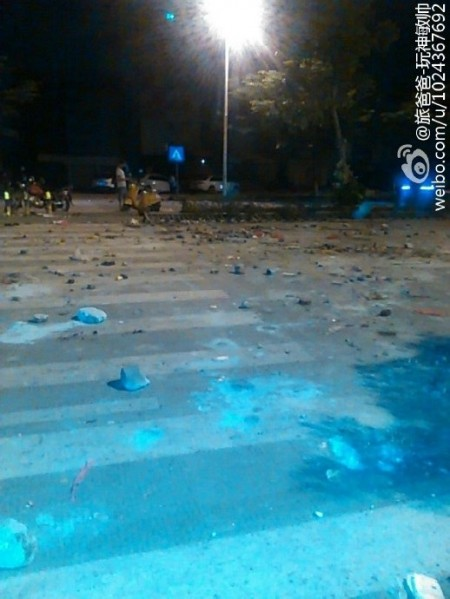 In the police report, made at around 4:00 a.m. on June 11, Secretary Ji's occupation was changed to "manager at a private firm" and the accident was rebranded as "a disturbance caused by local mobs." Angry locals took to social media websites to protest the police protection of the communist official, but all comments about the incident were deleted by state censors.