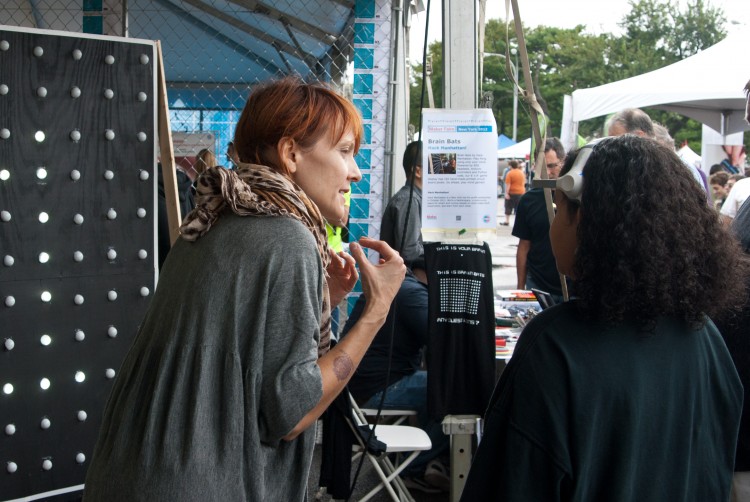 NEW YORK—A wall-sized wooden board was painted black and fixed with a huge grid of LED lights. Bundles of wire poured out the back. A small laptop was set in front, which displayed a jitter of code.
A few feet away, kids line up to be fitted with a simple Electroencephalography (EEG) headset capable of reading the electrical signals emitted by thoughts, and converting the brain signals into commands for a computer.
The two gizmos combine to create a friendly game of thought-controlled "Pong," a video game similar to Ping-Pong. If the player concentrates, their paddle rises. If they enter a meditative state, the paddle lowers.
The player needs to quickly learn to control their thoughts in order to play. None of the passing by players at the Maker Faire held at the New York Hall of Science, Sept. 29, in Queens, New York, seemed to be doing very well.
The game, "Brain Bats," was set up by its creators from Hack Manhattan, a co-op of tinkerers and programmers who put their creative might together to build all forms of strange gizmos—mostly just for the fun of it.
"It reads an EEG signal. It's an electric signal that's present on your skin that reflects brain activity," said Guan Yang, a Ph.D. candidate at New York University, and a member of Hack Manhattan. "The headset sends the signal to the laptop here. The laptop receives the raw signal and then it summarizes the raw brainwaves into an attention score and a meditation score."
"Attention, research has shown, is associated with high frequency brain activity, and meditation is associated with low frequency brain activity," Yang said. "There's the side that's played by the computer and there's the side that's played by the human player, and the human player's paddle only moves if you pay enough attention."
The Brain Bats game started off, according to Yang, as "just one of those random things that happens at hackerspaces."
One of the members wanted to work with EEGs and persuaded a manufacturer to donate a headset. Another member worked with small displays and open source hardware, and helped build the playing field, "and then a third member said 'let's make a giant version of this, and by the way, I signed us up for an art festival in three weeks," Yang said.
They managed to fund the project through crowdfunding website, Kickstarter. They brought in $2,937, just a bit over their $2,500 goal. This helped them turn the project from a smartphone-sized gizmo into the gargantuan board of lights it is now.
"It was a lot of work, but it was a lot of fun too," Yang said.
Hackerspace
Some of their other creations were on a table nearby. One of these was a AA battery sandwiched between a computer chip and some plastic. "It gets a bit of extra juice out of dead batteries," Yang said. Their business cards are custom-built computer chips, which likely hold some magical potential that most passersby (myself included) are completely unaware of.
The hackerspace isn't all 3-D printing and psychic-powered video games though. According to Yang, the projects are as varied as its members. "We have all sorts of stuff that people are interested in," he said. "We have sewing machines. We put bees on the roof. We have gardening."
Some of the projects are more useful than others. Plenty of the work they do is just for the fun of it. "I think it's just fun to be able to find out how things work—how gadgets work—to the extent that we can create our own gadgets and not just understand them, but improve them," Yang said. "Maybe we can make better products than the stuff you can find in the store."
Most of their projects are open source—meaning that others are welcomed to use and contribute to the technology, usually without having to pay for usage rights. Yang said they made the software for the Brain Bats game open source. "Our hardware projects are too," he said.
The group aligns well with the open source ethos. "We're really there for the members. It's all about what the individual members want to accomplish," Yang said. "There isn't a big agenda other than enabling what the members want, and we've come up with some pretty awesome projects so far."
The Epoch Times publishes in 35 countries and in 19 languages. Subscribe to our e-newsletter.