Thompson Free College Plan Banks on Taxi Medallion Money
September 5, 2013 1:23 pm Last Updated: September 5, 2013 5:01 pm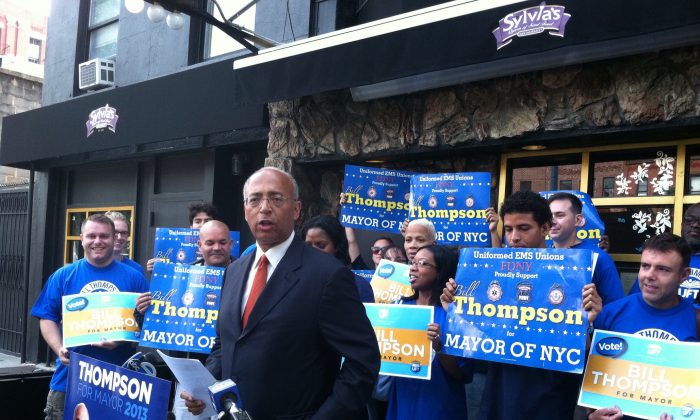 NEW YORK—As part of his education platform, Democratic mayoral candidate Bill Thompson proposed Sept. 5 giving city students their first year free at any CUNY school.
The City University of New York has 11 senior colleges, seven community colleges, and five graduate/professional development schools throughout the five boroughs serving 539,000 students.
Thompson said all high school seniors—be they from public, private, or parochial school—would be covered under his program, as long as they finished high school with a B average or better.
The program would cover roughly 18,000 students, with an estimated cost of approximately $34 million.
Thompson said he would fund the program using money from the taxi medallions set to be sold by the city over the next few years.
The city will begin to auction 2,000 new taxi medallions this October. The city has not released the number of medallions it will sell first, but it has said it will not auction them all at once.
The city estimates the medallion money will generate $1.5 billion in revenue, and it allocated $300 million in this fiscal year's budget. The $300 million is in the general fund, and is being used to plug budget gaps.
The mayors Office of Management and Budget released a four-year projection with this year's budget. The taxi medallion money is allocated to the general fund through fiscal year 2017: $400 million in 2015, $360 million in 2016, and $400 million in 2017.
The money is not earmarked for a particular project or agency, but is included as general revenues.
"The money, in many ways, is accounted for," said Maria Doulis, director of New York City studies at the non-profit Citizens Budget Commission. She said a reallocation of the taxi medallion sales revenue would further increase the city's budget gap.
Thompson, who has been out of city government for four years, did not appear aware the money was already accounted for.
Thompson said any allocation would only apply for the first six months of his term because at that point the mayor presents a new budget.
"I don't believe it is programmed for multiple years, and the taxi medallion sales are programmed over a period of years," Thompson said in front of Sylvia's Restaurant in Harlem on Thursday morning.
"The money will be there to start and then we will find other revenue streams that are there within the city after that."
First Year
Thompson's plan will pay for the first year of school, which will be some added relief for many students who cannot pay for college. But after the first year, students will be back on the hook for the tuition bills.
Thompson was asked what students were to do after their first year, when students would need to apply for federal grants or student loans.
"If anything, it gives them the opportunity to be able to go, to give you the financial support to get through year one," Thompson said. "It creates the additional opportunity for working and middle class families that they need to have that dream."