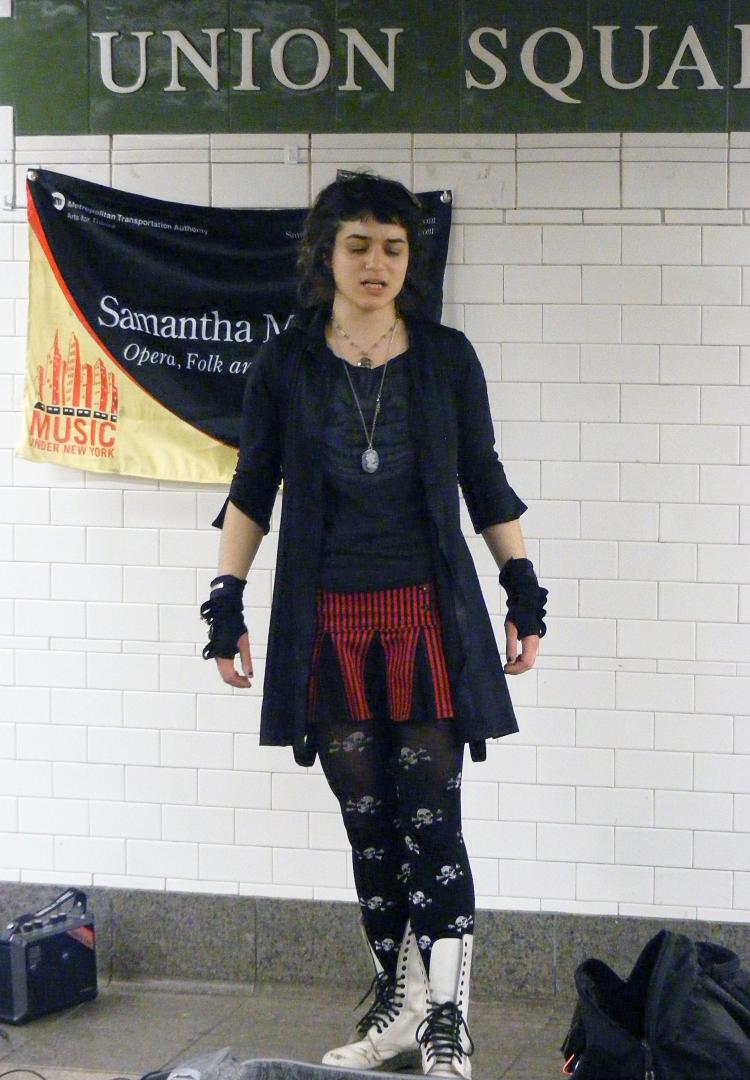 NEW YORK—Union Square Park was bustling on one of the first days of proper spring weather. Street dancers, chess players and book readers filled the park amidst a chaotic mix of Hip Hop and Swing music playing throughout the park.
Descending the stairs into the subway station, the commotion quieted down. A rare moment of silence was found near the turnstile. A step further and waves of Bel Canto style singing and the sweet strains of opera music engulfed the station. This was the doing of 22-year-old Samantha Margulies, a performer, writer, and student of English and Philosophy at Hunter College.
She performs three times a week in the Union Square subway station, and in other stations around the city, as part of the MTA's Music Under New York program. Margulies was born and raised in Washington Heights.
The Epoch Times: How is it to perform in the subway?
Ms. Margulies: I like it a lot better than performing to an audience. You can really tell what people think of you. If they stay and listen and give me money I know they like me. It is [also] very informal, so I can try out whatever I want. I can experiment with different techniques.
I enjoy the spontaneity of performing in the subways. It could be anywhere. It is in between time and space. I can pretend I am in any sort of venue. It is very liberating.
Sometimes I do cabaret performances. I do Irish pubs a little bit, but mostly the subways.
The Epoch Times: What do you like about singing?
Ms. Margulies: I enjoy being able to translate speaking into song. I've been studying [singing] since I was seven years old. I listened to a lot of musical theater and Disney and started learning to sing by imitating Broadway singers.
I'm also writing a novel, and songs, and also doing some visual arts. I have different artistic interests. I'm trying to integrate them. I can't really choose.
The Epoch Times: How was it to grow up in New York?
Ms. Margulies: [Growing up] I felt like I am living between two different worlds. Where I live there are a lot of old buildings and Art Deco stuff. When I go downtown, where my education is, it is a lot more modern and urban and crowded.
I had a pretty good time [growing up here]. People who grow up in the city have a stronger immune system. People who move to the city from the suburbs or the country end up getting sick a lot. People who grew up in the city can live anywhere.
I like New York. I have to. I am really adapted to it.