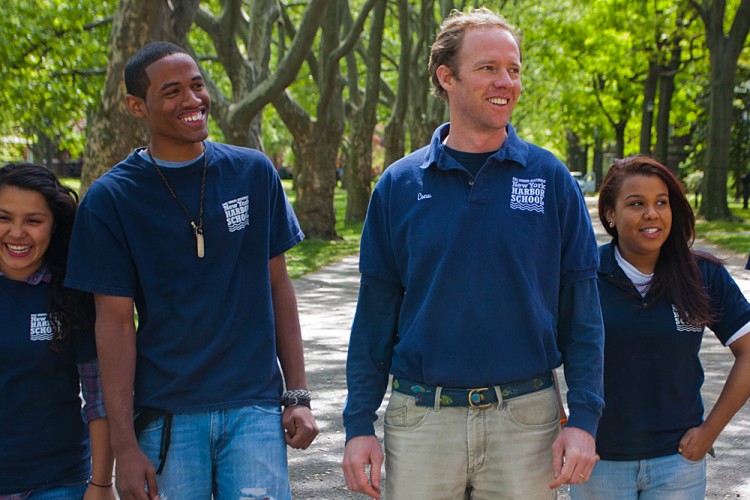 At age 6 Murray Fisher had eight pet snakes, and by age 12 he could name every species of bird. Growing up on a family farm just west of Richmond, Virginia, most of young Fisher's time was spent playing outside. Fishing and playing in the lakes and rivers was routine, and exploration was constant.
For the co-founder of New York Harbor School, nature has always been a passion.
"I knew from an early age that I wanted my life's work to be about studying and preserving nature," Fisher said from a pier on Governor's Island at the end of April. "I felt as though that meant I had to go into a career related to that stuff, so that is why I ended up going into college and majoring in biology."
Fisher was an A-student in high school, but as a biology major at Vanderbilt University in Nashville in the early 1990s, he struggled. "Everyone else was pre-med. They were all working harder than me, and they were all spending more time studying," he said.
For a guy who had felt a sincere calling to nature all his life, he began to question if he had chosen the right career path. Fisher decided to take a year off to refocus.
In 1995, between his sophomore and junior year, Fisher took an internship with the Wildlife Conservation Society in South America, working under Dr. Charles Munn III, a world-renowned parrot expert.
The eight-month internship took him around Peru and Bolivia. "I would just live in a tent and travel around the area with a machete and binoculars," Fisher recalled.
Outside of a few local contacts, Fisher was alone for most of the eight months. The secluded journey proved transformative.
"Well, it told me I didn't want to be a biologist," Fisher said with a laugh, adding in a more serious tone, "It was really interesting. I realized I loved nature, I loved wildlife, and I loved the environment, but I loved people more."
Fisher knew successful biologists, like Munn, had to be obsessed with the subject they studied, but he couldn't fathom spending years in the jungle studying wildlife.
"I didn't need to study the parrots to know that I wanted to stop the logging in that area," Fisher said. "I wanted to be more involved in the policy and the wider scale conservation effort."
With his new personal insight, he headed back to Nashville to finish studying; keeping the biology major, but having a clearer idea of how to utilize it.
In his senior year, 1998, he read the book "The Riverkeepers" by John Cronin and Robert F. Kennedy Jr., a book that discussed the environmental activism Kennedy had been involved in on the Hudson River. "That was a pivotal moment for me because I read it and said, 'Yes!
That
is what I want to do," Fisher said.
Fisher then wrote a letter to Kennedy, telling him it was the first time anyone had articulated his environmental ethics and said he would be coming up on his spring break to work with him.
Kennedy honored his request, letting Fisher stay with him over the break. "It was definitely inspiring in terms of commitment to a cause and work ethic," Fisher said of his stay. "He was always working on protecting the world's water resources, all the time, as hard as he could, as fast as he could. I had never been around someone who is so hard working for something they care about. For me, it was good insight."
Impressed with Fisher's like-minded passion, Kennedy awarded him a year-long internship with the environmental non-profit Riverkeepers in fall 1998 where he helped monitor the Hudson River.
On a monitoring trip 60 miles up the Hudson, in chest-deep water with a 100-foot seine net, Fisher was reeling in fish, documenting what was in the waters. It was there he realized this in-water experience was something he missed in his high school education. "I remember being like, 'there should be a school that does this kind of work,'" Fisher said.
A seed was planted.
New York Harbor School
Today, you can still find Fisher harbor-side in New York City. He found a career that marries his love of nature conservation with his love for people. He spends his work days on Governor's Island helping to give the next generation in-water experiences at New York Harbor School, a school he helped found.
The school is a public high school, but with an emphasis on maritime education. The curriculum includes an oyster restoration project that allows the students to actively take part in restoring the New York Harbor.
The doors opened in the fall of 2003 in landlocked Bushwick, Brooklyn. It was not an ideal location, but a start he could build on.
Fisher had Bobby Kennedy Jr. come out to speak on the first day of school—none of the students knew who he was.
"I realized how far the gap was between where our kids were and where I wanted them to go during that speech," Fisher said. "I was thinking to myself how much work we have to do to bring these two worlds closer together."
Personal Connections
The first year, there were only 125 students at Harbor School, and Fisher became close with all of them. He knew their names, their background, and was truly invested in their lives.
In fall 2010 the school moved to Governor's Island, a dream location for Fisher. It was a significant accomplishment, but he worried he would not have the opportunity to have the same personal connections with his students as he did in the early years.
As he was having that internal struggle, a ship docked in New York Harbor bringing former student, Ashley Charles, who had been on a Semester at Sea program, back to the school for a visit.
"I saw her in the classroom and felt total joy," Fisher said. "I gave her a huge hug and told her how proud I was."
"That moment reminded me really clearly that those relationships with young people are really important to me and that it is kind of the soul food that keeps it going."
The Epoch Times publishes in 35 countries and in 19 languages. Subscribe to our e-newsletter.