This is New York: Massimo Vignelli on Childhood, Discipline, and Design
September 24, 2012 8:03 pm Last Updated: September 29, 2015 5:19 pm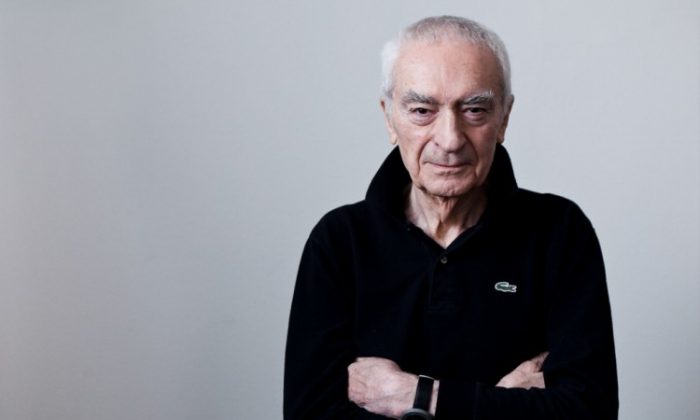 NEW YORK—Massimo Vignelli, the mastermind behind the logos of American Airlines and United Colors of Benetton, is known as the "grandfather of graphic design." 
He is a problem-solver who finds solutions through innovative design; he is also the creator of New York's iconic 1972 subway map. But the timeless works of Vignelli may not be the icons they are today if it weren't for his strong discipline—and pure luck. 
"I was really lucky to be born when I was born," Vignelli said. "If I were born earlier, I might have died in the war. If I were born later, I would not have participated in the infrastructure work after war." 
He was born in Italy, 9 years before World War II. A typical day from Vignelli's childhood consisted of going to school, hearing the bomb alarm go off, and running to a shelter. After the explosions passed, he would come out and play. 
"Children grow up no matter what. They have a fabulous capacity to be above tragedies," he said. Vignelli was not an unhappy child, but he did not know what joy was until he found design. 
"I was happy from 16 on. From age 0 to 16, I was … I don't know how I existed," he said. 
Vignelli first encountered the concept of design inside the home of his mother's friend, who was an interior designer. There, he realized a design process existed in the making of everything in the world. He was captivated by the idea.
With an insatiable hunger, he began reading all the design books and magazines he could get his hands on. 
"I began reading, and then drawing furniture, thinking of what I want in my room; but of course they weren't any good because I didn't have any background," he said. 
Although it is undeniable that Vignelli has a natural talent for design, he insists it wouldn't have gone anywhere without education. 
"There are helpful books, and there are books that put you astray," he said. "Designers need good mentors, same as in music or literature."

Design schools did not exist at the time, so at age 16, he began learning and working at an architect's office. Two years later, at 18, Vignelli left Italy to study architecture at the Politecnico di Milano, and later the Università di Architettura in Venice.
Although Vignelli has many words of advice for young designers, he said the most important trait to have in life, not just for designers, but any human being—is discipline. One cannot learn anything well without discipline. 
Vignelli spent most of his college days in the library reading design books. "That is passion. No one forces you, but you just want to do it. It is important to discipline yourself."
He attributes his strong sense of discipline to his aunt. 
"Oh she was a severe woman," he said. "The way I walk, talk, smile, behave, she instilled an attitude of restraint … She never had to punish me. She would just have to give me this look and I would freeze."
Vignelli's said his mother spanked him when he misbehaved, but it had no lasting effect on him, because she was normally very affectionate. 
"This look [from my aunt], on the other hand, ah, I was terrified."
Lella Vignelli 
Vignelli met his wife, Lella—one of the most important influences on his work—at an architecture conference during college. 
His wife has been his most valuable partner, and critic, of his work. Vignelli has often said that his designs would be of far less worth without Lella. He is currently writing a book on her work so that it will not be forgotten. 
He found out she came from a family of architects. "Everyone in her family was an architect: her father, her mother, her sister, her sister's husband, their children," he said. "It was unbelievable." 
"I saw her, and I said, 'I like her.'" 
Even at 81, he still remembers the long, terra-cotta colored dress she wore the day they met—so distinctly that he drew it during the interview. The drawing included tiny details from the shape of the neck to the matching belt. 
"Isn't that what you wore, the dress you wore when we met?" he asked, as he showed Lella his drawing.
She responded with a "humph," as if to say "not even close." 
"It was something like this, this is very close," he persisted. 
What struck him about her was the modesty of her dress. Vignelli lived in Milan at the time, where the girls were very fashionable. Lella was from Udine, a small town in northeastern Italy. He liked how her beauty showed through simplicity, not through embellishment. 
Vignelli has held on to his belief that true beauty is simple, as he shows in his designs.
Good, Bad, and Ugly Design 
Vignelli lamented that many of today's digital designs are based on entertainment, rather than information. "They have all these funny things that move. Just because the medium allows you to do things, it doesn't mean you have to use all of them," he said, emphasizing the aesthetic loss when simplicity is gone. 
Vignelli says that good typography is timeless. Newer typography, however, lacks depth so he never uses it in his work.
In a world where digital design is the new medium, many digital designers today may not have a thorough understanding of typography, he said. 
"Sure, digital is less expensive, and it doesn't pollute, but it is important to know the basic concepts, basic discipline of typography," Vignelli said. "Typography is the way to organize a message."
According to Vignelli, bad designs arise when they are created without proper training. 
"There are two ways of doing it, a good way and a bad way. The good way is structured by typography, and the bad way is happenstance, done without knowledge," he said. "New typography, in the sense of trendiness—it doesn't interest me. I reject trends," he said. "Trends are shallow. Architects are not affected by trends, neither are good graphic designers."
The Epoch Times publishes in 35 countries and in 19 languages. Subscribe to our e-newsletter.