This Is New York: Lloyd Ultan, Cataloguing Bronx History
July 20, 2013 2:00 pm Last Updated: July 24, 2013 12:58 pm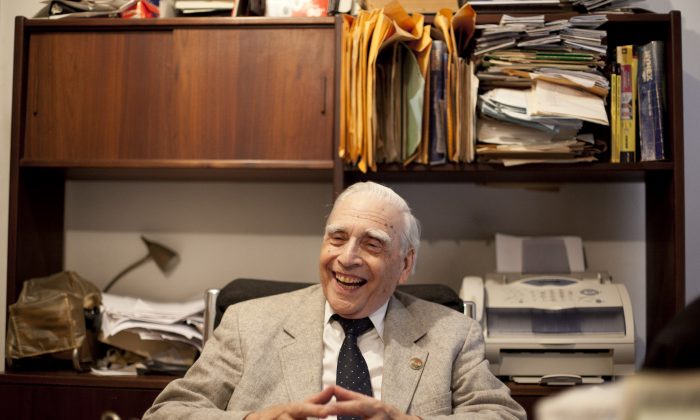 NEW YORK—Lloyd Ultan said he has been waiting for years to win the Nobel Peace Prize for embodying the cure for insomnia—he's the Bronx's official historian.
It hasn't happened yet. And likely never will, but Ultan, 75, is still chock-full of wisecracks about it. He can't let five minutes go by without humor, and each joke is always followed by a guffaw.
He lives in a quaint part of Northern Bronx, where strangers still share smiles. 
He owns two apartments on the same floor, but is fast running out of space for his history books. 
Ultan has no grandchildren, or children. He was never married. "Unfortunately, I never found the right girl, even though I have been searching," Ultan said.
Although opportunities for a family life have long passed, he feels no melancholy. For Ultan, anything and everything can turn into a funny story. As he looks back on his life, he sees nothing but amusing memories. It's how he chooses to look at things. 
"I'm not sure if I've had many difficult events in my life, which is an odd thing to say, but it's true," he said. 
"I tend to see the humorous side of life. You use fewer muscles laughing than frowning, so I don't overstrain myself," Ultan said, breaking off into a roar of laughter. 
"Ah, there he goes again," he said quietly to himself as he regained composure.
Ultan may not feel wistful nostalgia for the past, but in many ways he is still living in the past. 
He has no cellphone. He has no email address. If you must send him a Web link, you have to email his brother. 
His rotary dial landline phone rings incessantly—it's the only way to reach him.
He is perpetually invited to give lectures, to go on walking tours, to speak on talk shows and documentaries. Ultan is also a history professor at Fairleigh Dickinson University. 
During the school year, he commutes from the Bronx to New Jersey to work—he wakes up at 5:30 in the morning to take public transportation. 
But he doesn't mind. "It gives me a length of time when I can operate and do things without interruption, which is a valuable thing these days." 
The phone rings again.
"Oh it's my adoring public," he said, bringing the back of his hand dramatically to his forehead. "A good teacher is a good actor."
Students he taught in the past visit him every now and then. A student he taught in 1964 recently met up with him. He is a principal of a school now. 
"It's like that line from 'Goodbye Mr. Chips,' I have hundreds of children from the classes I teach," Ultan said. 
Sharp Memory
Ultan can tell you from memory that Leon Trotsky once lived in the Bronx for two and a half months—on Prospect Avenue, just south of 167th Street, on the fourth floor, in a two bedroom apartment, which he rented for $18 a month . 
There is a history lesson in everything. Ultan said he ties his ties using the Windsor knot—which, he doesn't hesitate to explain, was named after the Duke of Windsor, who abdicated the throne in order to marry American divorcee Wallis Simpson. Ultan said he liked the duke's special way of knotting ties. 
Growing up in the Bronx
Ultan has lived his whole life in the Bronx. 
His father worked for a shoe retailer that once existed next to Macy's on 34th Street, Ultan's father was a Stuyvesant High School alumnus who had dreamt of becoming an architect, but during his first year of college he dropped out to help support his family when the Great Depression hit.
His mother also dropped out of college to take care of her mother who had cancer. 
They didn't have a lot of money, but did their best to expose Ultan and his brother to cultural events in New York. 
As a child, Ultan's parents often took him to see matinee performances and films at Radio City for 25 cents.
He saw performances at Loew's Paradise Theater, whose walls were decorated with reproductions of Michaelangelo's and Donatello's works. The Bronx Theater is now a New York City landmark. 
Ultan was in one of the first graduating classes at Jordan L. Mott Middle School on 167th Street and Morris Avenue. 
"When I went there it was a brand new school. It was so new that when you walked into the gymnasium you saw the powder that was left there by construction workmen," Ultan recalled. 
Later, he attended Hunter College, at a time when tuition cost $35 at city colleges. 
Ultan received his master's in American history at Columbia University during the time Xerox machines first became widely used. 
He recalled sitting at a lecture, amazed, when a professor handed out copies of a historical document to the whole class. 
Becoming Bronx Historian 
After finishing grad school, Ultan thought to myself: "I know a lot about the history of the United States, New York, the city of New York, but I know nothing about the Bronx—the place where I was born and lived," he recalled. 
Ultan decided to attend free public lectures hosted by the Bronx County Historical Society.
"It suddenly came to me that the history of the Bronx is a microcosm of the history of the nation," he said.
He said every important movement that ever happened in the United States also happened in the Bronx. "And if it does not hold in the Bronx, it is interesting to ask why the Bronx is an exception," he said. 
He officially became the Bronx historian in 1996. 
To this day, he still spends much of his time at his office in the Bronx Historical Society. "They have the largest library of documents about the Bronx," he said. 
He is currently writing three books at the same time, to add to the 10 he has already published.
His book "Bronx Accent: A Literary and Pictorial History of the Borough," which he co-wrote with Barbara Unger, won the New York Society Library Book Award for Borough History and the Hermalyn Award for New York Urban History.
It's about how certain locations influenced famous literary figures who lived once in the Bronx, including vintage photographs of actual locations described by authors such as Mark Twain, James Baldwin, and Edgar Allan Poe. 
He is currently working on a book titled "Blacks in the Colonial Bronx," as well as two other books.
"I'm stupid enough to do three books at the same time," he joked. 
"I have never seen anything written about blacks in the colonial Bronx before, and so I figured the reason why was that people haven't been able to find this information," he said. "I've come across 200 documents scattered in 50 some odd places so I've brought them all together and reproduced them."
He will also publish a book that covers Bronx history from 1965–2000, and 18th century Bronx. 
When he first entered graduate school, a professor asked him which part of history he was going to specialize in.
"I said I don't know, I like all kinds of history. And he said, 'They're going to knock that out of you,'" Ultan said. 
"But they never did. I still like them all."