This is New York: Josh Beckerman, the Foodie Magician
September 28, 2013 6:48 am Last Updated: September 28, 2013 7:48 am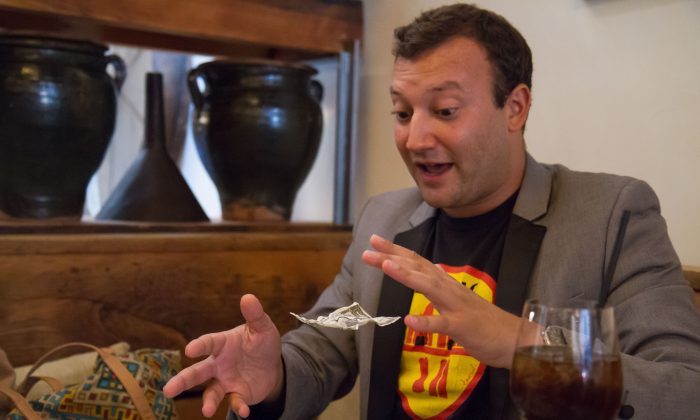 NEW YORK—Josh Beckerman is an entertainer with a higher aim in life than superficial tricks.
He adds positivity to people's days as a foodie magician. Yes, a foodie magician.
"Positivity is an interesting thing, it's contagious. If you make someone smile or laugh, that one moment could change their life forever," said Beckerman, 33. He documents his dining experiences on his blog, NYC Foodie.
He has a selective photographic memory, a "google map in the brain," he said. Whichever intersection you are at in New York City, Beckerman can tell you the best restaurant to go to and which dishes it is known for.
He is not paid by restaurants but when dining out he tends to break out magic tricks at neighboring tables—transfixing the diners. 
He can guess someone's favorite restaurant, even the most obscure eatery.
He asks when the last time you were there. Who were you with? He looks at you thoughtfully, and names the restaurant you were thinking of.
"I believe that everybody in the world is a little bit psychic, it's just that some are more in tune with it than others," Beckerman said.
Another signature trick of his is to ask a diner to pull out a random piece of currency from his or her wallet.
Beckerman then flips through a deck of playing cards and asks people to tell him when to stop. It just so happens that each card that he stops on matches the last four digits of the bill's serial number, in perfect order.
People gasp, they laugh. Beckerman adds that little surprise to life.
"My goal in life has always been to make people laugh, to add positivity in people's lives," Beckerman said. "Now I utilize magic, mind reading, and comedy to do that. But that has always been my goal since I was born."
He had his first magic box at age 4; his first sushi at age 3.
He recalled a distinct feeling of fulfillment that he felt as early on as age 3, when he saw that he had made someone laugh.
In high school he was known as the "card boy," who did tricks across social borders, from theater buffs to jocks.
Beckerman grew up in Stony Brook, Long Island, and studied business at Bucknell University, with a minor in film.
He is currently a full time foodie magician, making a living from performing at private parties and events.
It doesn't always provide a stable income, but Beckerman is philosophical. 
"I really don't see anything as a bad thing. What's a bad thing that's happened to me? That question doesn't exist for me in my life," he said.
"I didn't work as many gigs this summer as I would like to. I don't have a girlfriend. Those are things that people in our society will see as a negative," he said. "But I see it as a positive because everything happens for a reason."
He said he might not always know what the reason is, but he believes everything that happens is meant to lead him to a path of success.
Creating a brand as a foodie magician is a difficult path, unheard of one could say. But Beckerman never doubted he could succeed, and he said that's why he has been able to so far.
Since quitting his job as an assistant in a hedge fund in 2008, Beckerman has been featured in outlets such as the New York Times, the "Today Show," and Fox. He goes out every night to network.
"I believe in the law of attraction. What you put out comes back to you," he said. "I don't practice any religion. I don't believe in labels. But I believe the universe works in mysterious ways."
Food Obsessed
"Food is the first thing I think about when I wake up, and it is the next thing I think about after I have a meal," he said. "But I'd rather be obsessed about food than drugs."
One of his favorite restaurants is Il Buco Alimentari & Vineria, an eatery in NoHo, where he said the best porchetta and short rib sandwiches are served.
"Which way is your treadmill?" he asked the waiter as the porchetta was brought out. The waiter was taken aback. He took a moment to digest the remark, before an ear-to-ear grin formed across his face. 
The next time the waiter comes around, Beckerman has just finished a card trick at another table. The waiter begins flipping his hand towels and says the real tricks are about to begin. Diners in their corner of the restaurant laugh.
"My name is Josh, and it's a metaphor for my life, for I'm always joshing," Beckerman said. "Staying positive is the only way to live."