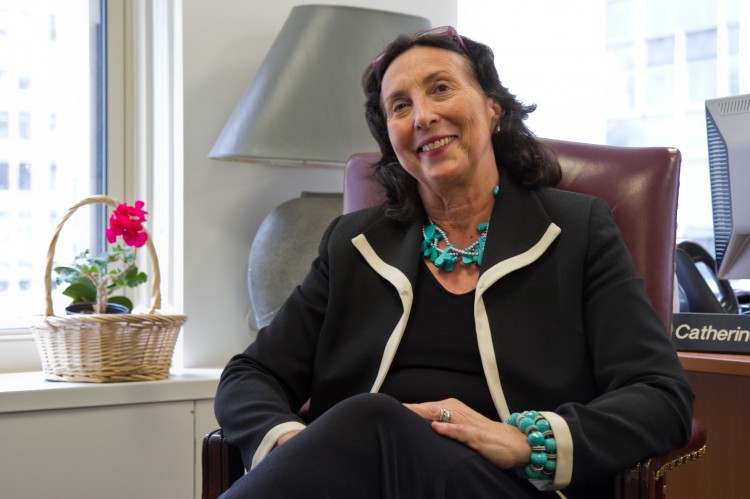 NEW YORK—Catherine Abate has held many titles in her esteemed career—lawyer, corrections commissioner, state senator, and her current title, CEO of Community Healthcare Network.
Despite her lengthy resume, Abate is grounded about her accomplishments, "Titles only go so far," she said from her Flatiron office in early May. "You have to earn people's respect."
Respect is something Abate has earned throughout her career, evidenced by the floor-to-ceiling accolades lining one corner of her office.
She credits her family for giving her confidence at an early age. Her father always told her she was good enough to accomplish anything—and strictly reminded her to never put on airs or pretend to be superior.
He encouraged Abate to be a doctor, letting her know there were no barriers for her. "I think for a father who was born in 1902, he was remarkably astute about a woman's place," she said. "It was really nice to grow up in an Italian-American family at that time, where your parents believed you could do anything."
Abate's parents also never taught her fear, something she considers very fortunate, "So many able people I meet who are smart—much more capable than I am—could achieve so much more, but they are possessed by their fear."
No matter her role, Abate has always strived to be the voice for those in need, something she practiced from a young age. "I think as a child you have a certain lens, and sometimes you see inequities," she said. "I think it was just in my nature to right wrongs and stand up for people who no one ever stood up for."
Attending college at Vassar in Poughkeepsie, N.Y., during the volatile 1960s stirred up her passion for activism. Vassar was a women's college for all but the last year she attended. "Vassar, I think, really in many ways changed who I was because I was surrounded by very intelligent, progressive, thinking women," she said. "They took their role as women in society and how they could help other women and advance the cause of women very seriously," she said.
Working in a Man's World
While Abate said she has enjoyed all the career paths she has traveled, especially her current position, she has a fondness for her time working in corrections. She loved not only the complexity of the job which she described as "running a city within a city," but the challenges. She was named New York City Corrections Commissioner in 1992, and despite her background in criminal justice and probations, corrections was a different environment—one in which she had little experience.
Corrections was still very much a man's world and Abate had an uphill battle from the start. "You could see I had two strikes—I wasn't an insider and I was a woman," she said.
To help prepare her for new role, she leaned on the outgoing Corrections Commissioner for advice. "I think part of good leadership is also being prepared. Confidence comes from past success, but also doing your homework and being prepared and knowledgeable about what you are facing," she said.
The former commissioner told her of a previous strike on Rikers Island by the corrections officers who, unhappy about their labor contract, took over the bridge from Rikers Island. The strike dragged on for several days with medical, health, and public safety issues.
"I knew from the first day that I was at Corrections, that if this ever happens to me, I have to make sure that it's handled and it doesn't drift where the problem languishes for days and everyone is put at risk," she said.
Abate was given her chance.
In September 1993, corrections officers, angry about working without a contract for three years, blocked the bridge to get on Rikers Island in protest. Abate rushed in straight from the U.S. Open where she had been watching the men's finals between Pete Sampras and Cédric Pioline.
She drove right to the foot of the bridge where a small army of officers were waiting, slowly opened her trunk, and pulled out her corrections jacket. The officers told her she should leave, saying they did not want her to get hurt. "I said, 'You are right. I don't want to get hurt and I won't,' and I just locked the car and walked over the bridge," she recalled.
After setting up a command post, word came in late at night that the officers were ready to negotiate. In an unprecedented move, Abate requested to do the negotiations. She felt having a woman talk with the leaders would be the best way to defuse the situation. "You can't bully a bully, particularly in a situation when they think they have the high ground and they can make some demands that you are not willing to give," she said.
She spoke face to face with several leaders, using only her instinct to guide her. "I knew based on the prior experience: whatever I gave away today, if it didn't get resolved in seven days, it would be so much more. And the pain and suffering and the impact would be so much greater," she said.
She spoke candidly with the leaders, promising they would not lose their jobs, but would be docked pay. She told them she needed them back to work by dawn. As a condition, the officers requested Police Commissioner Ray Kelly move his men away, something Kelly was not eager to do, since it would mean losing ground.
She made the officers promise to go back to work if Kelly and his men would move away from the bridge. "I remember actually eye-to-eye getting a commitment. I know it's kind of a silly thing, but I wanted to have one-on-one contact with those men and the commitments that they were going to make to me individually," she said.
She ordered Kelly to move back—something she joked had not ever been done before or since.
She said, "I remember being warned, if you do this, and you're not successful, you're going to lose your job. I said, 'I know, but I know what I have to do.'"
Kelly moved his men back and the officers resumed work before dawn. "It was one of those moments you just assess what your role is and do what you have to do and carry it out."
Life-Long Advocate
While she has not defused such volatile situations like the bridge strike during her role as CEO at Community Healthcare Network, her current job has also provided many challenges.
She said unlike a government agency, which can rely on government to fall back on in a disaster, there is no one to protect her at the non-profit. "You're really on your own. You have to be creative," she said. "You can just be stagnant and just be satisfied with what you've accomplished yesterday or really have a vision and move an agency forward. This has been extraordinarily challenging."
With the challenges, however, have come the rewards. During her 12-year tenure the budget has increased from $9 million to $40 million, and the organization is offering more services than ever before to help out the underserved throughout New York City. She said some of her staff has been there 10 years, a true sign of accomplishment.
Not too bad for a self-described "product of the '60s."
The Epoch Times publishes in 35 countries and in 19 languages. Subscribe to our e-newsletter.