Prime Minister Scott Morrison has issued a public plea to break the cycle of lockdowns and has called on state leaders to abide by a National Cabinet agreement to ease restrictions once certain vaccination thresholds are met.
"That is our goal—to live with this virus, not to live in fear of it," he told reporters in Canberra on Monday.
"It is always darkest before the dawn, and I think these lockdowns are a demonstration of that," he said. "But the dawn is not far away. We should not delay it. We should prepare for it. We should not fear it, we should embrace it, and we should move forward together."
"This cannot go on forever; this is not a sustainable way to live in this country, without those freedoms that we all cherish."
The prime minister made the public plea after state leaders from Western Australia, and Queensland publically displayed a reluctance to follow through on an agreed plan to ease restrictions once 70 to 80 percent of the Australian population were vaccinated.
In late July, the national cabinet—an intergovernmental body involving the prime minister and state and territory leaders—agreed on a three-stage plan to open the country based on modelling from the Doherty Institute in Melbourne.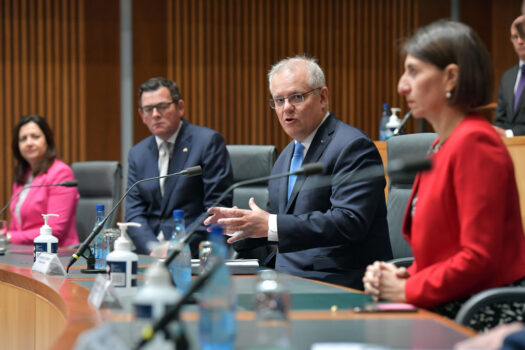 Once 70 percent of the population is vaccinated, a state will enter Phase B, where stay-at-home orders and restrictions will be lifted. Upon reaching the 80 percent vaccination target, Phase C is triggered, and the country will begin reopening international borders.
However, last week, West Australian Premier Mark McGowan indicated his government would likely continue its zero-COVID strategy and claimed that the National Cabinet's Phase C of COVID-19 rollout strategy would allow for "highly-targeted lockdowns."
Further, Queensland Premier Annastacia Palaszczuk called for renewed modelling before she would commit to opening borders, saying the previous research did not consider high case numbers and was premised "around 30 cases in the community."
"So, this is a book that has not been written. This is uncharted territory, and the best way out of this pandemic is vaccination," she told reporters. "There are now what, 9,000 cases or more. That's a lot more than 30."
"We actually need to get the modelling. Yes, everyone on the National Cabinet acknowledges that the extra research needs to happen; the extra modelling now needs to happen," she added.
The Doherty Institute is due to present its updated modelling to the National Cabinet on Friday.
New South Wales (NSW) Premier Gladys Berejiklian has indicated the state will move to live with the virus once vaccination rates are reached.
"Just as we tend to talk about the number of people that die from flu, when we have 80 percent double dose vaccination, that's how we'll treat it," she told reporters.
Meanwhile, Federal Treasurer Josh Frydenberg has said that federal economic support will end once vaccination targets are met.
Speaking on ABC's Radio National on Aug. 20, the treasurer said that based on Doherty's modelling, at 70 to 80 percent vaccination, stringent lockdowns would become unnecessary as the transmissibility of the virus would reduce.
"That is why we're shooting for 70 and 80 percent targets," Frydenberg said. "We need to give the public hope that at that point in time, restrictions ease. So there should be no expectation on behalf of the states and the territories that the scale of economic support that we're providing will continue beyond that date."
The comments by the prime minister and treasurer come as Australia's most populated state New South Wales continues to grapple with an outbreak of the Delta variant of the CCP (Chinese Communist Party) virus, commonly known as the novel coronavirus.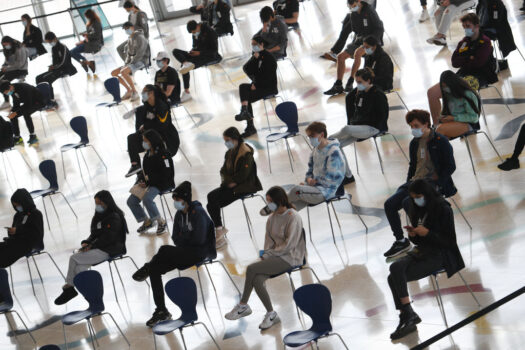 The outbreak and the country's low vaccination rates have caused the state capital of Sydney to be placed under lockdown since late June. It is scheduled to finish on Sept. 30. Meanwhile, Victoria entered its 200th day under lockdown last week.
Australia has enjoyed relatively low infection and death rates from COVID-19 by global standards; this—along with public support for tough measures—has motivated state leaders to implement lockdowns and restrictions more readily over the past year.
However, these measures are taking a toll on the mental health of Australians, with suicide prevention hotline Lifeline Australia saying August has been its busiest month over its 58-year history.
Frustration around the lockdowns also boiled over on the weekend when thousands of Australians across Melbourne, Sydney, Brisbane, Adelaide, Perth, and Coolangatta-Tweed (along the Queensland-NSW border) took to the streets to protest against increased restrictions.
Residents say lockdowns have seriously affected their livelihoods and businesses, with some being forced onto unemployment benefits.