Third UCI World Time Trial Title for Tony Martin
September 25, 2013 1:07 pm Last Updated: September 26, 2013 11:17 am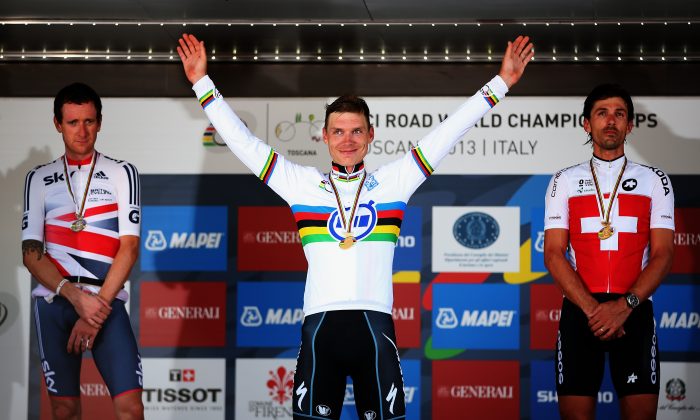 For the third straight year, Tony Martin has won the UCI World Time Trial elite men's division, firmly establishing himself as the best in the business on a flat course.
The 28-year-old German won by 46 seconds over England's Bradley Wiggins and 48 over four-time champ Fabian Cancellara of Switzerland. American Taylor Phinney, who finished second last year, had to be satisfied with fifth this time around.
As defending champion Martin had the advantage of starting last, and he knew by the final time check that he had an unbeatable margin, but he never let up; immediately after finishing he collapsed on his back, holding his head, but through is arms a huge smile was visible. He couldn't breathe, but he was pleased.
"Sure it was difficult, it was the World Championship, all the best riders were here, so I knew I had to give more than 100 percent," Martin told Universal Sports.
"I really have to thank my whole staff, my whole team it was incredible they helped me so much—I was so well prepared for this race I knew every corner, I knew all the strategy perfectly, and for sure I had the big advantage of starting last, in this race that's really important. When I saw the Cancelarra's time it gave me a lot of motivation and pushed me a lot.
"I think this is one of the best time trials, next to Copenhagen [Martin's first World Championship win,] that I have ever ridden."
With several good years left in his legs, Martin will likely meet and beat Cancellara's current record of four wins.
Martin's Omega Pharma-Quickstep team also won the Team Time Trial on Monday.
Britain's Sir Bradley Wiggins was focused on wining the Worlds after a fantastic 2012 season in which he won four major stage races plus the Olympics, and a disastrous 2013 in which he won just the Tour of Britain.
His best efforts were not close to enough; Martin beat him by 46 seconds.
"I wanted to win the race, but … 46 seconds, there's not much you can do – even two seconds. To be honest I did a great performance. I wasn't aware of the splits at all, but there's not a lot more I could have done. Tony was just on another level today," Wiggins told Cyclingnews.com.
Wiggins will have to be satisfied with the six World Championships he won while track cycling, and his four Olympic gold medals—for now.
Four-time winner Fabian Cancellara focused mainly on winning the road race, but he didn't hold back on the time trial. The Swiss rider came out fast, possibly too fast—he was ahead at the halfway point but lost a lot of time in the second half.
Cancellara still finished third, only two seconds behind Wiggins.