China's Third Mass Immigration Wave
June 9, 2010 3:14 am Last Updated: May 1, 2016 4:32 pm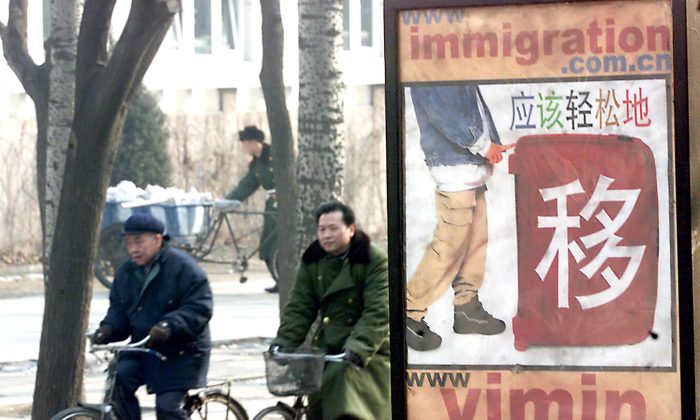 With no shortage of people, China is leading the world in the exportation of immigrants. The first immigration wave began in the 1970s, which mainly saw an influx of Chinese illegally immigrating to other countries. The second wave occurred in the 1990s, with many leaving on student visas.
In the 21st century, however, the third wave has been characteristically different, and predominantly reflects the migration of savvy investors or skilled workers.
"Why buy properties in Beijing, when it would be better to immigrate?" The rhetorical question was posited in an ad for a Beijing auto show in April, as reported by the Southern Metropolis Daily.
From a numbers-crunching standpoint, the logic makes sense: new construction properties within the second ring road in Beijing cost an average of 30,000 yuan (US$4,400) per square meter.
By contrast, an EB-5 U.S. immigration visa costs US$500,000. For that amount, one can buy a U.S. Green Card. (The same amount of money can only buy a 1,184-square foot apartment in Beijing.)
According to statistics from the Beijing Entry & Exit Service Association, the number of EB-5 applicants doubled in 2009.
The U.S. State Department reported that the number of EB-5 visas granted for fiscal year 2009 increased to 4,218 from just 1,443 in fiscal year 2008, and 70 percent of the visas were issued for China.
The lowest price tag of a Canadian visa (migration visa) is about 2.35 million yuan (US$343,902). Last year, there were 2,055 investors that immigrated to Canada. More than 1,000 were from mainland China, and they brought with them about 2.35 billion yuan (US$344 million) to Canada.
In the current third wave, a large group of skilled workers has outnumbered investors 20 to 1 throughout the last 10 years. On average, Canada receives about 60 skilled worker immigrant applications per day.
Many middle-class, well-educated workers are choosing to immigrate, with the top two reasons being fairly obvious: to secure their wealth and to ensure a better life for the next generation.