When Greater Vancouver and the Fraser Valley were hit with mudslides and flooding more than a week ago, many people were displaced, trapped, and desperate.
As tragedy and fear struck with devastating impact, First Nations communities acted, from the Squiala Nation in Chilliwack through the Fraser Valley to the Skuppah Nation and beyond, moving quickly to find and help those who suddenly found themselves stranded behind walls of mud and water.
Margaret Hendrickson with the Boston Bar First Nation has been helping distribute food and supplies since the slides, as well as run the town's soup kitchen. And when people who were stuck learned help was available, they were more than happy to accept it, Hendrickson said.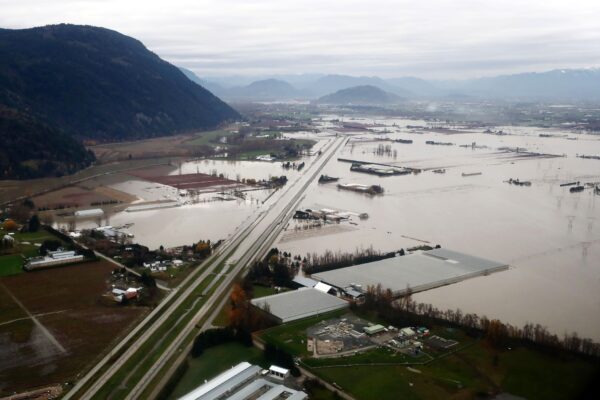 "There were some young girls that got stranded, three of them," she said. "They slept in their car for two nights before they realized we were down here. We put them up in one of our volunteer's houses. Somebody else took a family and their two kids. People were just saying, we've got the space and the motels were full."
South of Hope, where hundreds of people were trapped between two mudslides for four days, people from the Skawahlook First Nation and Chawathil First Nation brought food to the local gymnasium, which had power because of a large generator installed a few years earlier in case of a disaster.
Chawathil Chief Rhoda Peters told The Epoch Times the locals saw the need to provide, and they did. Families emptied their freezers to provide food, locals brought blankets and bedding, and one resident even brought her electric scooter over so the kids had something fun to do while they waited to go home.
"Working together, our members didn't hesitate to step up," she said. "We knew that people were in need, and when there's anything that happens with our community, we don't just stand by. We really want to help people."
Cloverdale, B.C. resident Lorne Marchildon, who was trapped in the Hope area from Nov. 14 to 18, witnessed the generosity first-hand, surviving on the food, coffee, and love the community provided.
"They were running from their houses bringing supplies," Marchildon said. "They gave everything they had."
Though separated from the broader society, albeit briefly, both Peters and Marchildon emphasized the common humanity a desperate situation can breed.
"Our members stayed and talked to the people. They mingled with those that were there and made them feel at home," Peters said. "The kids played together and some of the people who were stranded were the ones helping out with different chores. We were working together."
On the other side of the northern mudslide, Dana Andrews, emergency liaison with the Shxw'ōwhámél First Nation, echoed the same stories of people being trapped and the community coming to provide aid, no questions asked.
"I didn't get their names," Andrews said. "I just asked them if they were hungry and if they would like some food. Because here we embrace each other."
While Andrews and others were busy helping and feeding people, their own community was at risk of flooding. Currently, members of the Canadian Armed Forces are in Hope building barriers to mitigate another potential problem.
'Everyone Just Sprang Into Action'
Further south in Abbotsford and Chilliwack, the crisis unfolded on a different scale, with mass flooding threatening millions of birds and thousands of cows, which provide the majority of the province's poultry and dairy supply. When Abbotsford's mayor, Henry Braun, called for an evacuation of the Sumas Prairie on Nov. 16, he pleaded with farmers to consider their own lives first and deal with the animal aftermath later.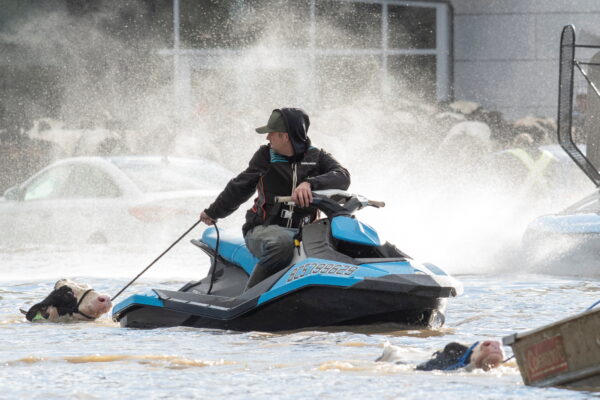 But B.C.'s poultry and dairy farmers had been through emergencies before, and while the flooding had the potential to become a catastrophe, farmers and their business networks worked to keep their industries alive with their own rescue and salvaging efforts.
Holger Schwichtenberg, a dairy farmer and chair of the BC Dairy Association, said some of his fellow farmers had to heartbreakingly watch their life's work wash away. However, despite the grim forecasts of the entire industry collapsing, people once again came together to help each other.
With assistance from heavy equipment suppliers, feed trucks, and people with animal trailers and farms with additional capacity, everybody connected to dairy production joined forces to save farms and, just as importantly, the cows.
"When bad things happen, what do people do? We roll up our sleeves and see what we can do for our farmers. That was the attitude," Schwichtenberg told The Epoch Times.
"How many cows can you take? I can take 30, my neighbour could take 70, and we literally had thousands of animals pulled off farms, which ended up in Chilliwack and Agassiz."
Schwichtenberg said the situation is nothing short of a "disaster" and many families are devastated by the loss of their farms and animals, but the community is coming together to help in any way they can.
"It's that quick reaction and not a whole lot of questions asking how to get this done. The community support and volunteers and food and farms and trucks and trailers—everyone just sprang into action. That's remarkable."
After the highways were closed and the production chain was interrupted, the BC Milk Marketing Board asked farmers to destroy their product because trucks couldn't reach the farms to pick it up. Yet one week after that statement was released, the industry has rebounded to approximately 80 percent of milk production compared to before the flooding.
Like the dairy farms, the province's poultry farmers also faced devastation. The entire industry reacted similarly, moving quickly to ensure they could reclaim and restore as many birds and their production as possible.
Poultry farmer Ray Nickel, a member of the BC Chicken Marketing Board, said everyone came together to do their best to preserve threatened poultry farms and rescue the chickens.
"When you go in there, I mean, this is visually daunting and is almost apocalyptic when this thing looks like a lake all the way across," Nickel told The Epoch Times.
"But in spite of that, we had farmers bring in their big tractors all the way from Mission. We had people help get water, help get animals out, help bring in supplies. The farmers did not leave their animals. They continued to work at it and help each other, they were resilient, and we are expecting very positive outcomes."
Although a handful of farms were beyond rescue, Nickel complimented the network of companies, farmers, and industry insiders who took a drastic situation and managed to create an outcome where the food supply will not be significantly impacted, and B.C. families can still have turkey on their table this Christmas.
"I've been blown away by some of the stories," he said. "My fellow producers in that area, they've been working their butts off, and … I am so thoroughly impressed with how many of them have been heroes in this."