E-commerce and social platforms about slow fashion revolutionize the way we search and shop for our clothes. This rising consumer awareness and interest in high-quality products present a good business opportunity for clothing brands like American Giant.
"We believe there is an accelerating shift away from what we call fast fashion. Clothes are made to look great on the sale rack but fall apart after a handful of washes. Customers are increasingly aware of the quality sacrifice they have been making over the last 40 years by shopping at the fast-fashion retailers. That's translated into a much greater appreciation of quality," said Bayard Winthrop, founder and CEO of American Giant.
Winthrop threw all conventional wisdom of the clothing industry out the window and launched his own brand—with production entirely in the United States. He first started producing sweatshirts made of 100 percent cotton in February 2012 and then expanded into other apparel like sweatpants and shirts. He also launched women's wear in 2013. 
It is not about patriotism or marketing but more about a desire to produce the best-quality cloth.
Quickly the brand proved that high-quality American manufacturing is commercially viable as well. 
Based in San Francisco, American Giant only manufactures in the United States and only uses U.S.-made source materials, like cotton. It is not about patriotism or marketing but more about a desire to produce the best-quality cloth. That's what differentiates American Giant from other made-in-the-USA brands.
"Customers react to our quality and value first. The fact that we can build the best clothing on the market in America is something we are enormously proud of. But our customers want great clothes first, and that's what we're focused on," he said.
We believe there is an accelerating shift away from what we call fast fashion.
, American Giant
The product stands out because of the quality of materials and construction. Most other sweatshirts on the market are usually made of a cotton and polyester blend. But American Giant's classic full zip sweatshirt is made of 100 percent cotton with 12.4 oz combed ring-spun fleece, reinforced elbow patches and double-lined hood.
Winthrop spent about eight months designing the hoodies together with former Apple engineer Phillipe Manoux and world-renowned pattern designer Steve Mootoo. They created dozens of prototypes until they had an ideal version.

American Giant is labeled as one of the world's most innovative companies in 2015 "for breathing new life into U.S. apparel manufacturing" according to Fast Company. The company sells thousands of sweatshirts each week, offered in a $59–$89 price range on its website.
It has expanded the production from a single factory in Brisbane, California, to four other factories in North Carolina and California to meet the rising demand. The company owns a stake in two of the factories.
American Giant is labeled as one of the world's most innovative companies in 2015.
Another benefit: The company can control the quality and manufacturing process better than its competitors who face barriers like language, culture, distance, and time if they have factories overseas.
Economies of Scale
A columnist wrote an article about American Giant in Slate Magazine just 10 months after the hoodies launched in 2012. The story, titled "This Is the Greatest Hoodie Ever Made," went viral. However, the article, which should have been a dream for the company, turned into a nightmare.
Sales exploded. The company sold out everything in 36 hours. Hence, order backlog grew to four months.
At the time, the company had only one factory in Brisbane. Winthrop had to increase the production capacity by 15–20 times and expanded into other factories. It was tough because the decision to expand production would be betting on steady demand.
No investment in marketing or advertisement
, American Giant
Scaling is still the greatest challenge for American Giant.
"So much of the quality knitwear supply chain has been dismantled over the years as companies moved their production overseas. … Getting capacity up to meet demand is always challenging, and our quality standards are very high," said Winthrop.

According to experts, the United States is now underdeveloped for sourcing raw materials and investment in new manufacturing equipment. The average age of industrial equipment in the United States has passed 10 years, the highest since 1938, according to estimates by Morgan Stanley & Co. economists cited in the Wall Street Journal. 
However, the number of clothes and shoes made in the United States has consistently increased over the last several years. Still, only 2.6 percent of all apparel items sold in 2013 were made in the United States. The sales are nowhere near as strong compared to 20 years ago, when 52.4 percent of the garments sold in the United States were American-made, according to the American Apparel and Footwear Association (AAFA).
No Investment in Marketing or Advertisement
American Giant's showroom and the only retail store is located in its San Francisco headquarters. The company does not invest in retail channels, marketing, or advertisement.   
The company is able to avoid retail and wholesale overhead costs thanks to its e-commerce-only model. It uses online sales to connect directly with customers all around the world. This makes the high-quality product relatively affordable.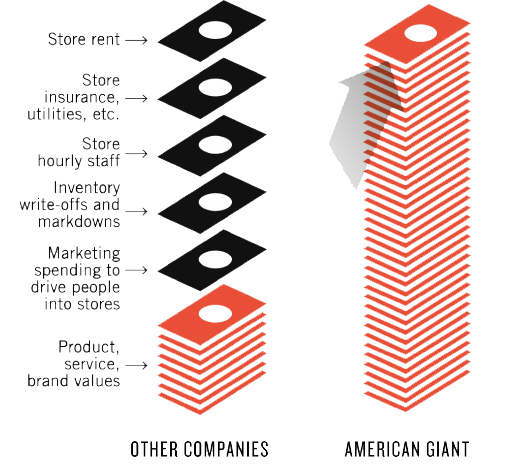 "The apparel business is broken. Traditional apparel companies invest far more in distribution, real estate, and marketing than in the product itself.  To cut cost they manufacture off-shore and make products as cheaply as possible. At American Giant, we invest in what matters to us and to our customers: high-quality product, American manufacturing, and exceptional service, and strip away everything else," the company's website states.
American Giant uses all these savings to produce high-quality clothes in the United States. And with this business strategy, it is dedicated to "revitalizing American manufacturing and fixing the broken apparel business."